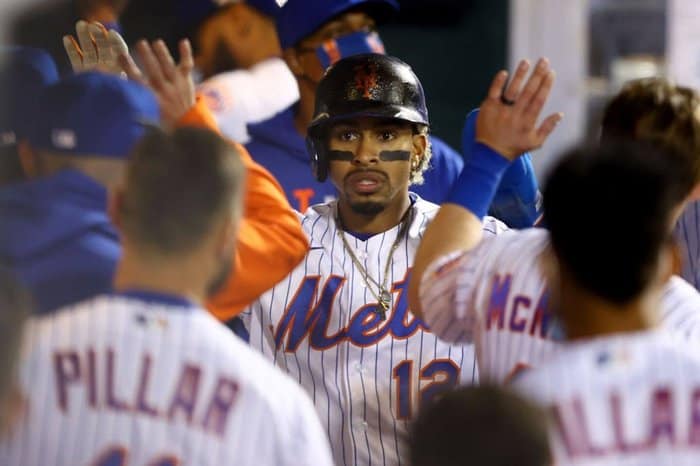 Tampa Bay shoots for their 4th straight win over a team from New York heading into the May 16th Mets at Rays contest. TB took the series finale 9-1 against the Yankees, and have beaten the Mets the last two days including a 12-5 rout on Saturday.
The Mets are having a rough weekend, but are still a team that had rattled off seven straight wins before the visit to Tropicana Field. As a result, the Mets are -120 favorites in what should be a solid pitching matchup between Marcus Stroman (3-3, 2.01 ERA) and Josh Fleming (2-3, 2.73 ERA).
Can Mets Get Back to Winning Ways?
New York has hit a bit of a bump this weekend in St. Petersburg, but are still 7-3 over their last 10. What is concerning ahead of the May 16th Mets at Rays matchup is that New York is just 7-11 on the road this season, and have dropped 5 of their last 6 vs. LH starters.
The good news is that the Mets are still in 1st place in the NL East, and have won their last four Sunday games. The big dogs are struggling though, as Pete Alonso has gone just 3 for his last 16 (.188) and Francisco Lindor 4 for his last 17 (.235) and the duo has just 3 RBI total over the past week. Alonso, a Tampa native, did go yard in Saturday's loss though.
The Mets fell 12-5 on Saturday, using opener Drew Smith (2.0 IP) and then five other pitchers. That leaves Marcus Stroman in a tough spot on Sunday, as he has failed to pitch into the 6th in three of his last four starts. The right-hander has been great in the last three with just 3 ER allowed – it just takes him a ton of pitches to get there.
Rays Playing Well
The Tampa Bay offense is clicking over their three game win streak, plating 24 runs over that span. Three different players had a 3-hit game in Saturday's 12-run outpouring, and the Rays have feasted on the Mets bullpen this series. TB scored all three runs after the 7th inning in Friday's 3-2 win, and hung up a 6-spot in the 8th on Saturday.
Tampa Bay has also gone 5-2 in their last 7 vs. a RH starter. Stroman is great for the Mets, but Tampa Bay has a collective .333 average against the Mets starter (11-33). Willy Adames is 3-4 in his career vs. Stroman. The faster they can get to Stroman, the better the Rays chances against a Mets bullpen that has thrown 7.1 IP and have allowed 12 ER the last two games.
Tampa Bay has some question marks at pitcher as well. Not because Fleming hasn't pitched well (3 runs or less in all 13 career outings), but because he's made the last two appearances out of the bullpen. Fleming has allowed 4 ER in three starts this season (16.1 IP) for a 2.24 ERA.
Free May 16th Mets at Rays Pick
This one will likely be pretty close for the first 5 innings, but the biggest x-factor on Sunday is the wiped out Mets bullpen. Tampa Bay should be able to tack on late, giving them a path to the sweep.
Rays 6 – Mets 4
Free Pick: Rays +100