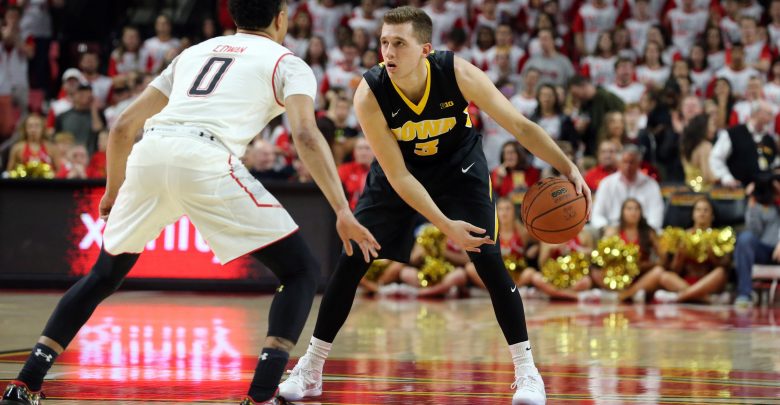 There's a social media movement surrounding UFC fighter Conner McGregor in which fans are saying, "defend or vacate" as they believe the lightweight is not a fighting champ. The Iowa Hawkeyes mens basketball team is pretty much the opposite of that as they take the court for the third time this week alone. Maryland is the opponent in the 1/7 college basketball free pick – does this game have blowout written all over it in hopes that referees stop the fight early?
What Do We See From the 'Hawks Tonight?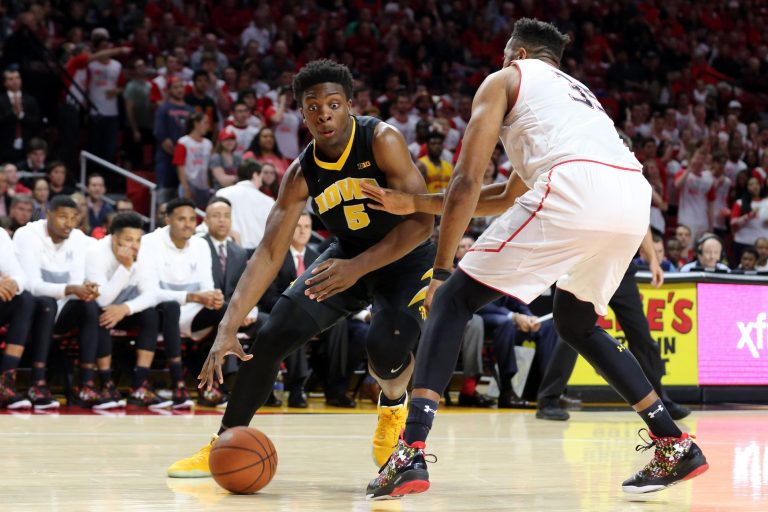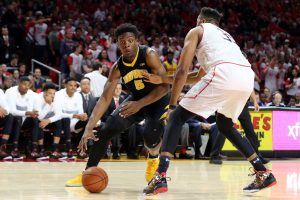 Iowa is in a tough spot on Sunday night for a multitude of reasons. First of all, the Hawkeyes have played only three true road games this season – losing them all thus far. On top of that Iowa is playing their third game in six nights having lost back-to-back games to Michigan (68-75) on January 2nd and Ohio State (81-92) on January 4th. Prior to the 1/7 college basketball free pick the last time Iowa was on the road was a 78-84 loss to Iowa State a month ago.
The Hawks can put up some points, going for over 90 or more points in four of the last seven games. Iowa has a top 55 offense in both points scored per game as well as field goal shooting but will be up for a tough challenge on Sunday night against a Maryland defense that is top 30 in points allowed per game, field goal shooting against, and opponents three point shooting. The Terrapins have allowed less than 70 points in scoring to six of their last seven opponents.
I could be at home watching the NFL Playoffs and then the Golden Globes. Instead I'm in College Park to watch last place Iowa bball take on Maryland. #poordecisions

— Katie Aune (@katieaune) January 8, 2018
Terrapins Aim for a Beatdown at Home
Oddsmakers are giving Maryland some credit in the 1/7 college basketball free pick as they've listed the Terrapins as -7.5 favorites, down from the MD -9.5 open. Maryland had a 7 game win streak lost in a 30 point loss to Michigan State the last time out. Maryland would have posted seven straight wins if not for that game against MSU. The Terrapins have won six in a row on their home court, where they sport a 10-1 record overall.
Maryland has built their strong record on a tough defense that is top 30 in the country in points against, opposing field goal percentage, and three point shooting percent versus. The Terrapins gave up 91 points the last time out against MSU, but hadn't allowed more than 70 in six contests prior. This doesn't Maryland cannot score however, as Anthony Cowan is coming off one of his better games of the season with 26 points against Michigan State.
Surprised with how many people I know, including some die-hard Hawkeye homers who give the team no chance tonight. Not predicting a victory, but wouldn't be surprised at all if Iowa found a way to win. Maryland is streaky and injured. https://t.co/8VwDdOcLzW

— Pat Harty (@PatHarty) January 7, 2018
1/7 College Basketball Free Pick
This line opened at Maryland -9.5 but is down to MD -7.5 before tip off. This line movement actually helps Terrapins bettors as MD is also playing their third game in six nights. The Hawks are heading out for their first true road game in a month while Maryland is a tough beat at home. The Terrapins are 4-0 ATS their last four home games and should get another huge victory in this tilt.
Pick: Maryland Terrapins -8