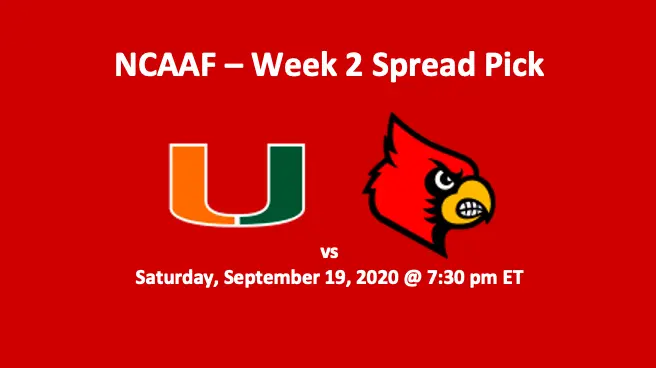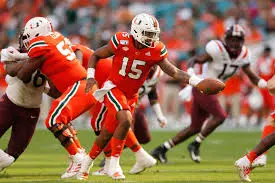 Our Miami vs Louisville pick for Saturday, September 19, 2020 has the Cardinals at -2.5, and their moneyline at -140. The Hurricanes, who are +2.5, offer a moneyline of +120. The game, which kicks off at 7:30 pm ET, will be played at Cardinal Stadium in Louisville, KY. Both times come to this game with a 1-0 record. This is each club's first Atlantic Coast Conference game. On September 10, Miami took down C-USA's UAB 31-14 Also, this past week, on September 12, Louisville beat Western Kentucky University 35-21. The Hilltoppers are also a C-USA team.
Miami vs Louisville Pick – Stats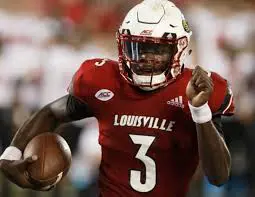 Miami brings a powerful rush attack to the field. In their first game, the Hurricanes gained 337-ground yards. They passed for just 158. On the other hand, the Cards had 343.0-passing yards and a mere 144 yards in rushing. On defense, Louisville was solid against the run and the pass, holding WKU to 119 YPG on the ground and 129 YPG in the air. The Hurricanes tamed the Blazers on the ground, allowing just 80 yards on the ground. They did give up 205 YPG in the air.
Hurricanes vs Cardinals Spread Pick – Key Players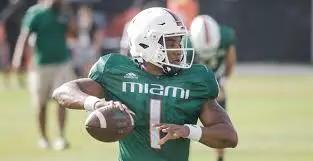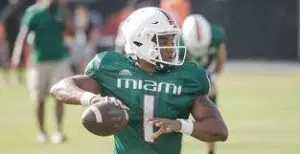 Our Miami vs Louisville pick notes that the Miami rush attack includes four players with 50 or more ground yards against UAB. RB Cam'Ron Harris had 17 attempts for 134 yards and two scores, while QB E'Rig King rushed for 83 yards on three tries. Harris crossed the goal line two times, while King rushed for one score and passed for another. TE Brevin Jordan, the team's top pass catcher, had three receptions for 51 yards and one TD last week. On defense, look for LB Bradley Jennings Jr. and DL Nesta Jade Silvera to be possible difference-makers.
In last week's game, Louisville QB Malik Cunningham completed just 55.9% of his passes, although he did toss for 343 yards and three scores. He gave up one pick and also had a short run for a score. WRs Braden Smith and Dez and Fitzpatrick Cunningham each had four catches and each averaged 27.5 YPC. RB Javian Hawkins ran for 71 yards and a score, while RB Hassan Hall averaged 11 YPA on six attempts. On D versus WKU, LB Monty Montgomery recorded two sacks and five tackles while LB Dorian Etheridge made eight tackles total.
Miami vs Louisville Pick – Final Word
Our Miami vs Louisville pick likes the Cardinals at home at -2.5 (-114). The Hurricanes are vulnerable on defense and Cardinal quarterback Cunningham can put points on the board quickly. Still, we think this will be a tight game with Louisville taking down the Hurricanes by about three points. See our Citadel vs #1 Clemson (4:00 pm ET) pick. Also, just posted is our USF vs Notre Dame preview.
Miami Hurricanes vs Louisville Cardinals Summary
Louisville Cardinals at -2.5 (-114)