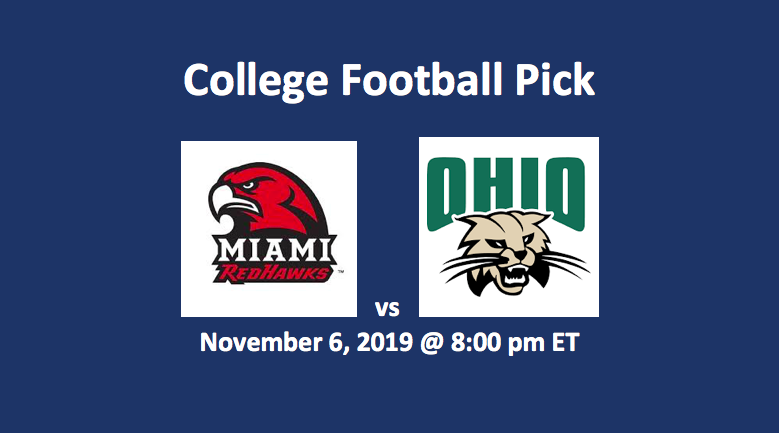 Our Miami Redhawks vs Ohio Bobcats pick has the Cats at -7.0. This Miami Redhawks vs Ohio Bobcats game kicks off at 8:00 pm ET on Wednesday, November 6, 2019. The game will be played at Peden Stadium in Athens, Ohio.
The Miami (OH) Redhawks (4-4 Overall, 3-1 MAC) are tied for first in the Mid-American Conference East with the Ohio Bobcats (4-4 Overall, 3-1 MAC). That makes tonight's game especially important, as it could certainly decide which team takes the MAC East.
Miami Redhawks vs Ohio Bobcats Pick – Recent Performance
Over their last five games, the Hawks are 3-2. They won their last two contests, beating Northern Illinois 27-24 and Kent State 23-16. In conference, Western Michigan beat them 38-16 and out of conference, Ohio State obliterated them 76-5. The Bobcats are also three of their last five, and, like the Hawks, they've won their last two contests. On October 19, they beat Kent State 45-38 and on October 26, the Cats took down Ball State 34-21. Losses were to Louisiana 45-25 and Northern Illinois 39-36. Also, Ohio beat Buffalo 21-20 in OT.
Miami (OH) Redhawks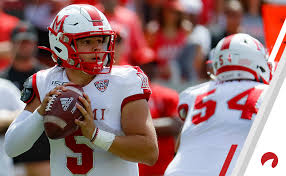 The Redhawks are averaging 22.5 PPG and 296.5 YPG on offense. They are passing for 172.4 YPG and rushing for 124.1 YPG. Miami's offense is led by RB Jaylon Bester. Bester has scored five rushing TDs and is averaging 3.7 YPA. Tyre Shelton tops the team in YPA with 5.3 and total rushing yards with 315. QB Brett Gabbert could have better numbers. His completion rate 53.1 while he's tossed five TD and five picks. Gabbert has been sacked 16 times. WR Jalen Walker tops the team with 15 catches. He's averaging 19.2 YPC and has scored once.
On defense Miami (OH) has allowed 33.0 PPG. Yardage given up includes 211.3 on the in the air and a hefty 184.0 on the ground. The Redhawks have made seven picks, completed 17 sacks, and defended 23 passes.
Ohio Bobcats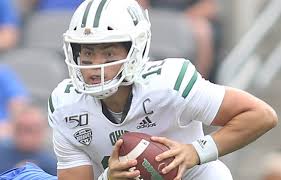 The Cats are scoring 30.4 PPG, which is solid; however, they are allowing opponents 29.5 PPG. The Ohio offense is accumulating 411.6 YPG. But on the other end, they are giving up 446.4 YPG with 205.0 on the ground and 241.4 in the air. The Bobcats rush attack has been good for 193.5 YPG.
QB Nathan Rourke is the Cats' offense. He has 10 TD passes and eight rushing touchdowns. Rourke has passed for 1743 passing yards, being sacked 15 times while launching five interceptions. His rushing yards total 536 and he's been good for 5.5 YPA. RB DeMontre Tuggle has seven TD rushes and is averaging 4.8 YPA. There's a solid group of receivers on hand, including Rourke's favorite target Isiah Cox, who has 24 catches and is averaging 17.0 YPA.
Our Miami Redhawks vs Ohio Bobcats Pick
Our Miami Redhawks vs Ohio Bobcats pick is Ohio at -7.0. Although the Bobcat D is nothing special, it's good enough to contain the Redhawks. At the same time, Ohio's offense features numerous weapons. It is quite deep. Miami's ability to score is limited greatly.
Miami Redhawks vs Ohio Bobcats Pick – Summary
Ohio Bobcats at -7.0