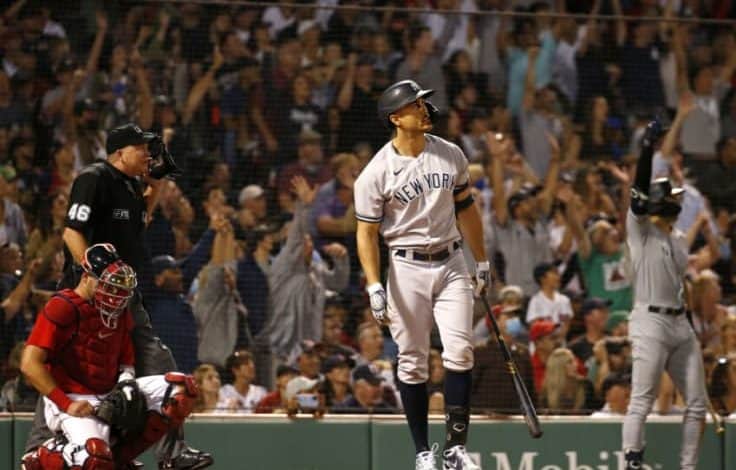 We couldn't ask for a better matchup than the AL wild card Yankees at Red Sox in a one-and-done postseason matchup. These two teams finished with identical 92-70 records on the season, with the game being held at Fenway Park due to a 10-9 series advantage by Boston. New York swept Boston at the end of September, and has won the last six.
Tuesday night's (8:08 EST, ESPN) pitching matchup is an interesting one. Gerrit Cole goes for New York but he hasn't been himself lately with a 5.13 ERA in September. Boston's Nathan Eovaldi has been better than Cole down the stretch, but he was rocked for 7 ER over just 2.2 innings in his penultimate regular season start – against these Yankees. New York is a -120 favorite for this tilt, with the O/U at 8.
Yankees Offense the Deciding Factor?
New York takes a big blow in the AL wild card Yankees at Red Sox matchup with hit leader DJ LeMahieu being ruled out for this game with a sports hernia and Luke Voit on the shelf for the season with a knee injury. That being said, NYY still has a ton of offensive potential especially as Aaron Judge and Giancarlo Stanton have been heating up down the stretch.
Judge has 9 HR and 23 RBI over the past 30 days and Stanton has also hit 9 bombs with 24 RBI. Stanton is eager to get back to Fenway Park where he belted out 3 HR and had 10 RBI over the three game series from September 24th-26th. The Yankees won 8-3 in the Cole vs. Eovaldi Friday matchup (NYY -117) as Gleyber Torres also added 3 hits and Anthony Rizzo 2.
Cole gave up 5 ER to the Blue Jays in his last start of the regular season, but was cruising vs. Boston on September 24th before giving up a 3-run HR to Rafael Devers in his last frame. Cole also gave up 7 ER and 10 hits on September 19th against Cleveland so he's definitely got some questions surrounding him on Tuesday.
Eovaldi Up to the Task?
Eovaldi got rocked vs. the Yankees his second to last start of the regular season, but performed well vs. New York overall in 2021. The right-hander pitched into the 8th giving up 2 ER at Fenway on July 24th and also went 7.2 IP allowing 1 ER vs. New York at home on June 26th.
Anything can happen in the wild card game, so can Boston provide Eovaldi with offense on Tuesday? Bobby Dalbec has led the team with 7 HRs over the past month, while Kyle Schwarber leads the team with a .418 OBP over that span. The Red Sox have scored 3ER or more in three of four outings vs. Cole this season, and the Yankees starter has a 4.19 ERA vs. Boston this season. Enrique Hernandez has fared well against Cole too, posting a .571 OBP in 14 plate appearances vs. the right-hander.
AL Wild Card Yankees at Red Sox Pick
Boston could be dealt a blow if J.D. Martinez is unable to play on Tuesday after spraining his ankle in the regular season finale. Regardless though, Cole's struggles for New York down the stretch are too much to overlook, while at the same time Eovaldi has been great with 7 ER allowed in five starts prior to his blowout in the team's last series. Home field will be huge for Boston in this game as well.
Red Sox 5 – Yankees 4 
Free Pick: Boston +110