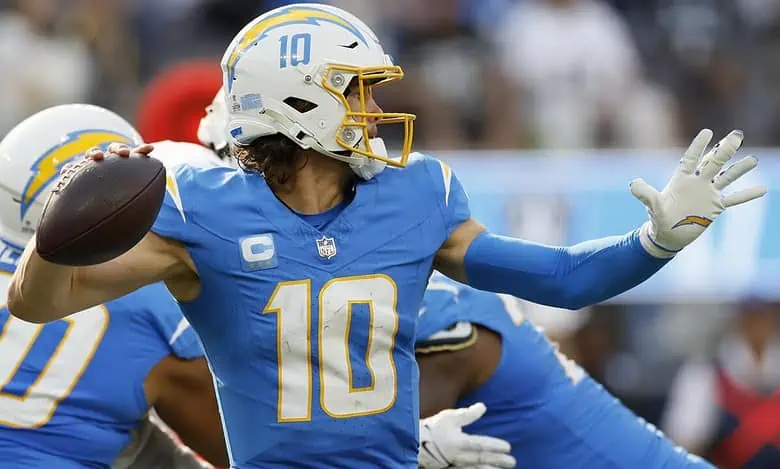 A full slate of NFL football on Sunday will wrap up on Sunday night as the Chicago Bears visit the Los Angeles Chargers. This will be a matchup of struggling teams, and that will keep things interesting for this game.
Chicago comes into this game with momentum, as they picked up a blowout win over the Las Vegas Raiders last weekend. The Bears are still just 2-5 on the season, and they look like one of the worst teams in the NFL.
The Chargers have been a major disappointment this season, as they have gone just 2-4 through the first six games of the season. Los Angeles has lost two straight games, and they are needing to turn things around in a hurry.
The Chargers are 8.5-point betting favorites over the Bears on Sunday Night Football.
Chicago Can Score
The Chicago Bears will be without quarterback Justin Fields this weekend, but backup Tyson Bagent can play a little bit. Bagent led the Bears to 30 points in the win over the Raiders, and this Bears team does have some weapons.
D.J. Moore has racked up 636 receiving yards and five touchdowns this season, and he is a huge key to the success of the Bears. Chicago is also averaging 141 rushing yards per game, and that will be a big key in this game.
The Bears are giving up just 82 rushing yards per game, but they have struggled to defend the pass this season. Chicago will be tested all night long in this one, and it's not going to be easy against Justin Herbert.
Chargers Must Defend
The Los Angeles Chargers have been absolutely terrible on defense this season, and that simply must change. Los Angeles is giving up 432 yards per game, and that just puts the team in some difficult positions.
The Chargers want to have the football in the hands of Justin Herbert, but they must slow down opponents to get that done. Los Angeles is putting up nearly 400 yards of offense per game, but it won't matter if they can't defend.
Justin Herbert has thrown for ten touchdowns this season, but he has also struggled with his accuracy at times. Look for Austin Ekeler to be a big player in this game, as the Chargers need to give Herbert some support.
Bears Battle, Chargers Win
The fact that Justin Fields isn't playing in this game is a big advantage for the Chargers, and they need all the help that they can get. Chicago should still have a big game on offense in this one, and they will find a way to keep it close.
Los Angeles has to find a way to win this game, and that will force them to play with some desperation in this matchup. That's not going to be a good thing for the defense of the Bears, as they are going to be under pressure the entire game.
The best bet is to take the 8.5 points and back the Bears in this game, but it will be the Chargers that come up with a win in this game.