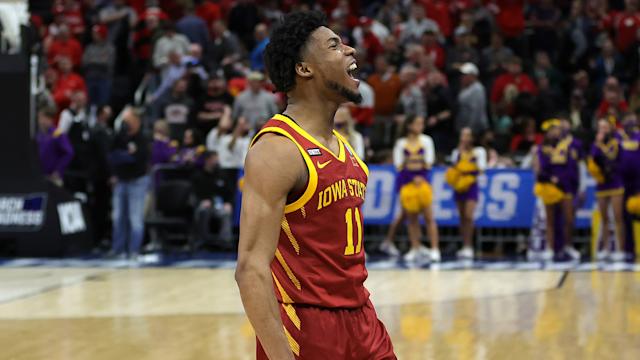 It's a battle of the Midwest in Sunday's NCAA Tournament Iowa State vs Wisconsin matchup. This contest is being played in Milwaukee which gives the Badgers an obvious home court advantage, but ISU fans have traveled well in the 5-hour trip as evidenced by the Cyclones' 59-54 upset over LSU in round 1 as +3 point underdogs.
UW slowed the tempo a bit en route to their 67-60 win over Colgate on Friday, barely missing out on covering the -7.5 point spread. Colgate was great from three point range (10-22) but that was also Iowa State's strength in their 1st round win.
Hunter Dialed in Again?
Iowa State's MVP in their 1st round win over LSU was easily Tyrese Hunter, the freshman who was unconscious in hitting 7 of 11 three pointers en route to 23 points. While it's hard to expect that type of performance again from Hunter, he is a Racine, Wisconsin native who has plenty of family and friends in the crowd in this matchup with the Badgers being held in Milwaukee.
For as good as Hunter was on Friday, Izaiah Brockington opened up a lot of those shots for the freshman with 19 points of his own. Brockington had been struggling a bit since a 35 point outburst against West Virginia while scoring 12 ppg over his last four, but he looks like he's back.
Wisconsin Defense the X-Factor?
The Badgers seem like they should be able to contain this game on the defensive end of the court, because Hunter hitting 7 three-pointers again seems unlikely. This is also a Cyclones team that was held to 41 points in their Big 12 Tournament loss to Texas Tech and just 36 in a loss to Oklahoma State in the penultimate game of the regular season.
For as much as the Wisconsin defense can step up on Sunday, they also have one of the best scorers in the country in Johnny Davis. The All-American scored the final 14 points for Wisconsin in the opening round win over Colgate, ending up with 25. Expect a bigger performance from 5th year Senior Brad Davison, who had just 4 points on 1-5 shooting in the 1st round while averaging 14.2 ppg on the year.
NCAA Tournament Iowa State vs Wisconsin Betting Info
The Badgers are -4.5 favorites in this round of 32 matchup with the O/U being the lowest of the day at 126. About 60% of the betting public are backing the Badgers in what is essentially a home game in Milwaukee. There was a very noticeable contingent of Wisconsin fans in the crowd in the 1st round, and that should continue to be the case in this Sunday afternoon contest.
NCAA Tournament Iowa State vs Wisconsin Betting Pick
One of the main reasons bettors like Wisconsin in this one is because they think the Iowa State offense is in the gutter. That may be the case, but ISU has also played three of the top five teams in adjusted defensive efficiency over their last five games as well as Baylor which is 12th.
The Badgers are stereotyped by their slow pace and good defense, but the Badgers rank 36th in adjusted defensive efficiency this season. Still a solid number, but nowhere near the level that Iowa State had been up against previously. That means the Cyclones will get theirs, but Davis always gets his as well for UW.
Wisconsin 68 – Iowa State 64
Free Pick: Over 126