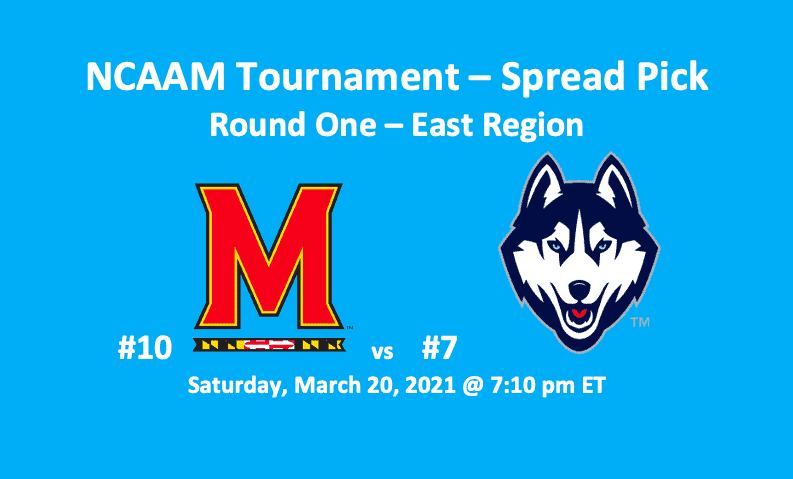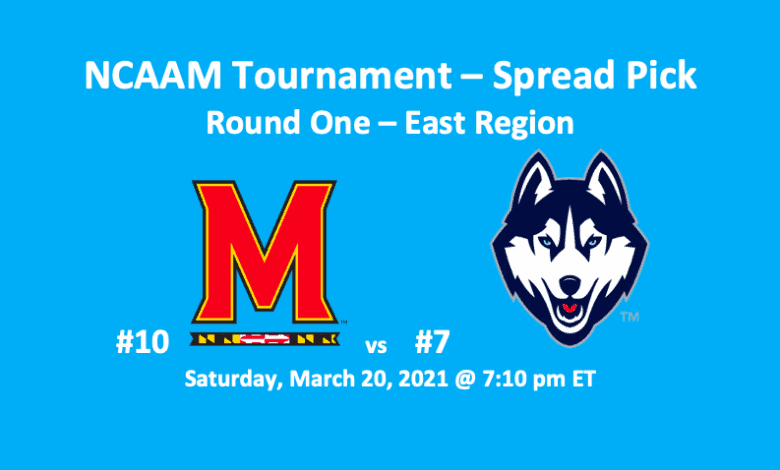 This Maryland vs UConn pick offers two teams that are solid competitors. This 2021 NCAA Tournament Round One East Region game has the Terrapins as the underdog at +3.0 (-107). The Huskies are favored at -3.0 (-109). Maryland finished eighth in the Big Ten and lost to the Michigan Wolverines 66-79 in the conference tourney quarterfinals. As of late, the Terrapins have struggled, losing three of their last five games. In the Big East Conference, the UConn Huskies, who've won four of their last five contests, finished third. In the conference semifinals, they lost to the Creighton Bluejays. The score was 59-56.
The Terrapins and Huskies will meet on Saturday, March 20 at 7:10 pm ET. The game will take place at Mackey Arena in West Lafayette, IN. Along with this pick, be sure you check out all of our NCAA Tournament predictions, including Texas Southern vs Michigan preview.
Maryland vs UConn Pick – Stats
Although at first glance, you may think this is a game that should easily go UConn's way. After all, they are outscoring Maryland 72.5 to 68.8 PPG. Plus, they are grabbing 38.1 rebounds to the Terrapins' 33.3. Assists, steals, and blocks are all close, and turnovers come in at 11-and-change for both teams. Maryland is a little better at threes (35.8% to 33.6%) and field goals (45.6% to 45.6%). On the other hand, UConn has a better free throw percentage (73.1% to 70.2%).
Key Players
On the Terrapins, guards Eric Ayala and Aaron Wiggins are the top scorers hitting for 14.9 PPG and 14.0 PPG respectively. Combined, they are averaging 10.1 RPG and 4.8 APG. They're both shooting 43% from the field. Forward Donta Scott is the man in the paint. He's averaging 10.9 PPG and 6.1 RPG. Scott is recording a 49.5 FG% and 43.4 3PT%.
Guard James Bouknight leads the Huskies with 19.0 PPG. He's also grabbing 5.7 RPG. Also, in the backcourt, R.J. Cole leads the team with 4.4 APG while scoring 12.3 PPG. Finally, guard Tyrese Martin is averaging 10.7 PPG and 7.3 RPG. Forward Isaiah Whaley, a 48.4% shooter, is averaging 8.1 PPG and 6.1 RPG. Finally, forwards Tyler Polley and Adama Sanogo are each averaging 7.5 PPG.
Maryland vs UConn Pick – Final Thoughts
Our Maryland vs UConn pick finds that the difference between these two teams in point production is one of the few areas in which they diverge. UConn has the upper hand in that category. The other area where the Huskies outpace the Terrapins is in rebounds. The Huskies are a good five bringdowns better than Maryland. Finally, UConn is deeper than the Terrapins. And although overall Maryland brings a better shooting percentage than UConn to this game, their advantage is minimal. With all of those facts in mind, we're taking the Huskies at -3.0 (-109).
#12 Maryland Terrapins vs #5 UConn Huskies
UConn Huskies at -3.0 (-109)