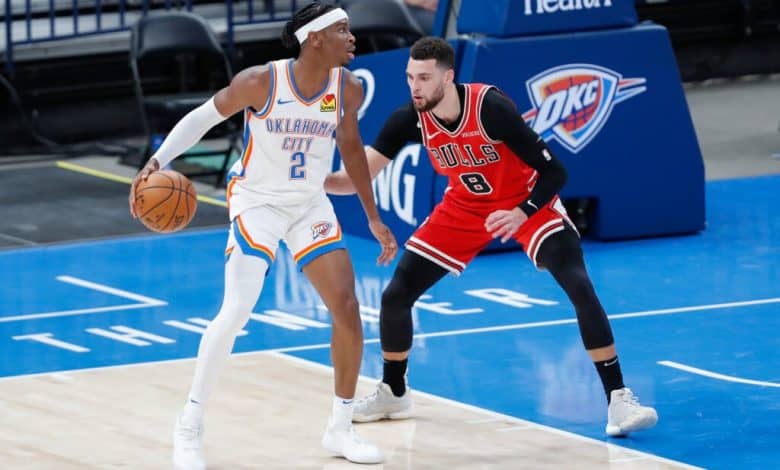 At first glance there would see to be some value on Chicago giving just -2 points in the January 24th Bulls at Thunder betting matchup. After all Billy Donovan's (current) team is just a game back in the Eastern Conference while OKC is tied for the fewest wins in the West.
There are a lot of intangibles for Monday night's game however. One, Chicago is on the back to back after a 114-95 loss in Orlando on Sunday as -3.5 favorites and while the Bulls may or may not be getting Zach LaVine (knee) back for this matchup they could also be without big man Nikola Vucevic who is also questionable with a knee injury.  Even with Chicago possibly shorthanded, this is still a Thunder squad that has lost 10 of its last 11.
Who Goes for Bulls?
Zach LaVine has reportedly flown to Oklahoma City to meet up with the Bulls after being cleared from his knee injury. It will potentially be nice to get LaVine's 24.9 ppg back in the lineup for Chicago but he's also missed the last six games and may not be at full strength.
LaVine isn't the only question mark for Chicago heading into the January 24th Bulls at Thunder betting contest. Lonzo Ball continues to be out with a knee injury while Alex Caruso is joining Ball on the sidelines for the foreseeable future after suffering a fractured wrist thanks to a hard foul from Grayson Allen in Friday's loss to the Bucks.
LaVine could easily join the team tonight and Vucevic could also play through a left patellar contusion – or not. That's what makes handicapping the Bulls so tough on Monday night. DeMar DeRozan had 41 points on Sunday vs. the Magic, but he also played 38 minutes. Coby White and Ayo Dosunmu also had 35+ minutes in the backcourt.
Thunder Still the Thunder
Even with Chicago on the back to back and losing to the worst team in the NBA Orlando (9-39) on Sunday night, Oklahoma City is still a +2 home underdog on Monday night. That's a testament to how bad the Thunder have played lately with losses in 10 of their last 11 games.
OKC is back home after an 0-4 road trip in which their high mark for points scored was 102. They've been held under 100 in three straight so a Bulls defense that held Milwaukee to 94 points on Friday night has a good chance to keep the team in this one.
Shai Gilgeous-Alexander scored 29 points in a 94-87 loss to the Cavs on Sunday even after scoring 29 the night before in a loss to Charlotte. Rookie phenom Josh Giddey has waned a bit being held to 11 points or less in four of the last five but he still has potential like his 21 point, 9 rebound game against the Hornet on Friday.
Free January 24th Bulls at Thunder Betting Pick
The line of Chicago -2 is understandable considering we don't know if LaVine and/or Vucevic is going to go, but assuming they do that's incredible value on the Bulls. Chicago is on the back to back, but falling out of the top spot in the East puts an extra sense of urgency on this game. 84% of the public likes the Bulls which isn't ideal, but it's also important not to overthink this one.
Bulls 109 – Thunder 99 
Free Pick: Bulls -2