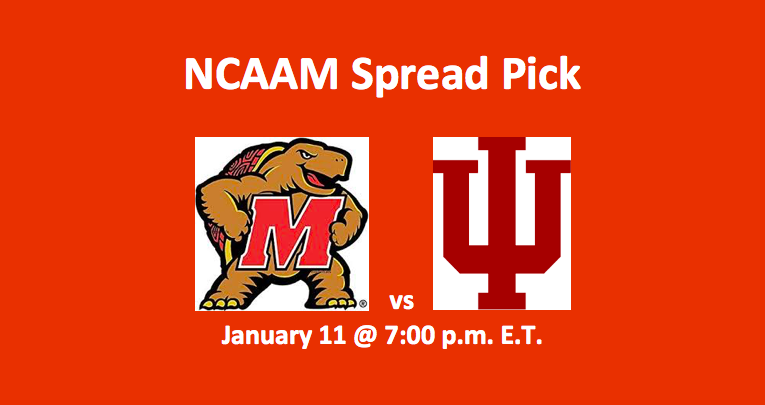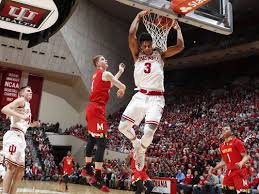 There is a huge game in the Big 10 tonight as the #22 Indiana Hoosiers (12-3 Overall, 3-1 Big 10) visit the unranked Maryland Terrapins (13-3 Overall, 4-1 Big 10). It's true that it is early in conference play, but the nationally-ranked Hoosiers are facing a big test this evening, Friday, Jan 11, as they must battle a very tough, upstart Terrapin team. Our Maryland vs Indiana pick has the Terrapins at -5.5.
The Hoosiers started the season with three straight wins, including a 96-73 beating of #23 Marquette. After a loss to Arkansas and two more wins, Indiana played #3 Duke, losing 90-69. After that loss, the Hoosier ran off seven more wins. Within the Big 10, they beat Northwestern, Penn State, and Illinois. Then on Jan. 6 they met #2 Michigan and lost 74-63. Now they're on the road in Maryland.
The Terrapins with an 8-2 mark. Those two losses were to #4 Virginia (76-71) and the Big 10's Purdue (62-60). Maryland is 6-1 over their last seven games. That one loss was to Seton Hall (78-74). Three Big 10 wins followed that conference loss, as the Terrapins took down #24 Nebraska (74-72), Rutgers (77-63), and Minnesota (82-67).
Statistical Data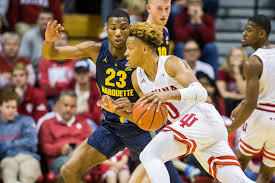 Both teams are averaging 77.5 PPG, while the Hoosier defense is allowing 64.7 PPG and the Terrapins are giving up 65.6 PPG. Indiana brings a better shooting percentage, as they're connecting on field goals at the rate of 51.9% and the Terrapins at 48.4%. Indiana, at 36%, is about a half-point better on threes, while Maryland holds a 73.1% to 65.0% from the charity stripe. That last stat could be important down the stretch. The teams are fairly close in assist, steals, and blocks. However, Maryland is averaging 40 RPG, while their opponents are at 36. Offensive rebounds per game favor the Terrapins 11.8-to-8.3.
The rebounding and free throws offer Maryland an advantage tonight. Still, it would be a slight one. Some of their advantage is offset by the fact that Indiana is 3.5% better than Maryland on field goals. This Maryland vs Indiana pick give the Terrapins a small advantage.
Edge: Maryland
Essential Players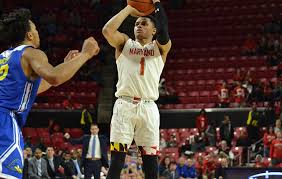 Indiana will be missing redshirt freshman forward Race Thompson, top-freshman shooter Rob Phinisee, and first-year forwards Jerome Hunter and Jake Forrester. All of this translates to a lack of depth. However, the Hoosiers do have some fine point producers in the likes of freshman guard Romeo Langford and senior forward Juwan Morgan. Langford leads the team with 18.2 PPG and Morgan, who's putting in 16.7 PPG and leads the team with 7.8 RPG, is connecting on 64% of his field goals and 44% of his threes. Three other players, Justin Smith, Devonte Green, and Aljami Durham, are each averaging 8.5 PPG. Green, leads Indiana in assists with 3.5 per game.
Maryland features three double-digit field goal shooters and one of them is a double-double guy. The top point-maker for the Terrapins is junior guard Anthony Cowan Jr. He's good for 17.2 PPG. Cowan also leads the team in assists with 4.4 per game. Sophomore forward Bruno Fernando, the double-double performer, is averaging 14.2 PPG and 10.2 RPG. A massive force in the paint, he's blocking 2.3 SPG. Fernando is a 66% field goal shooter. Three other players are averaging at least 8.5 PPG with freshman guard Aaron Wiggins putting in 9.1 PPG and Eric Ayala, another freshman guard, averaging 9.0 PPG. Ayala is good on 48% of his field goals and three-point shots. Sophomore guard Darryl Morsell is averaging 8.5 PPG.
Our Maryland vs Indiana pick likes the Terrapins due to how well their players are performing and their depth. Look for the Hoosiers to lag a bit as the game goes on or the see their performance drop off as they bring in subs.
Edge: Maryland
Five Keys to the Game
In developing this Maryland vs Indiana pick, we found the following keys to this game.
Hoosiers feature a diminished roster, as four players scratched for injury issues
Maryland has home court and that's a help
Indiana shooting percentage gives them some room
Terrapins should win the battle in the paint
Foul shooting could be a factor.
Edge: Even
Our Maryland vs Indiana Pick
We do like the Terrapins, but do we like them at -5.5? We do expect a close game. However offensive rebounding should offer Maryland more second chances and foul shooting could give them a boost. Our gut in making our Maryland vs Indiana pick pushes us to Indiana at +5.5. See our Raptors vs Nets NBA pick for Jan. 11 here.
Summary Maryland vs Indiana Pick: Indiana Hoosiers at +5.5