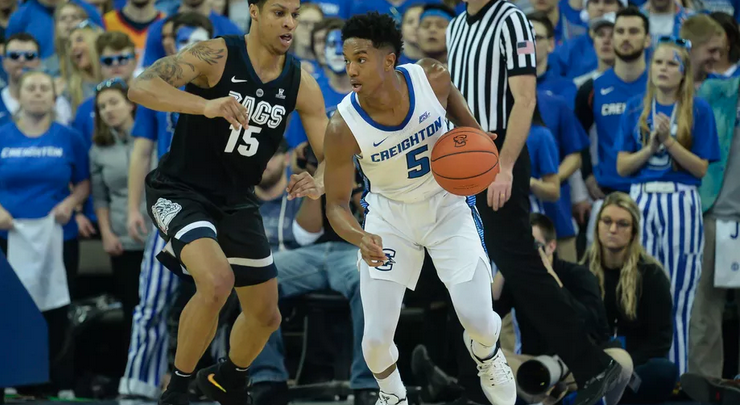 On Wednesday night, the Creighton Blue Jays will go on the road to take on the Villanova Wildcats. Creighton comes in at 13-9 and is in 5th place in the Big East. Villanova is ranked 14th in the nation with an 18-4 record and is in 1st in the Big East.
Creighton Coming Off A Blowout Win
Creighton is coming off a 76-54 blowout over Xavier on Sunday. Creighton led this game from start to finish, and the result was never really in doubt. Martin Krampelj led the Blue Jays with 23 points on 8 of 11 shooting and was the leading rebounder with 6 boards. Marcus Zegarowski was the only other player in double figures with 13 points on 5 of 7 shooting. Kaleb Joseph, Davion Mintz, and Mitch Ballock each added 8 points, and Tyshon Alexander chipped in 7. Joseph, Ballock, and Alexander all tied for the team lead in assists with 3.
Villanova is coming off a solid 77-65 win over Georgetown on Sunday. This game was close until there were about 6 minutes left when Nova went on a run to bring the lead to double digits. Collin Gillespie tallied 30 points on 7 of 13 shooting to lead the team and added 5 rebounds and a team-high 4 assists. Eric Paschall scored 24 points on 9 of 17 shooting and grabbed 6 rebounds. Phil Booth added 14 points on 5 of 15 shooting. Jermaine Samuels had a monster game on the glass and led the team with 16 boards.
Strong Scorers Lead Both Teams
Creighton is led by Tyshon Alexander, who averages 17 points a game. Martin Krampelj adds 12 a game and is the leading rebounder with 6.2 a game. Marcus Zegarowski adds 10.9 a game and is shooting 46.2% from 3-point range. Mitch Ballock averages 10.7 points a game and is shooting 46% from deep and leads the team in assists with 3.6 a game. Creighton averages 82.4 points a game and shoots 50.2% from the field but are allowing opponents to score 76.4 a game. Creighton is 2-4 on the road this season.
Villanova is led by Phil Booth, who is averaging 18.5 points and is shooting 41% from 3. Booth also averages a team-high 4 assists per game. Eric Paschall is adding 17.4 points a game and averages 6.3 boards a game. Collin Gillespie shoots 41.6% from deep and scores 12.1 points a game. A bright spot off the bench is Dhamir Cosby-Roundtree, who is averaging 5.6 points a game but leads the team on the glass with 6.6 boards a game. Villanova is scoring 76.8 points a game on 45.8% shooting, and they are holding opponents to 66.9 points a game. The Wildcats are 9-2 at home on the year.
Creighton Can't Keep Up with Villanova
Villanova comes in at -9. Creighton has been solid this season, but Villanova is on an absolute tear right now. They have won 10 straight games and have been winning most of these games easily with 6 of them coming by 10 points or more. Villanova is going to be way too much for the Creighton defense to handle, and Creighton will not be able to keep up on offense in this hostile environment. Villanova will take this one easily by double digits. Take Villanova -9.