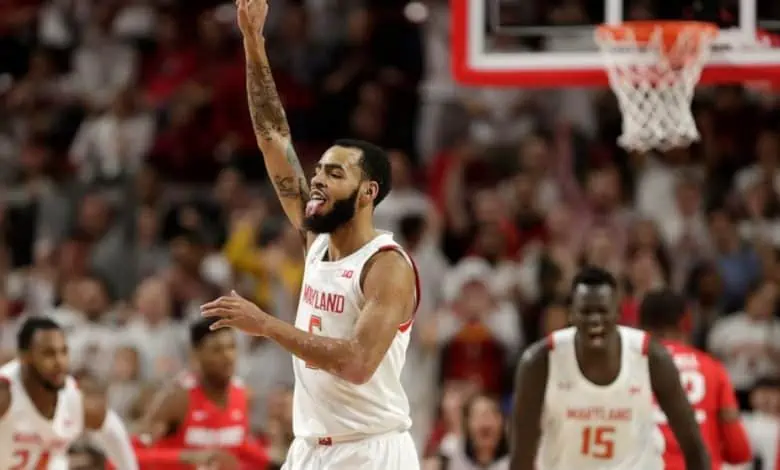 The Buckeyes should be able to pull out a victory in the February 6th Maryland at Ohio State betting matchup, but can they cover the -9 point spread? Ohio State has gone 9-0 at the Schottenstein Center this season including 3-0 in conference play and at 6-3 in the Big Ten they are on pace in the lost column with 10-2 Illinois who is in 1st place.
Maryland is just 3-8 in the Big Ten, so their main goal on Sunday is to just play the spoiler. The Terrapins have dropped two in a row, but they also have recent wins against Illinois and at Rutgers so this is not a team to overlook. The Buckeyes won by 8 points in last year's only head to head meeting between the two teams.
Terrapins Playing Well
Aside from a 68-55 home loss to Indiana on January 29th, Maryland has been playing pretty well over the last couple weeks. That stretch has included an 81-65 win over 1st place Illinois, taking down Rutgers (who is 11-2 at home) 68-60 in New Jersey, and most recently losing 65-63 against #13 Michigan State on Tuesday.
The Terrapins will definitely have their hands full traveling to Columbus where OSU is 9-0 on the season. The Buckeyes have beaten #9 Duke (who was #1 at the time) and #10 Wisconsin at the Schottenstein Center this season but have also struggled to a 61-56 win over Penn State on January 16th as -10.5 favorites.
Maryland's problem is that they don't necessarily score or defend on an elite level, ranking 11th in the Big Ten in points for and against while posting an 11-11 record on the year. Eric Ayala leads Maryland with 15.7 ppg, but he's also been held to single digit outputs in two of the past four.
Ohio State Dominant at Home
The Buckeyes are big favorites in the February 6th Maryland at Ohio State betting matchup as they should be being undefeated at home this season. OSU has also covered the number in five of their last seven in Columbus including a huge -33 line in their last game at the Schottenstein Center, an 83-37 victory over Indiana-Purdue.
Ohio State is coming off a loss though, following 81-78 at Purdue but covering the +9.5 number. That game was on January 30th and since the Buckeyes had a contest with Iowa postponed, they will have had a full week off prior to meeting Maryland. That should leave a very fresh team.
E.J. Liddell and Malaki Branham both had 20 points in the loss to Purdue last Sunday, and they are a big reason the Buckeyes have the #5 scoring offense in the conference with 75.3 ppg. Liddell is 4th in the Big Ten averaging 19.7 ppg, but was held to just 7 points last year against Maryland in a game Ohio State still won by 8 points.
Free February 6th Maryland at Ohio State Betting Pick
One would think the Buckeyes pull off the SU victory on Sunday considering they've beaten quality teams like Duke and Wisconsin en route to their 9-0 home record. That +9 points looms large though, especially vs. a Maryland team that has played well in matchups vs. Illinois, Michigan State, and at Rutgers recently. Just too many points.
Ohio State 71 – Maryland 66
Free Pick: Maryland +9