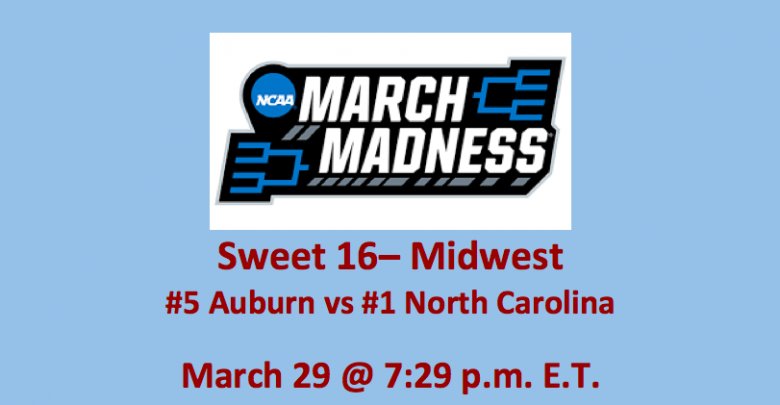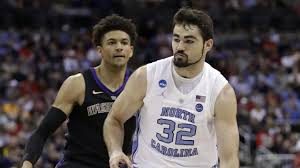 Our Auburn vs North Carolina preview and pick has the Tar Heels at -5.5. This Auburn vs North Carolina Sweet 16 game will be played on Friday, March 29 at 7:29 pm ET. The two teams will meet in this 2019 NCAAM Tournament Midwest Region contest at the Sprint Center in Kansas City, MO. On the first day of the 2019 Sweet 16 round, the Gonzaga Bulldogs covered the spread. That's the first time they've done so in this tournament. Also, Virginia got a win but did not cover. Plus, two underdogs moved onto the Elite Eight, as the Boilermakers of Purdue beat and the Tennessee Volunteers and the Texas Tech Red Raiders took down Michigan. Perhaps today's games will be more predictable.
Auburn Tigers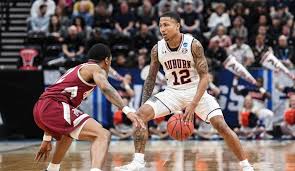 The Tigers of Auburn (28-6) had a tough time beating 12th-seed New Mexico State, winning 78-77. However, they had no trouble with fourth-seed Kansas. At the half of that game, they led 51-25, and in the end, the score was 89-75. This far in the tournament, Auburn has shot 50.4% from the field and 77.0% from the free throw line. In game one, they connected on just 28.0% of their threes, but in the second contest, they hit 43.3%. Over the course of their first two games, Auburn recorded 31 assists and 15 steals. They are also averaging 33 RPG. On the worrisome side is this team's proclivity for committing fouls. They're averaging 20 PF per game.
Our Auburn vs North Carolina preview finds that the Tiger backcourt offers two players who can setup plays and score. Jared Harper, a junior, is averaging 17.5 PPG and 5.0 APG. Bryce Brown has been good for 18.5 PPG and 3.5 APG. In front, forward Chuma Okeke has been consistent with 12.5 PPG and 5.0 RPG. Anfernee McLemore played well against Kansas, scoring 11 and taking down five rebounds. He was less effective against New Mexico State. Guard J'Von McCormick is capable of coming off the bench and putting up much-needed points.
North Carolina Tar Heels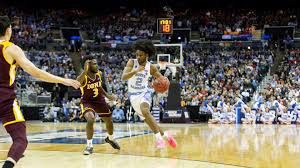 Our Auburn vs North Carolina preview notes that the Tar Heels (30-6) did struggle a bit against 16th-seed Iona. The Gales went into the locker room at halftime ahead 38-33. But in the second half, North Carolina outscored Iona 55-33, winning the game 88-73. The Tar Heels had fewer issues with ninth-seed Washington, as they beat them 81-59. UNC's shooting has been top-notch. They've hit 45.4% from the floor, 40% from the arc, and 86.6% from the free throw line. The Tar Heels are averaging a healthy 37 RPG, a robust 14.5 APG, and a modest 5.5 STPG. Overall, turnover and personal fouls are around average.
At forward, Luke Maye is a constant double-double threat. Thus far, he's averaging 18 PPG and 16.5 RPG. Also in front is Nassir Little. Little, who has subbed in for an average of 18 MPG, is averaging 19.5 PPG and 5.5 RPG. In the backcourt, guards Cameron Johnson and Coby White are major contributors. Johnson has been good for 17 PPG and 5.5 APG. He's also grabbed a total of 11 rebounds. White is putting up 13.5 points, making three assists, and taking in six rebounds per game.
NCAAM Sweet 16 Auburn vs North Carolina Preview – Our Pick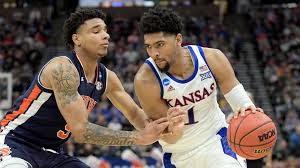 Our Auburn vs North Carolina preview notes that these are two solid teams. However, we like UNC's chances of covering in this game. They have been accurate in shooting in both of their previous 2019 NCAAM Tournament games. The Tar Heels also have an exceptional group of players and are capable of beating anyone. We are taking the North Carolina Tar Heels at -5.5. As can be noted from yesterday's games, there are no guarantees, but we certainly see this as a good bet.
Summary Midwest Region, Sweet 16 – Auburn vs North Carolina Preview: Pick is the UNC Tar Heels at -5.5