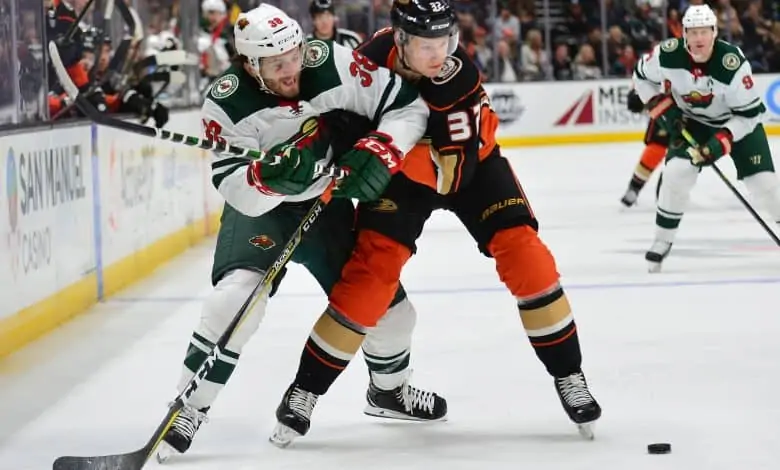 On a busy Thursday in the NHL, the Minnesota Wild and Anaheim Ducks will face off at the Honda Center in Anaheim. The Wild (6-6-0) are coming off of a 4-0 loss to the Kings, their first game since COVID paused their season after February 2nd, while the Ducks (6-7-3) dropped the third and final game of their quick road trip, a 3-2 loss to the Sharks.
Here is a look at some key stats and players for each team, along with a free pick. After splitting their first two matchups this year, Minnesota is currently a -130 favorite on the road, with Anaheim, a home underdog at +110.
By the Numbers
The big thing that jumps out at you when you look at both of these teams is the lack of consistent offense. Minnesota has the slight edge, ranking 24th with 2.5 goals per game, while Anaheim is tied for second-to-last with 1.94. The Wild also has a decent advantage with shots and shooting percentage. However, they also boast the worst power play in the league at 6.7 percent, even worse than the Ducks' 8.6 percent.
Defensively, Anaheim has a slight advantage. The Ducks rank inside the top-10 with 2.56 goals allowed, while the Wild are 16th with 2.83 goals allowed. Shots allowed are pretty close to even, as is penalty kill, with both clubs carrying top-six penalty kill percentages thus far. But the Ducks don't use the penalty kill as much, averaging the second-fewest minutes in the box per game, whereas the Wild average the sixth-most.
Wild Betting Preview
After seeing five games get postponed, Minnesota is definitely happy to be back on the ice once again. And although they had an unceremonious return to action Tuesday, they now get to look forward to playing an offensively-challenged Ducks team, one they sizably out-shot in each of their previous two meetings this season.
The Wild's point leaders are fairly bunched together, with Jordan Greenway currently leading with 10 points, eight of them assists. Next up is goal-leader Joel Eriksson Ek, who has five goals to go along with four assists. Eriksson Ek is tied with the exciting rookie Kirill Kaprizov in points, as the 23-year old Russian has three goals and six helpers.
Of course, Minnesota is still counting on longtime vets Ryan Suter and Zach Parise to produce, as well as defensemen Jonas Brodin and Matt Dumba. One more x-factor is Kevin Fiala, who, after a 54-point campaign last year, has just three goals and zero assists this season. However, all three of those goals have come within his last five games.
In net, it appears Cam Talbot will make his return to the ice. Coming off of a bout with COVID, Talbot is doing well in his first season in Minnesota, going 3-2-0 with a 2.40 GAA and .919 save percentage. The 33-year old made 26 saves in their 1-0 loss to Anaheim back on January 18th.
Ducks Betting Preview
The Ducks have alternated wins and losses for the entire month of February. Although it's not ideal for a team that had hoped to contend this year, it's an improvement from January where they had three separate losing streaks. Now they will try to keep that trend going against a Wild team who struggles in a number of the same areas they do.
Through 16 games, Anaheim's Max Comtois leads the way with nine points. However, the 22-year old has seven goals, the most in the NHL for any player 22-and-under. Next is Rickard Rakell, where the one-time 30-goal scorer has dished out six helpers as part of his seven points. A bunch of veterans are tied at six points then, including the captain Ryan Getzlaf and Swedes Jakob Silfverberg and Hampus Lindholm.
While Anaheim is getting some point production from their vets and Comtois, they are anxiously awaiting breakouts of a few of their youngsters. Sam Steel is one of them, as the 22-year old finally netted his first goal of the season Monday against San Jose. Troy Terry also has multi-point efforts in two of his last five outings, giving him four points thus far.
The best thing the Ducks have going for them is in goal. John Gibson has been excellent, going 5-5-3 but carrying a 2.33 GAA and .921 save percentage. His first of three shutouts came against Minnesota, where he made 34 saves in the 1-0 win.
Betting Pick
With these teams fairly even on the offensive side of things, defense and goaltending break the tie. The edge there goes to the Ducks, where nothing could get past Gibson when they played earlier this season. Expect another close, low-scoring game, bet Anaheim to come out on top against a Wild team still trying to get back into game shape.
Pick: Ducks +110