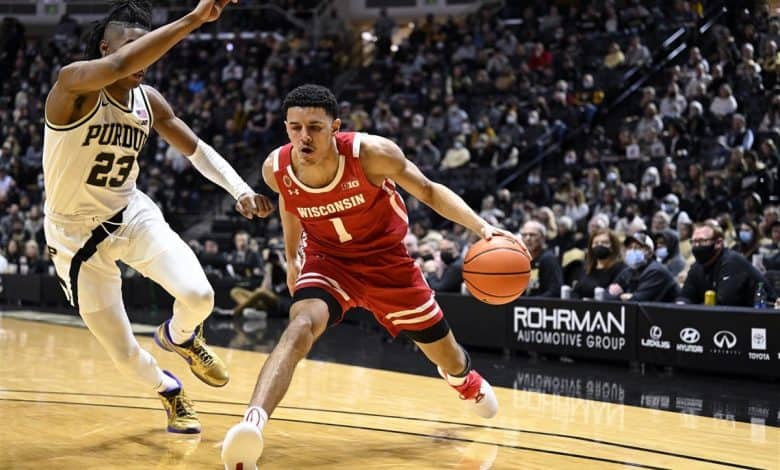 Big Ten elite clash in the March 1st Purdue at Wisconsin betting matchup. The Badgers are 14-4 in conference play and can clinch a share of the title with a win over 13-5 Purdue on Tuesday night. The Boilermakers can climb back into the top spot with a win, which is likely their only chance to do so considering the Badgers end their regular season at home against last place Nebraska. Illinois is also in the mix at 13-5 as well.
Wisconsin has won four straight, three of them being tightly contested road victories. That includes a win at Indiana 74-69, at Minnesota 68-67, and at Rutgers Saturday 66-61 which was impressive considering the Scarlet Knights are a decent 13-3 at home this season. Purdue is angry coming off a 68-65 loss at Michigan State, but now they have another tough road contest and as -3 point favorites.
Should Purdue Be Favored?
The Boilermakers are a -3 point favorite on Tuesday night, a somewhat strange line considering Purdue is coming off a loss at Michigan State. It's been kind of a shaky stretch for Matt Painter's squad, who has a 62-61 win over Maryland (as -17 point favorites), a 6-point win at Northwestern, and the loss to the Spartans over the last four games. The Boilermakers also beat Rutgers 84-72 over that span but also to push as -12 point favorites.
Another reason to be a little iffy on the Boilermakers in the March 1st Purdue at Wisconsin betting matchup is because UW already has a 74-69 victory in West LaFayette in January as +13 point underdogs. Zach Edey had 24 points and 10 rebounds in that game, but a subpar effort from Trevion Williams (9 points, 5 rebounds) doomed the Boilermakers.
Can't Stop Davis
Wisconsin definitely has some value getting +3 points at the Kohl Center, even though they do have an almost uncharacteristic three losses at home this season. 24-5 Purdue is good no doubt, but the Badgers have Johnny Davis who is in contention for player of the year and has worked his way into a projected top 10 pick in the NBA draft.
Davis exploited Purdue for 37 points and grabbed 14 rebounds in the first meeting, and that was on the road in front of a rabid Mackey Arena crowd. Davis has only averaged 15.5 ppg the last two, but that's because the Badgers have slowed things down in a 68-67 win over Minnesota and beating Rutgers 66-61. Both of those were on the road too, and Davis went for 25 in his last home game against Michigan.
Davis should be in line for another big night mostly because the Purdue defense is 5th worst in the Big Ten in points allowed. Wisconsin has the #4 defense in the conference, but the Boilermakers are also 6th in the entire country scoring 81.6 ppg.
Free March 1st Purdue at Wisconsin Betting Pick
The easy play seems to be taking the Badgers at home in this contest, especially getting +3 points in a game they could easily win outright. It's going to be a crazy atmosphere as Wisconsin plays for their share of the Big Ten regular season title and 56% of the public like UW. With everything pointing towards a Badgers pick, Purdue has to be the play.
Purdue 77 – Wisconsin 70
Free Pick: Purdue -3