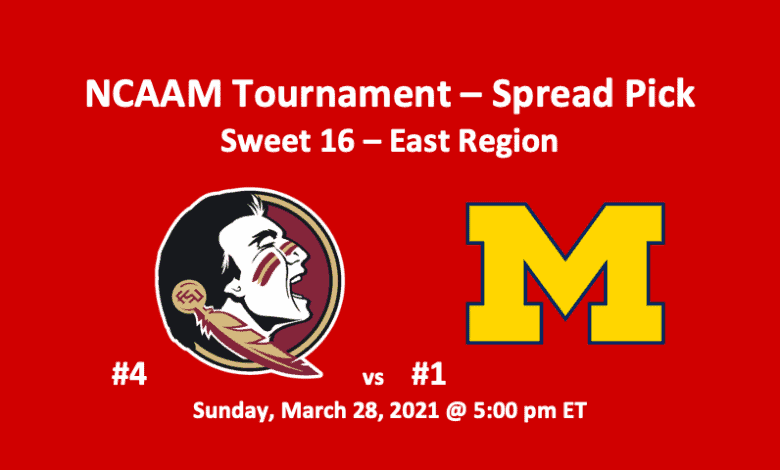 Our Florida State vs Michigan pick lists the Wolverines as a minor favorite. You can take Michigan at -2.0 (-115). The Seminoles can be found at +2.5 (-116). Florida State arrives at this 2021 NCAAM Tournament Sweet 16 East Region game after beating the #13 UNC Greensboro Spartans 64-54 in the first round. In the round of 32, Florida State beat the #5 Colorado Buffaloes 71-53. The Wolverines made it to the Sweet 16, they did have to play two games. In the round of 64, the Michigan Wolverines easily beat the #16 Texas Southern Tigers 82-66. In Round Two, the Wolverines were victorious over the #8 LSU Tigers, 86-78.
The Seminoles and Wolverines play on Sunday, March 28 at 5:00 pm ET. They'll tip off at Bankers Life Fieldhouse in Indianapolis, IN. Also, check out our other East Region Sweet 16 pick for Sunday, as the #11 UCLA Bruins and the #2 Alabama Crimson Tide meet at 7:15 pm ET. That matchup will take place at Hinkle Fieldhouse in Indianapolis, IN
Florida State vs Michigan Pick – Stats
The Seminoles are well-served by their defense, which is allowing 53.5 PPG. On the other hand, Michigan is giving up 72.0 PPG. On the other hand, both teams are scoring approximately the same numbers of points, as the Wolverines are good for 76.8 PPG and 78.0 PPG. The Seminoles are just a tad better in field goals percentage (48.5% to 47.8%), rebounds (37.5 to 37.0), and assists (15.8 to 14.7). On the other hand, FSU is a bit better when it comes to blocks (5.1 to 4.3) and much better on steals (7.3 to 4.3). In terms of three-point shooting, these two teams are close as FSU is hitting 39.0% and Michigan 38.7%. The Wolverines are completing 77.7% of their frees, while the Seminoles are good on 73.8%.
Key Players
Guard M.J. Walker leads the team in scoring with 12.3 PPG, and forward RaiQuan Gray is right behind him with 12.0 PPG. Gray is grabbing 6.5 RPG and making 1.3 SPG. He's a 51.5% shooter from the field. Guard Scottie Barnes, also a 51% shooter, is a solid player from the perimeter and in the paint. He's recording 10.4 PPG, 4.1 APG, and 4.1 RPG. Guard Anthony Polite, a 49.7% field-goal and 44.0% three-point shooter, is averaging 10.2 PPG, 4.5 RPG, and 1.4 SPG. In the paint, center Balsa Koprivica, who's shooting 60.3% from the court, is putting up 9.2 PPG and taking down 5.7 RPG.
Forward Isaiah Livers and his 13.1 PPG and 6.0 RPG is out with a stress fracture. That is a blow for the Wolverines. Around the rim, center Hunter Dickinson is shooting 60.6%. Leads the team in scoring with 14.2 PPG and rebounding with 7.5 per game. Guard Franz Wagner is able to mix it up inside while also offering solid backcourt chops. He's averaging 12.8 PPG, 3.0 APG, and 6.3 RPG. Plus, on D, Wagner is making 1.0 BPG and 1.3 SPG. Three other guards, Eli Brooks, Mike Smith, and Chaundee Brown, combine for 26.9 PPG. Smith, who's recording 5.4 APG, is a fine playmaker.
Florida State vs Michigan Pick – Final Thoughts
Our Florida State vs Michigan pick notes that in many ways these two teams are very close when it comes to stats. However, the Seminoles are certainly much better on defense, and D can win this game. Our pick for this matchup is the Florida State Seminoles at +2.5 (-116).
#4 Florida State Seminoles vs #1 Michigan Wolverines
Florida State Seminoles at +2.5 (-116)