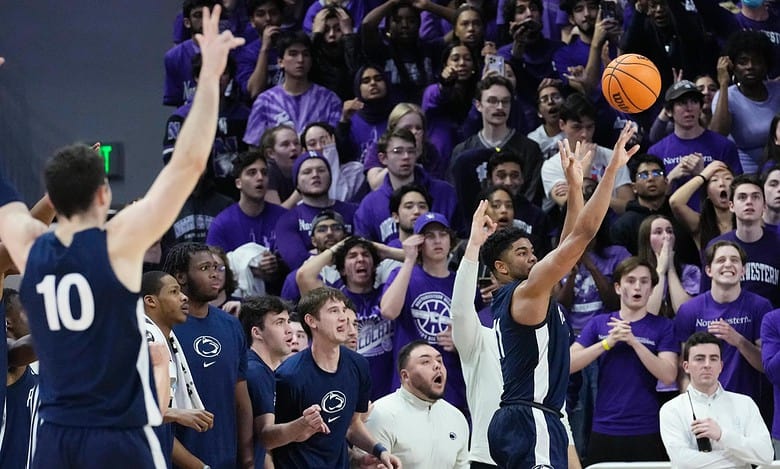 The entire season everybody was waiting for Northwestern to eventually collapse, but they have persevered their way to a 21-10 record and the #2 seed in the Big Ten Tournament. We will see if the Wildcats are for real on Friday as they come off the double bye in the Big Ten Tournament Penn State vs Northwestern matchup.
PSU (20-12) already has a postseason win under their belt and may have punched their ticket to the Big Dance with a 79-76 victory over Illinois on Thursday night. Penn State also won their only meeting with Northwestern this season, 68-65 in OT at Evanston as +4.5 underdogs so this is a Nittany Lions team with some confidence right now. Northwestern is just a -1.5 favorite here with 68% of the betting public willing to give the points.
Why Penn State Can Cover +1.5 Points
To be honest, PSU's win over Illinois on Thursday night wasn't a shocker by any means. The Nittany Lions finished the year 3-0 against the Fighting Illini this season but have also gotten hot at the right time with victories in six of their last seven games.
Penn State was a middle of the pack offensive team in the Big Ten this season (7th) but they looked good against Illinois with four starters scoring at least a dozen points led by Andrew Funk's 20 and with Camren Wynter and Seth Lundy adding 18 and 17 respectively.
Penn State nearly hit 80 points in the tournament opener despite leading scorer Jalen Pickett (18.0 ppg) having just 12 and while shooting 13-22 from the free throw line. Northwestern has a very solid defense, but Wynter had 24 against them in the March 1st meeting while Lundy and Funk combined for 31. PSU got the win in Evanston despite getting just 7 points from Pickett.
Why Northwestern Can Cover -1.5 Points
The Wildcats are on upset alert in the Big 10 Tournament Penn State vs Northwestern matchup, but they are used to that. In the preseason Sports Illustrated projected Northwestern to be the second worst team in the Big 10 ahead of only Nebraska, and all the Wildcats did is go out and get their first 20+ win season since 2016/17.
The Wildcats have the Big Ten Coach of the Year in Chris Collins, as well as the assistant coach of the year Chris Lowery. Lowery has helped Northwestern boast the 2nd best scoring defense in the Big Ten (62.3 ppg) with a #19 ranking on the KenPom adjusted efficiency ratings.
While their defense gets a lot of the hype led by conference defensive POY Chase Audige, the Wildcats also have a very good offensive player in Boo Buie who averaged 17.2 ppg this season. Buie had 20 in the first meeting with Penn State.
Free Big 10 Tournament Penn State vs Northwestern Pick
This year the B10 Tournament is being held a hop, skip, and a jump away from Northwestern's Evanston campus at the United Center in Chicago. There is a lot of hype surrounding this program over the second half of the regular season and the Wildcats should be able to ride that – as well as a very frustrating defense – to advance to Saturday.
Free Pick: Northwestern -1.5