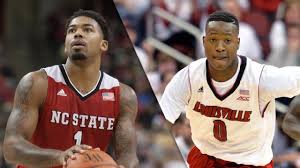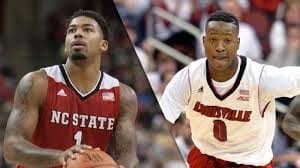 The NC State Wolfpack (14-7 Overall, 3-5 ACC) is 11th in the conference while the #13 Louisville Cardinals (17-4 Overall, 5-3 ACC) occupy fifth. The Wolfpack are coming off an 84-82 win against #17 Duke. The Cardinals come to this game without starting guard Quentin Snider and backup Tony Hicks. At this point for our NC State plays Louisville free pick, the Cardinals are favored by 14.5 points and the totals are at 153.5.
The Wolfpack have gone 2-3 over their past five. On Jan. 11, they lost to Boston College 74-66 and on Jan. 15, Georgia Tech beat NC State 86-76. They then got by Pittsburgh 79-74 on Jan. 17 and, after that, lost to Wake Forest 93-88. They beat Duke on Jan. 23 and have not played in six days.
The Cardinals have gone four and one for their last five. That one loss, which was on Jan. 21, was against the #10 Florida State Seminoles 73-68. Wins before that loss include Pittsburgh 85-80 on Jan. 11, Duke 78-69 on Jan. 14, and Clemson 92-60 on Jan. 19. Louisville played Pittsburgh a second time on Jan. 24 and beat them 106- 51.
NC State Wolfpack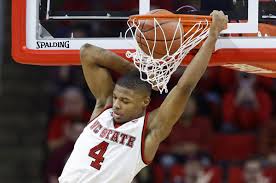 Freshman guard Dennis Smith Jr. (19.5 PPG, 4.4 RPG, 6.5 APG) is an all around player, ably scoring, tossing assists, and grabbing rebounds. He's hitting 46% of his shots. In the backcourt, Terry Henderson is averaging 14.5 PPG and hitting 44% from the floor and 38% from downtown. In the paint, Abdul-Malik Abu (11.7 PPG, 7.4 RPG, 55 FG%) is a major force in the frontcourt. Both Maverick Rowan and Torin Dorn are good for 11.6 PPG and together average nine rebounds per game. Forward Omer Yurtseven (6.6 PPG, 5.6 RPG, 47 FG%) is a solid player.
#13 Louisville Cardinals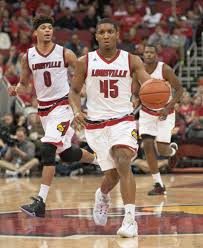 Donovan Mitchell (14.1 PPG, 4.8 RPG, 40 FG%) is Louisville's lead scorer. In the frontcourt, Deng Able (10.8 PPG, 4.5 RPG, 39 FG%) is a solid inside presence. Forward Jaylen Johnson (8.2 PPG, 6.6 RPG, 60 FG%) is a fine rebounder and accurate shooter. Look for Mangok Mathiang (6.3 PPG, 6.3 RPG, 48 FG%) to contribute inside. Ray Spaulding (6.1 PPG, 5.5 RPG, 61 FG%) can also mix it up inside.
NC State Plays Louisville Free Pick
NC State is averaging 81.7 PPG while giving up 77.4 PPG. Louisville is averaging 77.6 PPG and allowing just 62.2 The Cardinals have a large PF/PA differential of plus 15.4. The Wolfpack's differential stands at plus 4.3. Louisville has a better defense, while NC State brings an offense that's a bit better at shooting.
The Cardinals are missing some important offensive elements in this game. They still have a decent chance of winning but most likely not by 15 points. Our NC State plays Louisville free pick is NC State at +14.5. We like the over at 153.5.
NC State Plays Louisville Free Pick: Wolfpack +14.5 and over 153.5