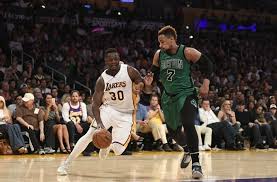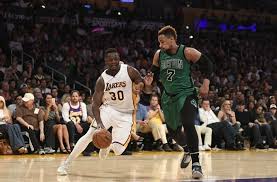 The Boston Celtics (31-18 Overall, 17-8 Home), who are second in the NBA Eastern Conference, host the Los Angeles Lakers (17-35 Overall, 5-22 Away) in a game that, if they win, will send their coach to the NBA All-Star Game. The Lakers are 14th in the NBA West. Our Lakers play Celtics NBA free pick has Boston at -11.5.
Los Angeles, which has lost eight of its last 10 games, recently lost to Dallas, Portland, and Utah before getting a 120-116 win against Denver. In their most recent game, which was on the road against Washington on Jan. 31, they lost 116-108.
Boston comes into this game on a five-game winning streak and having won seven of their last three. Their last loss occurred on Jan. 23 versus the Wizards 123-108. Since then they've beaten Houston, Orlando, Milwaukee, and Detroit. Their last games, a 109-104 win against Toronto, occurred on Feb. 1.
Los Angeles Lakers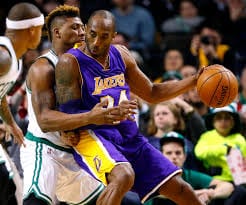 SG Louis Williams (18.2 PPG, 44 FG%, 38 3PT%) is the Lakers' top scorer. Two point guards, D'Angelo Russell and Jordan Clarkson, offer about 14 PPG each. Russell leads the team in assists with 4.8 per game. An important part of the offense, PF Julius Randal (12.8 PPG, 8.2 RPG, 49 FG$), is not expected to play. SF Luol Deng (8.2 PPG, 5.6 RPG, 40 FG%) offers some points and rebounds.
Boston Celtics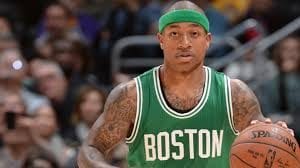 PG Isaiah Thomas (29.7 PPG, 6.4 APG, 47 FG%) is known for maximizing his fourth-quarter scoring. He's hitting 39% from downtown. SG Avery Bradley (17.7 PPG, 6.9 RPG, 48 FG%) sat out Wednesday's win versus the Raptors. He may be back tonight. He's hitting 41% of his threes. Center Al Horford (15.3 PPG, 6.5 RPG, 46 FG%) is blocking an average of 1.68 shots per game. Small forward Jae Crowder (14.2 PPG, 5.4 RPG, 49 FG%) and point guard Marcus Smart (9.9 PPG, 3.9 RPG, 4.7 APG) are averaging 1.02 and 1.48 SPG respectively.
Lakers Play Celtics NBA Free Pick
The Lakers come to this game scoring an average of 104.0 PPG while giving up 110.3. That's a PF/PA difference of minus 6.3 PPG. Boston is allowing opponents 105.7 PPG while scoring 108.3. That's a differential of plus 2.6. In our Lakers play Celtics NBA free pick, we like Boston at -11.5.
Lakers Play Celtics NBA Free Pick: Boston -11.5