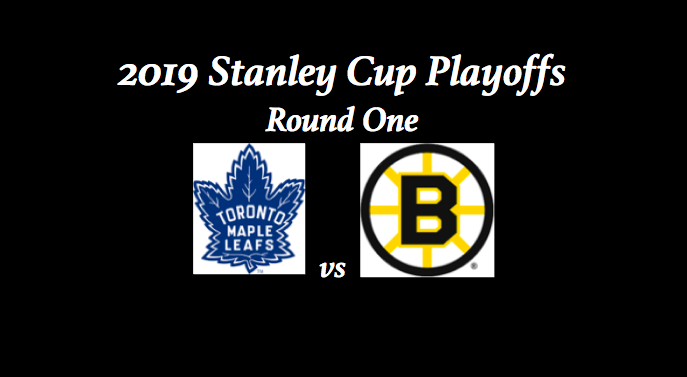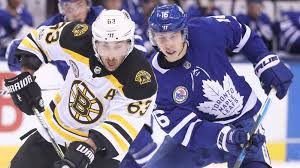 Our Maple Leafs vs Bruins Playoff Preview will break down a matchup between original six rivals. The Leafs vs Bruins playoff preview notes that the Boston Bruins have found themselves second in the Atlantic division for the second straight season. This also means that they will face off against the Toronto Maple Leafs in the first round for consecutive years. While the Maple Leafs had a solid season, they somewhat failed to live up to expectations. After their big offseason acquisition of John Tavares they were projected to be one of the strongest cup contenders. They looked so at the beginning of the year but have since looked mediocre.
Maple Leafs vs Bruins Playoff Preview – Goaltending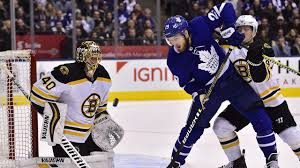 The Bruins are in a rare situation where they have two goaltenders who have played extremely during the season. Both Tuukka Rask and Jaroslav Halak have been good enough to get the start in net. Rask finished the year with a 2.48 GAA and a .912 save percentage. Halak posted a 2.34 GAA and a .922 save percentage. They are both big reasons why Boston allowed the fourth least goals in the NHL this season. Rask will get the start but if he struggles or goes down due to injury, the B's can relax knowing that they have Halak left as a backup.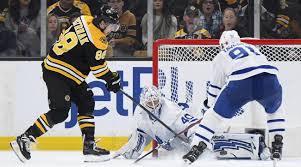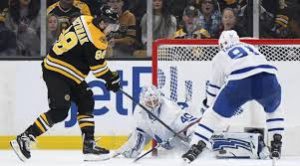 Frederik Andersen has had a solid year despite some rough patches. He owns a .917 save percentage and a 2.77GAA. Andersen struggled last postseason against the Bruins. He stopped .896 percent of his shots then. The backup position is a question mark for Toronto. They have had Garrett Sparks backing up Andersen for the majority of the year but has struggled recently. The Leafs have sent Michael Hutchinson was recalled to fill this spot. Hutchinson has only played a few games this season bouncing around between a few teams. He has a .887 save percentage and a 3.27 GAA in these games.
Boston Bruins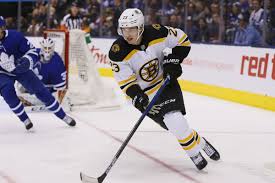 The Bruins have the most dangerous line in hockey with David Pastrnak, Brad Marchand, and Patrice Bergeron. Brad Marchand became the first Bruin since Joe Thornton to record a 100-point season. Bergeron and Pastrnak might have had a chance to do so as well if they didn't miss time to injury. Bergeron finished with 79 points in 65 games while Pasternak had 81 in 66. Boston's trade deadline acquisitions of Charlie Coyle (12-22-34) and Marcus Johansson (13-17-30) have greatly solidified the club's forward depth. While the Bruins' secondary scoring was on display during periods of injury to Bergeron and Pastrnak, these two additions give the team three very solid lines. David Krejci (20-53-73) and Jake Debrusk (27-25-42) will also be factors that the Leafs will need to look out for.
Boston showed their depth on the backend as well this season. At one point The Bruins were missing five of their top six defensemen. While Kevin Miller might be starting the postseason on the IR, the rest of the club's defensemen are finally healthy. Charlie McAvoy (7-21-28), Zdeno Chara (5-9-14, +22), and Torey Krug (6-47-5) all missed considerable time but have been crucial pieces on the backend.
Toronto Maple Leafs
While the Leafs have no shortage of fire power up front, their blueline is lacking. Auston Matthews (37-36-73), Mitch Marner (26-68-94) and John Tavares (47-41-88) are all top level threats. Tavares and Matthews have given the Maple Leafs elite performances at center this year. As good as they have been Toronto will need to get more out of William Nylander if they are going to get past Boston. Nylander started the season late after holding out. He had a down year after coming back with 27 points.
Toronto's defense is their biggest weakness. While Morgan Rielly (20-52-72) had a great year, the Leafs' blueline is lacking after him. Jake Muzzin was a solid midseason addition but is not an elite talent. Ron Hainsey also had a good season finishing with a +30 plus-minus rating but will not contribute offensively. Besides these three players the talent is lacking. Toronto has nowhere near the depth on the blueline that Boston does, and they will likely get worn down in a physical series.
Maple Leafs vs Bruins Playoff Preview – Our Pick
Our Maple Leafs vs Bruins playoff preview likes the B's matchup in this series. Overall they have a deeper lineup and always seem to play well against Toronto. In the season series they were 3-1 and come in to game one looking like the better team recently. Boston's home ice advantage should play a role as well. They lost only nine of their 41 games at the TD garden this year. Like last year's series we see this matchup being close. Due to Toronto's recent struggles and Boston's overall team depth we like the Bruins' chances.
Maple Leafs vs Bruins Playoff Preview
Boston Bruins over the Toronto Maple Leafs in 6 games