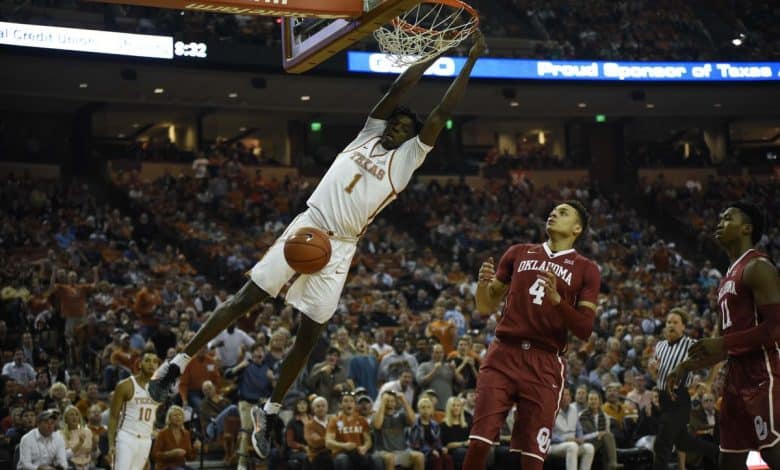 Aside from maybe Kansas and Baylor, it seems like any team can knock each other out on any given night in the Big 12. That's the situation we're looking at heading into the February 15th Texas at Oklahoma betting matchup with the #20 Longhorns visiting Norman as -1 point favorites on Tuesday night.
Texas took one against #10 Baylor on Saturday 80-63, not much of a surprise with the Longhorns being in a letdown spot following their 79-76 win over #8 Kansas last Monday. Oklahoma had their chances to also beat the Jayhawks over the weekend in a 71-69 loss in Lawrence that came as +10.5 underdogs. Texas took the first meeting 66-52 earlier this season to cover the -7 point spread. The road team had won the last four in this series prior to that.
The Road Has Not Been Kind to Texas
The Longhorns giving a point on the road on Tuesday night definitely raises some eyebrows. Make no mistake Texas is a quality team, but life away from Austin hasn't been kind especially in Big 12 play where Chris Beard's team has lost three of their last four.
The 17-point defeat at Baylor was expected with the Bears being 12-2 at home this year, but Texas has also dropped road games at Oklahoma State 64-51 (as -3.5 favorites), at Iowa State 79-70 (at -2.5), and at Texas Tech 77-64 in addition to the defeat at Waco. Those are some pretty bad showings as the Longhorns record has dropped to 2-6 in away games. The good news is that Oklahoma doesn't have the usual dominant conference home court advantage going just 9-4 in Norman.
The Longhorns defense definitely has some concerns heading into the February 15th Texas at Oklahoma betting matchup after allowing 76+ points in three of their last four. That's really uncharacteristic for a Longhorns squad that is atop the Big 12 in scoring defense allowing just 56.8 ppg, which is also #2 in the country.
So Close for OU
Oklahoma led for the majority of the game Saturday against Kansas but the Jayhawks ultimately turned things on late and ended up holding on to for a 71-69 victory even though the Sooners easily covered the +10.5 spread. It would have been a huge win for OU considering they have now dropped 21 in a row in Lawrence, not having won at Allen Fieldhouse since 1993.
You do have to give Oklahoma credit, they fought hard at Kansas even though their season is kind of slipping away from them. With Saturday's loss the Sooners have now dropped 8 of their last 10 games and at 4-8 in conference play they are hoping for a good run in the Big 12 tournament to help their NCAA tournament seedings. OU has the #12 hardest adjusted strength of schedule in the country according to KenPom, so they are projected to still make it to the NCAAs.
Tanner Groves was solid on Saturday with 19 points while Jordan Goldwire led the way with 20. Now the Sooners need to show they can do that against the #2 scoring defense in the country and OU managed just 52 points in the first meeting, which includes a 1-13 night from beyond the arc.
Free February 15th Texas at Oklahoma Betting Pick
This is a tough game to call because Texas looked so good vs. the Sooners earlier this season but overall have also been so bad on the road. These two teams have also split their last six meetings which makes Tuesday's game essentially a toss-up. When that's the case, go for the home team.
Oklahoma 62 – Texas 60
Free Pick: Texas +1