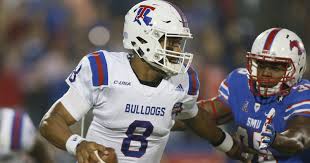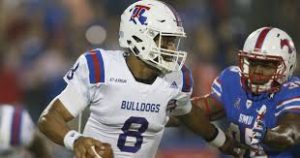 Our Louisiana Tech vs Marshall pick has the Thundering Herd at -6.5 This Louisiana Tech vs Marshall pick features the number one team in the C-USA West, Louisiana Tech, and the number two club in the C-USA East, Marshall. The Louisiana Tech Bulldogs (8-1 Overall, 5-0 C-USA) top the West by one game, with the Southern Mississippi Eagles in second. The Marshall Thundering Herd (6-3 Overall, 4-1 C-USA) are just behind the Florida Atlantic Owls who are 5-1 in the conference and 7-3 overall. The Owls on C-USA loss was to the Thundering Herd. Thus, this game could help Marshall climb into first place in the East, as the Owls are in their bye week.
Louisiana Tech and Marshall will meet on Friday, November 15, 2019 at 7:00 pm ET. The game will be hosted by Marshall at the Joan C. Edwards Stadium at Huntington, WV. At kickoff, the weather will be mostly clear with the temperature at 38 degrees. By game's end, the temperature will be near-freezing.
Louisiana Tech vs Marshall Pick – Stats and Recent Performance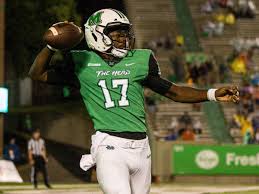 The Bulldogs are averaging 38.1 PPG while allowing 22.9 PPG to opponents. On the other hand, the Thundering Herd have averaged 26.2 PPG on offense and allowed opponents 24.0 PPG. Total offensive yards per game for Louisiana Tech are 479.1 with the Bulldogs passing for 292.1 and rushing for 187.0. At the same time, the Dog D is allowing 390.8 YPG. Of those 390.8 YPG, 254.8 are in the air and the remaining 136.0 on the ground. On offense, Marshall has been good for 224.7 YPG passing and 201.2 YPG rushing. On the other side of the ball, the Thunder Herd defense is allowing a total of 371.4 YPG with 237.1 in the air and 134.3 on the ground.
Team Performance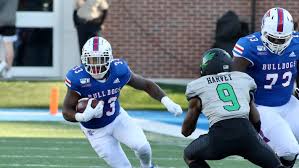 The Bulldogs come to this game on an eight-game winning streak. In the first week of the season, against number 10 Texas, Tech lost 45-14. Since that game, their biggest challenge came against Rice on September 28. Louisiana Tech beat the Owls in OT 23-20. Since that overtime victory, the Bulldogs average margin of victory has been 29.75 PPG.
The Thundering Herd started the season at 2-3 with losses to #24 Boise State 14-7, Cincinnati 52-14, and Middle Tennessee 24-13. They come to this contest with a four-game winning streak and are coming off their bye week. In their last game, which was on November 2, Marshall beat Rice 20-7. In their last four games, Marshall has allowed opponents 19.5 PPG.
Bulldogs vs Thundering Herd – Matchup
The Bulldogs have a solid group on both offense and defense. However, their offense has issues going into this game with starting QB J'Mar Smith and top WR Adrian Hardy suspended for disciplinary reasons. Marshall offers a balanced attack and a very tough rush D.
Louisiana Tech Bulldogs
Our Louisiana Tech vs Marshall pick notes that Bulldogs' starting QB Smith is a major part of the Bulldogs' offense, completing 65.1% of his passes. He's tossed four picks and 14 TDs, while rushing for two more. We expect freshman Aaron Allen to get the nod. This season, he's tossed nine passes, completing eight. He has one TD pass and one INT. He'll have a slew of fine receivers to throw to. However, as noted, top receiver Adrian Hardy is suspended. RB Justin Henderson should see the ball a lot tonight. Henderson has rushed for 712 yards on 109 carries. He's averaging 6.5 YPA and has crossed the goal line 14 times.
The Bulldog secondary has made 11 interceptions and defended 33 passes. They've also posted 17 sacks and over 50 TFL. Corner Amik Robertson with five picks, two TDs, and 14 PD. He's also posted six TFL.
Marshall Thundering Herd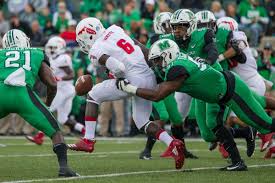 QB Isiah Green leads the Marshall offense. Green is completing 60.4% of his passes and has a dozen receptions and tossed a half-dozen interceptions. TE Armani Levias is his favorite target. He's caught 39 passes for 442 yards and three scores. The ground game is led by RB Brenden Knox. Knox is averaging 5.7 YPA and has eight TDs.
The Marshall defense is the key to this game. They earned 32 sacks and recorded over 60 TFL. DE Darius Hodge has made seven sacks and 7.5 TFL. The secondary's grabbed five picks and defended 29 passes.
Five Keys to this C-USA Contest
With Dogs' QB Smith out Allen must perform
Herds' QB Green must be on target
Can Marshall D shut down LT rush attack?
Can Bulldog secondary disturb Marshall passing game?
Home field and weather favors Marshall
Our Louisiana Tech vs Marshall Pick
Our Louisiana Tech vs Marshall pick revolves on how well Allen will do as the LT quarterback, as well as the ability of the Bulldogs to shut down the Thundering Herd's air game. With Louisiana Tech's passing game compromised, we do like Marshall in this game. We are taking the Thundering Herd at -6.5.
Louisiana Tech vs Marshall Pick – Summary
Marshall Thundering Herd at -6.5