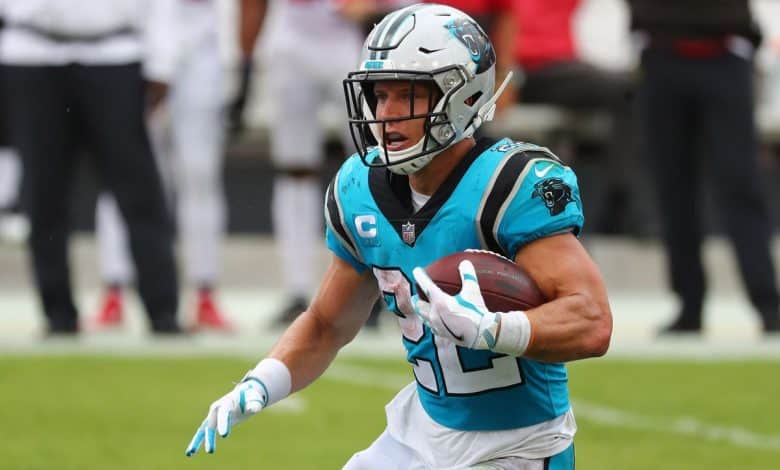 Week 9 of NFL action features the Carolina Panthers (3-5, 2-2 away) up against the defending Super Bowl Champion Kansas City Chiefs (7-1, 3-1 home). The Chiefs are in search of their fourth-consecutive victory while the Panthers will try to avoid their four-straight loss.
Kickoff of the cross-division contest is at 1:00 p.m. EST at Arrowhead Stadium in Kansas City, Mo. The Chiefs are a 10.5-point favorite, according to oddsmakers.
What to Know – Carolina Panthers
The Panthers are reeling after three losses in-a-row, including a home loss last Sunday to the Atlanta Falcons. Carolina welcomes back running back Christian McCaffery, who has been sidelined since Week 2.
Teddy Bridgewater completed 15-of-23 passes for 176 yards, one touchdown, and one interception against the Falcons before exiting after a vicious hit in the third quarter. The return of McCaffery will be a huge boost for Bridgewater, adding a rushing and receiving threat out of the backfield.
The Panthers only mustered up 304 yards of offense against one of the worst defenses in the league. Mike Davis, who now returns to a backup role behind McCaffrey, carried the ball 13 times for 66 yards, and wide receiver DJ Moore caught two passes for 55 yards.
Carolina's 14th ranked pass defense will have to do its best to control Patrick Mahomes and his handful of speedy wideouts. The Panthers are surrendering 357.4 yards and 24.1 points per game on the year.
What to Know – Kansas City Chiefs
Kansas City has flipped the switch and look unstoppable offensively after suffering a rare home loss to the Las Vegas Raiders back in Week 5. Since the loss, the Chiefs have rallied for three-straight with an average margin of victory of just over 20 points.
Mahomes threw for 416 yards and tossed five touchdown passes in last week's victory over the winless New York Jets. The Super Bowl MVP has thrown an astounding 21 touchdown passes and just one interception this season.
Who needs to rush the ball when you can throw it like a game in the backyard. Kansas City rushed for just 50 yards last Sunday, with rookie Clyde Edwards-Helaire carrying the ball six times for 21 yards.
Mid-season signee Le'Von Bell created a media buzz when he signed with Kansas City, but the former NY Jet has accumulated just 46 yards rushing and 31 receiving in two games.
The Chiefs defense allows just 19 points and 344 yards of offense per game at the midway point of the season. Kansas City will have a tall task on Sunday, trying to continue one of the league's most dynamic players in McCaffery.
The Pick is In
The current forecast in Kansas City calls for windy conditions at kickoff on Sunday. Expect both teams to try and run the ball if the conditions are not favorable for the pass.
The Panthers only have one double-digit loss this season, and we expect them to keep it close again with the return of McCaffrey.
The Pick: Carolina +10.5