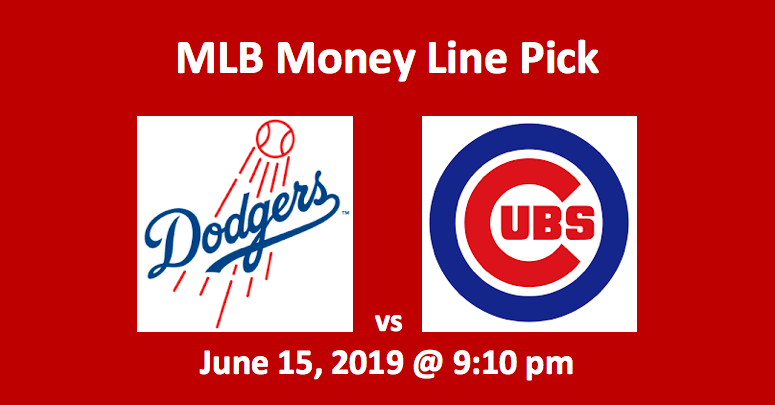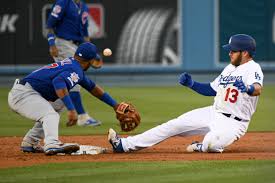 Our Los Angeles Dodgers vs Chicago Cubs pick offers Dodger MLB money line odds at -178. Also, this Angeles Dodgers vs Chicago Cubs prediction has the Cubs at +168. The game, which is the third of four in this series, will be played on Saturday, June 15, 2019 at 9:10 pm ET at Dodger Stadium. In the first two games of this series, the Dodgers won 7-3 and 5-3.
The Chicago Cubs (38-31 Overall, 14-20 Away), who are 5-5 for their last 10 games, are second in the NL Central. They are one game behind the division-leading Milwaukee Brewers. The Cubs are presently two games up in the wild card. The Los Angeles Dodgers (47-23 Overall, 27-7 Home) top the NL West by 10.5 games. They are presently tied with the Houston Astros for the best record in MLB.
Los Angeles Dodgers vs Chicago Cubs Pick – Pitching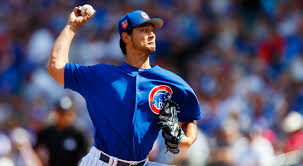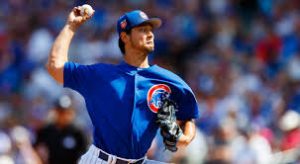 Chicago's Yu Darvish (2-3 W/L, 4.98 ERA, 1.48 WHIP) last had a decision on April 27 when he went 6.0 innings, allowing one run on two hits. He struck out eight and walked four in the effort. In his last eight starts, the Cubs are 4-4. In his last two starts against the Colorado Rockies, Darvish went a total of 11.1 innings, allowing seven runs on nine hits, while striking out eight and walking three.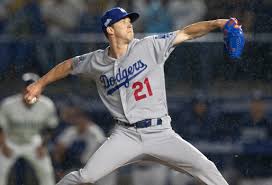 Walker Buehler (7-1 W/L, 3.35 ERA, 0.98 WHIP), who starts for the Dodgers tonight, has been quite consistent all season. In has two starts this month, he is 2-0, beating Arizona 3-1 on June 3 and San Francisco 1-0 on June 9. Buehler pitched eight innings against the Rockies striking out 11, walling no one, and giving up one run on two hits. On June 9, he beat the Giants 1-0. In that game, he lasted seven innings striking out nine, walking one, and giving up no runs on five hits.
Dodgers vs Cubs Stats and Offense
The Dodger RS/RA differential is a whopping +111. The Cubs have a solid but less impressive differential of +61. The only team in the majors to have a better run differential than LA is the Minnesota Twins at +117. The Cubs have a team batting average of .254 (13th MLB), and they have smacked 112 homers (5th MLB), while allowing just 74. Cub hurlers are holding opponent hitters to a .247 BA (5th MLB). Both sides of the LA batting percentages are better than those of the Cubs. LA is hitting .264 (4th MLB), and they're holding opponents to an average of .223 (2nd MLB). The Dodgers have put 110 baseballs (6th MLB) over the fence while opponents have hit 82.
For the Cubs, Javier Baez, Anthony Rizzo, and Willson Contreras are major contributors, as is Kris Bryant. Baez tops the team in BA (.292) and hits (80), while Rizzo, who is hitting .280, is best in homers (18) and RBI (49). Baez is second on the team in homers with 17 and doubles with 18. Contreras is hitting .283 with 36 RBI and 13 homeruns. Bryant .397 OBP is best on the Cubs. He's hitting .278 with 38 RBI and 15 round trippers. Contreras and Baez have been struggling as of late, while Rizzo and Bryant have been hitting well.
For the Dodgers, Corey Seager and A.J. Pollock are out on the 10-day IL. Thus, LA is without some of its offensive power. Cody Bellinger is the Dodger's primary offensive weapon. He leads the team with a .380 BA, 22 HRs, and 57 RBI. He's also best in OBP (.453), hits (87), and SLG% (.720). Max Muncy has a .278 batting average with 43 RBI, 16 HRs, and 11 2Bs. Justin Turner is second on the team in batting average (.314) and hits (69), while Joc Pederson has smacked 18 four baggers and driven in 33 runs with a .238 BA.
Our Los Angeles Dodgers vs Chicago Cubs Pick
It's true that the Dodgers are without some of their offensive potential, but they still possess plenty of clout. The Cubs are a good club when it comes to hitting, and Darvish can be effective. But LA's Buehler has been lights out much of the time this season. Our Los Angeles Dodgers vs Chicago Cubs pick is the home team Dodgers at -178.
Summary MLB Money Line Pick – Los Angeles Dodgers vs Chicago Cubs
Los Angeles Dodgers money line at -178