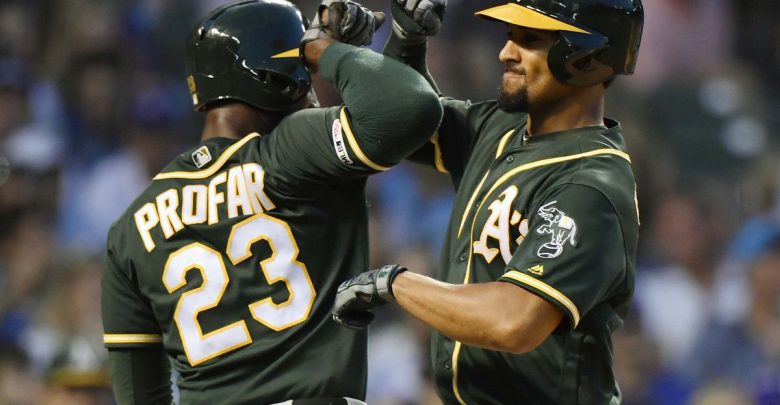 The A's and Cubs play the second of a three-game series on Tuesday night. The Cubs won a 6-5 thriller on Monday with Javier Baez and Marcus Semien both having two-homer games. The Cubs opened up a 6-2 lead in the bottom of the seventh before Oakland answered with three of their own in the eighth. Steve Cishek gave up all three runs and allowed two homers while only getting one out.
Brandon Kintzler came in to get out of the eighth but appeared to be holding his pec as he left the game. A scary sight for a team whose closer, Craig Kimbrel, just went to the IL.
Brett Anderson (9-7, 4.04 ERA) will go for Oakland on Tuesday, while Jon Lester (9-7, 3.86 ERA) takes the hill for the Cubs. The lefties will both be looking to get their 10th wins of the season. If Lester does so, this will be his seventh straight season of reaching 10 wins.
Chicago is the favorite at -140 and the over/under is 9.
Staying In Wild Card Chase
Oakland has a record of 64-49 and a road record of 27-26. They currently sit a half-game back of Tampa Bay for the second Wild Card spot in the American League. Marcus Semien is batting .315 with six homers and 25 runs scored over his last 23 games. He has had to pick up the slack as Khris Davis and Matt Chapman are both in big slumps.
Anderson has been solid for the A's all year long. His numbers aren't spectacular, but he eats innings and gives his team a chance. He has a WHIP of 1.27 and has only allowed 15 homers in 127 innings. He has an ERA of 1.80 in his last two outings against the Cubs.
Only a few of the Athletics have ever faced Lester, and only Robbie Grossman (2 for 3) has an OPS above .700. Stephen Piscotty does have a home run off Lester but is only 3 for 19 from his time with the Cardinals.
Oakland has Sean Manaea on the IL, and A.J. Puk and Sean Murphy are listed as day-to-day.
Cubs Look to Stay Hot at Home
The Cubs enter with a record of 61-51 and are 40-18 at home. Chicago has won five of six and 12 of its last 14 at home.
Lester has been able to get the job done and keep his ERA down despite his peripheral numbers saying he should be much worse. He has given up 134 hits in 119 innings, has a WHIP of 1.34 and a batting average against of .280. Despite all that, he still has an ERA of 3.86, which is .34 above his career average but much better than the league average. Lester, like almost all of the Cubs, has been really good at home this year. He has an ERA of 2.95 and is 6-2 in 11 starts. In his career against Oakland, he is 6-4 with a 3.56 ERA in 15 starts.
The Cubs have very limited experience against Anderson. They have combined for only 18 at-bats, five of which were hits. The Cubs have been much less effective against left-handed pitching this year with an OPS of .739 compared to .795 against righties. This is one of the reasons the Cubs went out and traded for Nick Castellanos. Look for him to have a big game in this one.
Willson Contreras, Pedro Strop, and Craig Kimbrel are all on the IL, and Brandon Kintzler and Yu Darvish are both listed as day-to-day.
The Pick
The Cubs are just a different team at home. If they can get seven solid from Lester and piece together a bullpen to close the game, they should be able to keep their win streak going. With neither pitcher having shutdown stuff, the over 9 is tempting as well. Keep an eye on the wind closer to game time before you bet the over. If it is blowing out, we are hitting the over. We like the Cubs to stay hot at home, and we are taking them at -140.