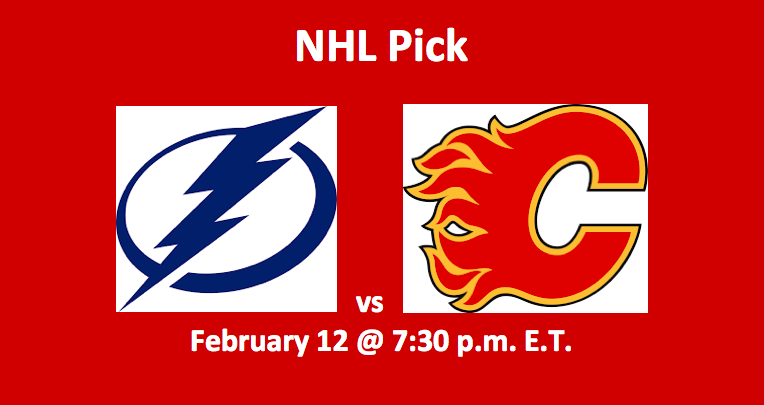 Two of the NHL's top teams are set to clash February 12th at 730 PM ET. The Eastern Conference leading Tampa Bay Lightning (41-11-4) will host the Calgary Flames (34-15-6). Both clubs are 6-2-2 in their last 10 contests. Tampa has won two straight while Calgary is coming off a shootout loss to Vancouver. Tampa is favored in our Lightning vs Flames pick, but we expect this matchup to be close. Here's our moneyline projection for this Bolts vs Flames game that offers lots of great scoring possibilities, as well as the potential for fine netminding.
Goaltending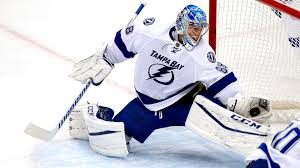 Andrei Vasilevskiy will get the start in net for Tampa Bay. The Russian netminder is having another stellar season after a great 2017-2018 campaign. He is in the top-10 for all statistical categories. He owns a 22-7-4 record with a .926 save percentage and a 2.44 GAA. Vasilevskiy is arguably the most talented goaltender in the NHL and will be tough for the Flames to beat. He comes into this game after a win against Pittsburgh. He will look to make it two wins in a row against a high-scoring Calgary offense which ranks second in the league.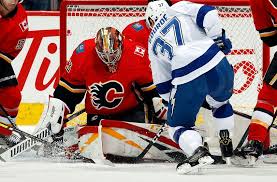 David Rittich will start at the other end of the rink. Rittich has had a solid season in between the pipes. He has compiled a 22-4-5 record with a 2.55 GAA and a .915 save percentage. Although his last regulation loss came in mid-December against Dallas, Rittich has cooled down over the course of the year. In his last two starts, he has allowed five goals on 31 shots. This includes getting pulled after allowing two soft goals on six shots against San Jose. Despite his recent struggles, he still gives the Flames a chance to win every night. He will have a tough matchup against Tampa's league-leading offense. Our Lightning vs Flames pick gives the edge to the Bolts due to Rittich's recent shakiness.
High-Powered Offenses Collide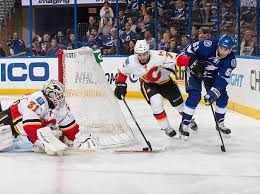 Tampa and Calgary possess the first- and third-most goals out of any teams in the NHL respectively. Both rosters also have three players within the top 20 scorers in the league. Nikita Kucherov (24-60-84) is currently the leading scorer in hockey. He is coming off of a three-point night against Florida. Calgary's Johnny Gaudreau (29-46-75) sits fourth in the NHL. For Tampa, Brayden Point (32-37-69) and Steven Stamkos (29-35-64) are also top scorers. Calgary's Elias Lindholm (24-37-61) has been hot as of late. He has 20 points over his last 16 games. Sean Monahan (27-36-63) has also had a great season. He is currently one point away from matching his career high, even though he has appeared in only 55 games this season
Tampa Bay also has the most effective power play in the NHL. They have been deadly on the man advantage with a 29.1 percent conversion rate. If they get on the man advantage, they will get chances against a Calgary team who's penalty kill is in the bottom half of the league. Calgary has been effective on the man advantage as well, though not to the extent of Tampa. They feature the ninth-ranked power play, but also draw the second-most chances in the NHL. Our Lightning vs Flames pick sees offensive potential as being a wash. Both clubs will get their scoring chances and will be deadly when up a man.
Lightning vs Flames Pick
In a battle of the NHL's top two teams, we expect to see plenty of scoring chances. We also think that this matchup will be close. Goaltending will be a defining element in this game. Rittich should be able to keep this contest close, but we believe that Vasilevskiy will be tough to beat. Our Lightning vs Flames pick sees the Bolts squeaking out a win against a talented Calgary squad. Also, we've got your Blues vs Devils pick, with an 8 pm ET face off, right here.
Lightning vs Flames Pick
Tampa Bay Lightning Moneyline (-155)