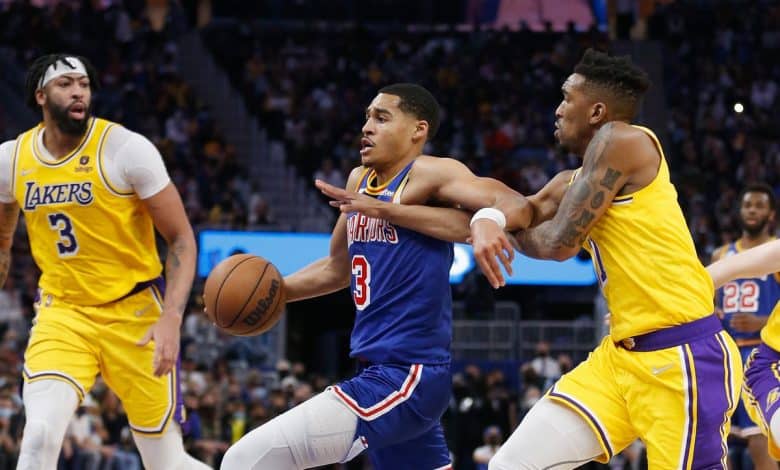 Is there a blowout on the menu in the October 18th Lakers at Warriors season opener? One would think early in the season would be the best time to take the points with an aging Los Angeles team because it would be one of the most opportune times for them to be healthy, but this might be a real bad L.A. team this season banged up or not.
It's possible that Golden State is a bit distracted on Tuesday night as they celebrate their fourth title in the last eight seasons. the Warriors had the third best record in the West last season (53-29) while the Lakers missed even the extended playoffs at 33-49.
Lakers Not 100% Healthy
The Lakers are in midseason form already – in the sense that their injury report reads like a David Foster Wallace novel. Granted LeBron James (foot), Anthony Davis (back), Russell Westbrook (hamstring), and Lonnie Walker IV (ankle) are all probable, but Dennis Schroder (thumb) will have to wait on his return to the Lakers until November and Thomas Bryant (thumb) is also out.
Los Angeles finished 16 games under .500 last season, but James missed 26 games and Davis was out 42 of them. The team also didn't mesh well with Russell Westbrook whose 18.5 ppg were his lowest in the last 12 seasons. This is the first time Westbrook is playing with the same team in back to back seasons since 2018/2019 with Oklahoma City.
The Lakers also have a new coach, parting ways with Frank Vogel just two years removed from the 2020 bubble Championship. Darvin Ham is making his head coaching debut in the October 18th Lakers at Warriors matchup after spending the last 4 seasons as an assistant with Milwaukee.
Warriors Try to Run It Back
The offseason did not lack for news for the defending champion Warriors, most notably Draymond Green taking a leave of absence from the team after punching teammate Jordan Poole. Green is expected to be in the lineup on Tuesday night but he, Klay Thompson, and many other starters will have a minutes restriction after a long postseason run.
With Steve Kerr limiting minutes to many of his top players the first couple weeks of the season, the Warriors' depth will be put to the test. They lost some of that with Otto Porter, Jr. going to the Raptors and Gary Payton II off to Portland, replaced by Donte DiVincenzo and JaMychal Green. Poole – who took the punch from Green and just signed a 4-year – should see extended minutes and is a nice 'over' 23.5 points+rebounds prop wager.
Free October 18th Lakers at Warriors Betting Pick
The thing about the Warriors possibly limiting their starters to a minutes restriction is that guys like Steph Curry (25.5 ppg last season) don't need a ton of time on the court to do some damage. Plus the Lakers aren't exactly going to burn up their veterans early in the season either.
The difference here is that Ham wants to start his coaching career with a win, and the Lakers have a couple promising rookies in Max Christie and Scotty Pippen, Jr. L.A. is going to play hard here, while the Warriors' main focus is celebrating their championship and pacing themselves for a long season with the target again on their back.
Free Pick: Lakers +7