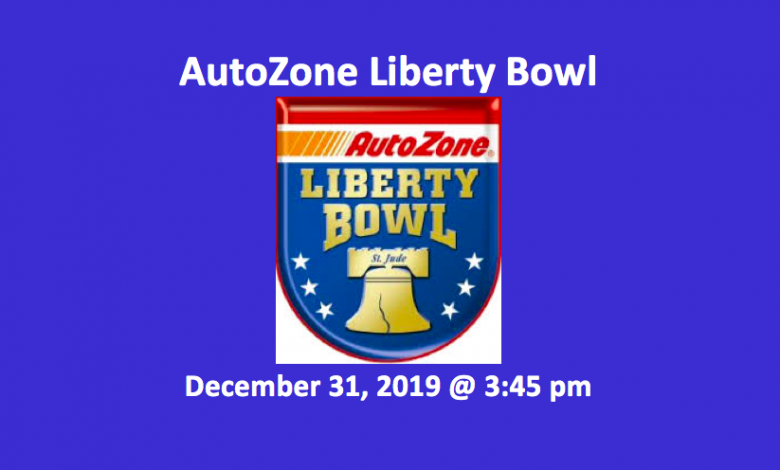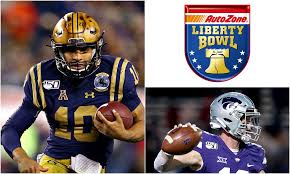 Our 2019 Liberty Bowl pick is the third of five for Tuesday, December 31. This Liberty Bowl prediction has Navy at -3.0 and the totals at 53.0. This bowl, which features the #23 Navy Midshipmen vs the Kansas State Wildcats, will be played at Liberty Bowl Memorial Stadium in Memphis, Tennessee. Kickoff is scheduled for 3:45 pm ET. The next game scheduled for New Year's Eve is the NOVA Home Loans Arizona Bowl featuring Wyoming and Georgia State. That game will start at 4:30 pm ET. The fifth and final game of the day, the Valero Alamo Bowl, will kick off at 7:30 pm ET. January 1, 2020 features four big bowl contests. You can connect with all of our bowl previews by going to this page which offers links to all 41 games.
The #23 Navy Midshipmen (10-2) tied the #17 Memphis Tigers for first in the AAC West. But the Tigers beat the Midshipmen in the regular season 35-23. That victory served as the tiebreaker and Memphis went onto the conference title game. In the Big 12, the Kansas State Wildcats (8-4) were 5-4. That conference record tied the Cats with three other teams for second place. Those teams were Texas, Oklahoma State, and Iowa State.
2019 Liberty Bowl Pick – Regular Season
This season, Navy won seven of their first eight games. Included in those initial seven wins
were five victories in a row. The only loss suffered by the Midshipmen in those first eight contests occurred when Navy met the aforementioned Memphis Wildcats. After that, the team's winning streak was broken when they met #16 Notre Dame on November 16. The Fighting Irish beat the Midshipmen 52-20. With that loss, Navy won its final three games of the season, which included a 35-28 victory over #25 SMU and a 31-7 win over archrival Army.
The Washington State Wildcats won their first three games before losing to Oklahoma State and Baylor. Our 2019 Liberty Bowl pick observes that the Cats then ran off three more wins, which included a surprise 48-41 beating of #6 Oklahoma. KSU split their final four games, losing the first two of the string to Texas and West Virginia and beating Texas Tech and #23 Iowa State in the final two.
Navy Midshipmen vs Kansas State Wildcats – Stats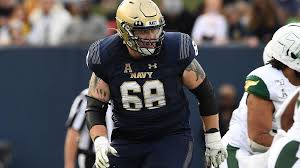 In most areas, the Midshipmen certainly have a statistical edge over the Wildcats. They are averaging 38.6 PPG on offense, while KSU is putting up 30.7 PPG. On the other hand, the Wildcats are giving up 21.5 PPG while Navy is allowing 22.8. That gives Kansas State a very slight advantage. However, when you take the combined PF/PA differential of both teams, the Midshipmen come out on top at +6.6.
The Cats are putting up more passing yards than Navy (185.7 YPG-95.0 YPG). However, Navy dominates in total offensive yards (458.7 YPG -374.7 YPG) and rushing yards (363.7 YPG -189.0 YPG). The Midshipmen's defensive yardage stats are also better than those of KSU. Navy holds a total defensive-yards edge of 326.2 YPG to 364.0 YPG and rushing-yards advantage of 110.8 YPG to 152.3 YPG. WSU does slightly better than Navy in defensive passing yards, 211.7 YPG to 215.3. This edge is negligible.
Navy at Kansas State – Players
On offense, Navy offers a deep rush attack, and on defense, they bring a fine secondary. KSU can score a lot of points. They also offer a solid running game. However, their defense has a tough time stopping opponent offenses and could be their undoing.
Navy Midshipmen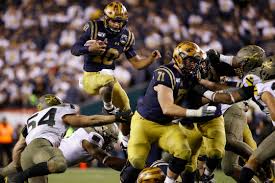 Our 2019 Liberty Bowl pick notes that senior QB Malcolm Perry posseses solid quarterbacking skills. Although the Midshipmen don't pass a lot, when they do Perry usually gets the job done, He's tossed six TDs and three picks while being sacked 14 times. It's the Navy ground attack that is deep and daunting. Perry has rushed for 1,804 yards and 21 TDs while averaging 6.8 YPA. FBs Jamal Carothers and Nelson Smith have totaled 1,282 yards. Carothers has scored 14 times and Smith seven. Top receiver Mychal Cooper is out, leaving C.J. Williams, who has seven catches and two TDs, as the primary pass catcher.
The Navy D bring 12 picks, 10 FF, and nine fumbles recovered to this contest. They've scored on a pick six, defended 39 passes, and made 27 sacks. Top performers on defense include Diego Fagot with 45 solo tackles, 93 total tackles, and 3.5 sacks, and safety Kevin Brennan with 78 tackles, two INTs, and four PD. Fagot has one FF, one INT, and two PD. Also on defense, safety Evan Fochtman has handled two picks while defending five passes.
Kansas State Wildcats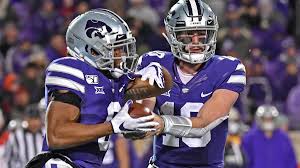 For KSU, junior QB Skylar Thompson has 12 TD passes and five picks. He's completed 59.0% of his passes for 2,191 yards. Thompson's been sacked 21 times. WRs Dalton Schoen and Malik Knowles have 35 receptions and four TDs and 22 catches and three TDs respectively. The rush attack includes Thompson who's posted 10 scores. RB James Gilbert has covered 698 yards and scored a half-dozen times. Also, RB Jordan Brown has scored four times.
The Wildcat defense brings 21 sacks, 11 INTs, and 34 PD. They've forced five fumbles and recovered four. DB Denzel Goolsby leads the team with 41 solo tackles and 56 total brings downs. He also has two picks. DB A.J. Parker has grabbed three INTs and defended five passes. DE Wyatt Hubert has totaled seven sacks.
Five Keys to the Game
In developing our 2019 Liberty Bowl pick, we've determined the following are keys to this contest:
Navy rush attack is daunting
KSU offers a productive, diverse offense
Midshipmen D can stop opponents
Wildcat defense has holes
Both sides should score, but Navy persistence should pay off
Our 2019 Liberty Bowl Pick
This 2019 Liberty Bowl pick likes the Midshipmen in this matchup. Their running game can score at will, and their defense is tough and persistent. KSU can score, but they have a tough time stopping opponent offenses. They are especially challenged when facing good ground attacks like that of Navy's. We're taking Navy at -3.0 in this year's Liberty Bowl and the over at 53.0.
Liberty Bowl Pick – Summary
Navy Midshipmen at -3.0 and over 53.0