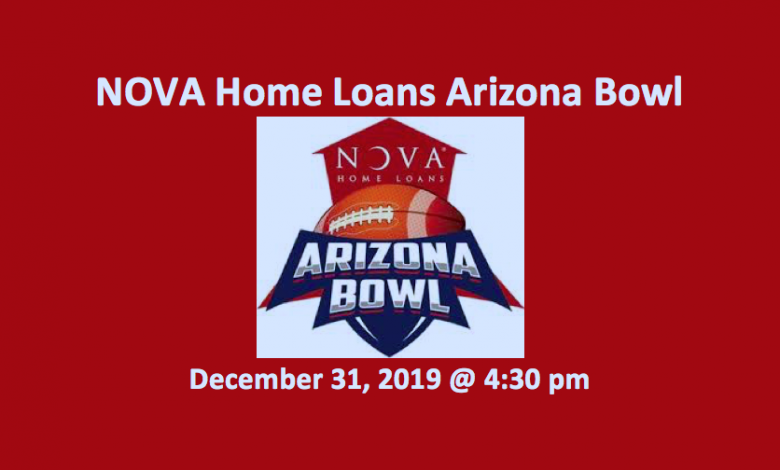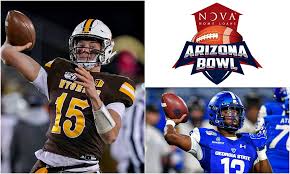 Our 2019 Arizona Bowl pick, which is the fourth bowl contest of the day, offers Wyoming at -7.0. This Arizona Bowl prediction has an over/under of 48. This game will be followed by the Valero Alamo Bowl at 7:30 pm ET, which features Utah and Texas. The NOVA Home Loans Arizona Bowl kicks off at 4:30 pm ET on December 31. It will be played at Arizona Stadium in Tucson, Arizona
This season, the Wyoming Cowboys (7-5) finished fourth in the Mountain Division of the MWC. Their 4-4 conference mark put them four games behind the first-place #19 Boise State Cowboys. In the Sun Belt Conference, the Georgia State Panthers (7-5) also finished with a 4-4 conference record. The Panthers ended up third in the East. The #21 Appalachian State Mountaineers topped the division with a 7-1 record.
2019 Arizona Bowl Pick – Regular Season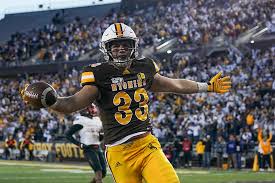 In their first half-dozen games, Wyoming went 4-2. Their final half of the season, the Cowboys split going 3-3. In the second part of the season, they beat New Mexico, Nevada, and Colorado State. Losses were to #22 Boise State, the only nationally-ranked team the Cowboys played, Utah State, and Air Force. The Air Force game was their final one of the season.
Our 2019 Arizona Bowl pick notes that the Panthers split their first four games of the season, winning the first two and then losing the next two. Georgia State then put up four "W's" in a row, as they beat Arkansas State, Coastal Carolina, Army, and Troy. In their last four games, the Panthers were 1-3, beating South Alabama. It was at this time that they played and lost to the only nationally-ranked team on their schedule, Appalachian State 56-27.
Wyoming Cowboys vs Georgia State Panthers – Stats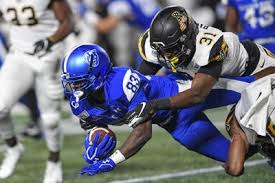 Here's the interesting thing about this game. This season, the Panthers were good for 32.4 PPG while the Cowboys put up 24.3 PPG. In terms of offensive points, Georgia State is +8.1. However, the Panthers allowed opponents 36.1 PPG. Wyoming gave up just 17.8 to opponents. That an 18.3 difference in favor of the Cowboys and giving them a combine PF/PA differential of +10.2.
It's true that Georgia State is racking up 446.9 YPG on offense, which includes 201.8 passing YPG and 245.2 rushing YPG. On the other hand, the Cowboys are accumulating 336.5 YPG with 128.0 air YPG and 208.5 ground YPG. Meanwhile, Wyoming bests Georgia State when it comes to defensive yards. They hold the advantage in total (364.5 to 449.8) and rushing (99.4 to 211.6) yards per game allowed. The Panthers are better when it comes to passing yards (238.3 to 265.1).
Wyoming at Georgia State – Players
Wyoming is without their starting QB who was a major part of their rush offense. Their defense is tough to permeate and can create turnovers. On the other hand, the productive Georgia State offense is stoppable. Plus, the Panthers are hamstrung on defense.
Wyoming Cowboys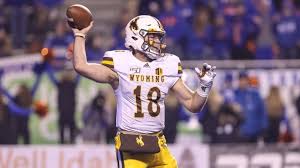 Our 2019 Arizona Bowl pick notes that starting freshman QB Sean Chambers is out with a season-ending injury. Wyoming may call on one or both of the following, sophomore Tyler Vander Waal or freshman Levi Williams. Vander Waal has more experience but is completing just 51.6% of his passes. Williams connected on 61.5% of his tosses this season but in very limited action. One thing the team will miss is Chambers' rushing chops. He has 10 ground-scores and 567 yards as he averaged 6.4 YPA. RB Xazavian Valladay has rushed for 1,061 yards and five TDs. He's averaging 4.8 YPA. WR Raghib Ishmail Jr. has 20 catches and two scores while TE Josh Harshman comes to the game with 19 receptions and two scores. All three will be an important part of this offense.
On defense, the Cowboys have scored three TDs, including two pick-six scores. They have 14 FF and eight recovered with 31 sacks, 11 INTs, and 45 PD. DE Solomon Byrd comes to this game with 6.5 sacks and two FF, while LB Logan Wilson has accumulated 98 total tackles, four picks, and seven PD. He's scored once.
Georgia State Panthers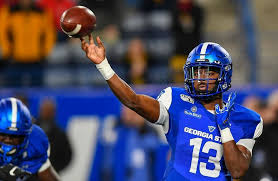 Senior QB Dan Ellington can score. He's tossed 21 TDs and seven INTs while covering 2,291 yards. He's also rushed for 598 yards and scored five times. RBs Tra Barnett and Destin Coates have run for 1,389 and 287 yards. Barnett has posted 12 TDs while averaging 6.0 YPA. Coates comes to this game with seven TDs and a 6.5 YPA. The receiving group has four players with 20 or more catches each. Cornelius McCoy tops the Panthers with 55 receptions. He has four TD catches. Additionally, Sam Pickney, who has 36 catches, has scored five times.
The Georgia State defense is definitely lacking in terms of stats. They have 20 sacks, eight picks, and 38 PD. The Panthers have posted one pick six and eight FF with six recovered. LB Trajan Stephens-McQueen leads the Panthers with 53 solo tackles, 97 total tackles, and two picks. DE Hardrick Willis has made 4.5 sacks.
Five Keys to the Game
Our 2019 Arizona Bowl pick offers these keys to this bowl:
Week Panther D helps Cowboy offense
Wyoming defense is deep
Panthers will need a balanced attack to win
Cowboys rush attack must control the clock
Defense could win this game
Our 2019 Arizona Bowl Pick
The Wyoming quarterback situation gives us pause. However, the Cowboy defense is stout. On the other hand, the Georgia State offense is loaded. They offer a balanced attack that includes a sound air game. Plus, the Cowboys do give up quite a few passing yards. Still, that Georgia State defense is porous and Wyoming's is a wall. Our 2019 Arizona Bowl pick is Wyoming at -7.0. We're going with over 48.0.
Arizona Bowl Pick – Summary
Wyoming Cowboys at -7.0 and over 48.0