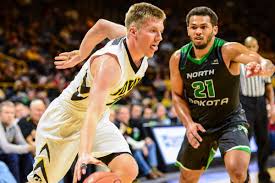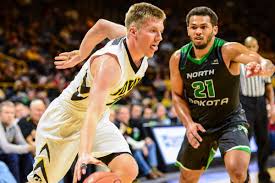 Of all of the Sweet 16 games being played on Thursday, we think that the #11 Xavier Musketeers have the biggest challenge as they meet the #2 Arizona Wildcats at 10:09 p.m. ET. This is the final March Madness game being played on Friday and it's to see which club will be the second one from the West Region to go onto the Elite Eight. Our Xavier plays Arizona 2017 Sweet 16 free pick has the Wildcats at -7.5 and the over/under at 145.0.
The Xavier Musketeers, who were one of seven teams from the Big East to go to March Madness 2017 and one of only two to survive this long, have played well in the first two rounds. In the initial round, they took down #6 Maryland 76-65. Then, in round two, they managed an easy win against #3 Florida State 91-66. The Musketeers have been playing better than expected. Can they do that again in this game? This is a team that definitely knows how to survive, having dealt with some tough injuries during the season.
The Arizona Wildcats came into March Madness as the PAC-12 regular season title-winner and as the conference tournament champs. They have also been up the challenge in this tournament. Their first round game ended with an easy win against #15 North Dakota 100-82. The second round win resulted in a win against #7 St. Mary's by the score of 69-60. Arizona is a good team that possesses the potential to get to the 2017 March Madness finals. But they are in no way guaranteed to get there.
Xavier Musketeers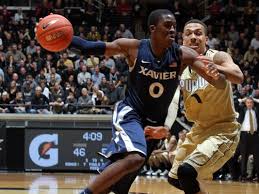 Trevon Bluiett leads Xavier in points per game, averaging 17.7. He's a tough competitor and good leader. He could be a difference-maker in this game. Bluiett is averaging 5.7 RPG. RaShid Gaston is a solid player in the paint, averaging 6.1 RPG. He's a 59% shooter, averaging 7.6 PPG. The Musketeers lost Edmond Sumner and his 15.0 PPG more than halfway through the season. They've made adjustments that have worked. J.P. Macura is averaging 14.3 PPG. They managed to play some zone against Florida State and held them to 66 points. If they can do that against Arizona, the Musketeers will have a fighting chance.
Arizona Wildcats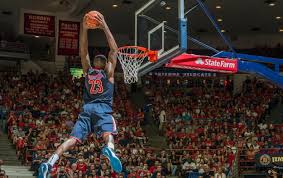 The Wildcats have two dominating players, both whom are big, physical scorers. Sophomore guard Allonzo Trier and freshman 7-foot forward Lauri Markkanen are premium players. Trier is scoring 17.1 PPG and taking down 5.1 RPG. Markkanen is good for 15.8 PPG and 7.2 RPG. He's hitting 43% of his threes. They will be tough to stop. Together Rawle Alkins, Dusan Ristic, and Kadeem Allen are scoring 32 PPG and pulling down 15 RPG. Ristic is hitting 55% from the field while the other two are good about 45% of the time. Parker Jackson-Cartwright is solid on assists with 4.1 per game. He's averaging 5.9 PPG. Still, there's not quite as much offense as one would like on this team.
Xavier Plays Arizona 2017 Sweet 16 Free Pick
Xavier is averaging 75 PPG and putting in 46% of their shots while Arizona is averaging 77 PPG and connecting on 48%. The Musketeers kept Florida State at bay. That portends well for this game. The Wildcats beat St. Mary's by nine.
We think that this will be a close, low-scoring contest. In our Xavier plays Arizona 2017 Sweet 16 free pick, we like the under at 145.0. We see Xavier scoring enough point at +7.5 to be the spread winner.
Xavier Plays Arizona 2017 Sweet 16 Free Pick: Xavier at +7.5 and under 145.