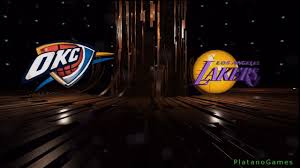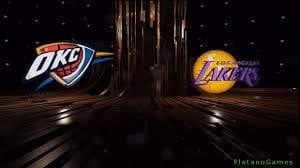 The Los Angeles Lakers (19-39 Overall, 7-25 Away) visit the Oklahoma City Thunder (32-25 Overall, 20-8 Home) for an 8:05 p.m. ET tipoff tonight. Oklahoma City is at -10.0 while the over/under is at 220.5. The Lakers are looking for a rare away victory, while the Thunder welcomes power forward Taj Gibson who was just traded by the Chicago Bulls. Here's our LA Lakers play Oklahoma City NBA free pick.
The Lakers, who are 14th in the Western Conference, are 2-3 for their last five and 3-7 for the club's past 10 games. The team, which has a PF/PA differential of -6.3, has lost two straight. With Sacramento beating them 97-96 on Feb. 14 and Phoenix taking them down 137-101 on Feb. 15th. The team's last win was against the Bucks 122-114 on Feb. 10.
Oklahoma City is also 2-3 over the team's past five. Over their last 10 contests, they are 4-6. The team's point differential stands at -0.1. They won their last game, which was played on Feb 15, beating the Knicks 116-105. Prior to that win, they lost to Golden State 130-114 and Washington 120-98.
Los Angeles Lakers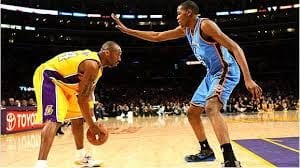 It is the new Magic Johnson Era for LA as the Lakers have brought in their former star as President of Basketball Operations. The Lakers are scoring on average 104.5 PPG, but they're allowing 110.7. Shooting guard Louis Williams (18.6 PPG, 44 FG%, 39 3PT%), who led the team in points, is now with the Houston Rockets. PG De'Angelo Russell (14.2 PPG, 4.7 APG, 39 FG%) offers decent point production and playmaking skills. He's the team's leader in PPG. PF Julius Randle (12.9 PPG, 8.1 RPG, 49 FG%) is the team's top rebounder. Center Timofey Mozgov (7.4 PPG, 4.9 RPG, 51 FG%) has not been as productive under the boards as one would like. Shooting guard Nick Young (13.8 PPG, 44 FG% 41 3PT%) and point guard Jordan Clarkson (13.7 PPG, 45 FG%, 33 3PT%) are consistent contributors.
Oklahoma City Thunder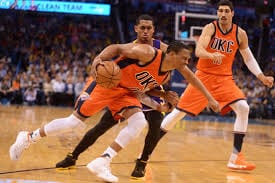 It is the Russell Westbrook (31.1 PPG, 10.5 RPG, 10.1 APG) show and here he comes after getting some welcomed rest. PG Westbrook is a triple-double threat anytime and he could certainly pull one off against the Lakers' weak D. In an Oct. 30 win versus the Lakers, he notched a triple double but in a later loss, on Nov. 22, he fell short of the mark by grabbing just eight rebbies. SG Victor Oladipo (16.1 PPG, 45 FG%, 35 3PT%) offers points. Centers Steven Adams (12.2 PPG, 7.9 RPG, 57 FG%) and Enes Cantor (14.4 PPG, 6.7 RPG, 56 FG%) are solid in the paint. Also in front, SF Andre Roberson (6.6 PPG, 5.1 RPG, 44 FG%) and PF Domantas Sabonis (6.1 PPG, 3.8 RPG, 40 FG%) provide accuracy with some Sabonis including some decent defense.
LA Lakers Play Oklahoma City NBA Free Pick
Our LA Lakers Play Oklahoma City NBA free pick like the home team at -10.0 in this game. Westbrook had a tough time versus the Lakers the last time these two teams met. Look for him to excel tonight. We're also taking the over at 220.5.
LA Lakers Play Oklahoma City NBA Free Pick: Thunder at -10.0 and over 220.5