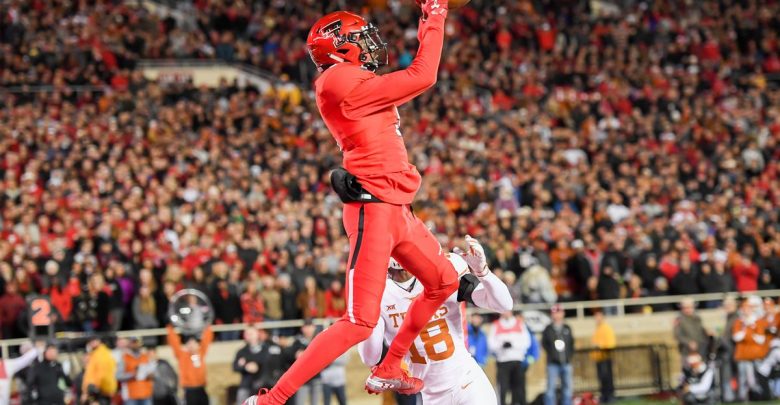 One of the most appealing late games for the college football slate is the week 3 Texas Tech at Arizona free pick. The Red Raiders have started the season 2-0, but were at least 4 TD favorites in both contests. Arizona meanwhile has the offense to stay with anybody in the country – and the defense that needs that offense (aka bad). Is there good value on Arizona getting a point, or do the Red Raiders obliterate that number?
Texas Tech Faces First Test of Season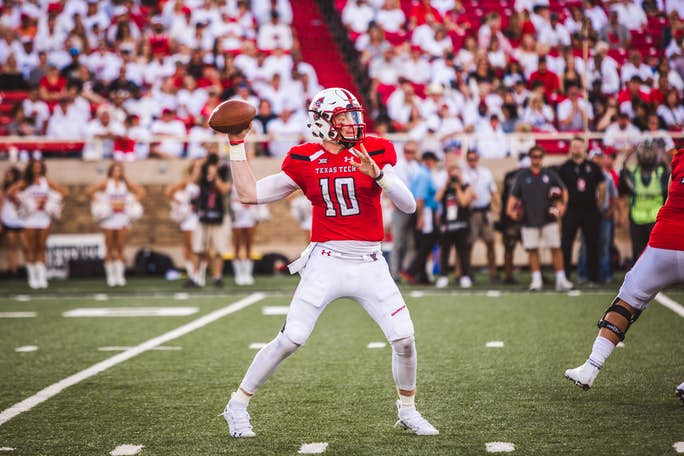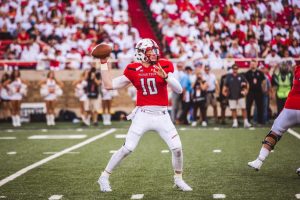 Not only have the Red Raiders been able to open the season with two games at home, they've built their 2-0 record in what amounts to be two glorified scrimmage games. Texas Tech was a 45-10 winner in week one over Montana State but as -28.5 favorites. The Red Raiders followed that up with a 38-3 beatdown of UTEP but with a line of TT –34.5. The week 3 Texas Tech at Arizona free pick is not only the first game against a viable opponent for Matt Wells' team, it's also their 1st game on the road.
Kliff Kingsbury is off to coach the Arizona Cardinals but the Red Raiders still run the Air Raid under Wells and OC David Yost. That duo led the Utah State offense to average 47.5 ppg last season. The biggest benefactor of the scheme is Alan Bowman, who has gone 40/53 for 436 and 30/45 for 260 in two games this season. 6-6″ T.J. Vasher is a pro prospect at WR who has 12 catches for 150 yards and 2 TD, which are good numbers considering the blowouts.
It should probably be mentioned that Texas Tech is up against an Arizona defense that has allowed 86 points in two games this season. The Red Raiders were also one of the worst teams in the nation defensively against the pass last year though, ranking 128th by giving up 288.3 ypg. The Red Raiders are 2nd in the country allowing just 6.5 ppg this year, but once again the competition hasn't been the greatest.
Can Arizona's Offense Keep Rolling?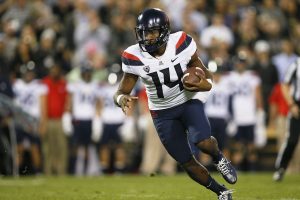 The M.O when a team is playing Arizona is pretty simple – expect to score, but also to be scored upon. Most teams who average 51.5 ppg (6th in the country) would be 2-0 through the first two games but the Wildcats defense also has allowed 43 per game so far (126th). It's definitely the pass that has been the Wildcats Achilles Heel this year (404.5 ypg allowed through the air) which isn't good when you're about to face the Air Raid offense.
What people betting on the Week 3 Texas Tech at Arizona free pick have to remember is that Khalil Tate is not the same player he was in 2017, as a dual threat at least. That year Tate threw for 1591 and 14 TD as a sophomore but also ran for 1411 and another 12 scores. Last year Tate ran for just 224 yards even though his passing stats improved to 2,530 and 26 TDs. Tate went for 361/3/2 in the opener vs. Hawaii but just 138 yards (with 2 TD) last week. Texas Tech will find out just how good their defense is on Saturday night in Tucscon.
The Arizona offense will likely hold up their end of the bargain Saturday night (O/U 75) but can the Wildcats find any semblance of defense at home? The Red Raiders offense has been solid so far – but in two home games and as 4 TD favorites in both. The Wildcats on the other hand allowed 436 yards passing to Hawaii in the opener and followed that up by letting Northern Arizona accumulate 442 yards as +28.5 underdogs.
Week 3 Texas Tech at Arizona Free Pick
If Texas Tech was a little bit more tested in this one – both in terms of competition and road games – then they'd be the play easy as -1 favorites. That Wildcats defense is so bad though that Arizona is almost looking for Goldie Hawn to come out of the crowd for some motivation. The thing about Texas Tech is they don't know how bad their defense is yet because they haven't played anybody. If you can believe your own hype, that's the key to success in the sports world.
Pick: Texas Tech Red Raiders -1