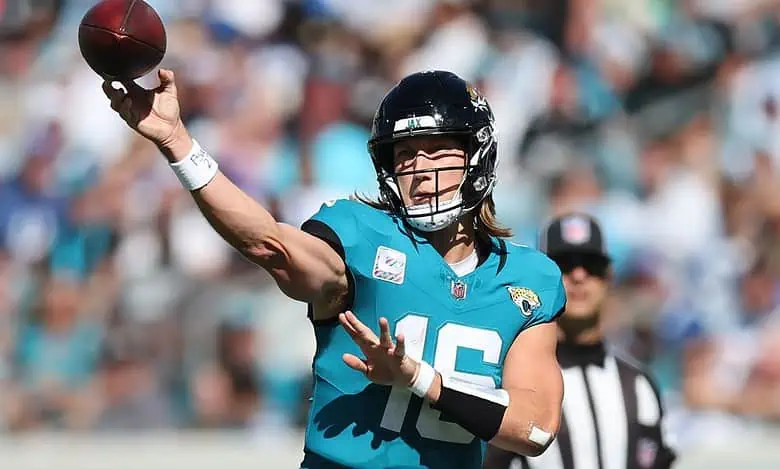 Week 7 of the 2023 NFL regular season will begin on Thursday Night Football as the Jacksonville Jaguars are set to visit the New Orleans Saints. Both teams are still in a solid position in their divisions, and a win on TNF will give the winning team a huge boost.
Jacksonville comes into this game with a ton of momentum, as they have rattled off three straight wins to get to 4-2 on the year. The Jaguars are back on top of the AFC South Division, and they will be looking to create some separation as the season moves along.
New Orleans is heading in the opposite direction, as they have lost three of their last four games this season. The Saints are now just 3-3 on the season, and they are in a tough battle in the NFC South Division this season.
The betting odds for this game have changed since they first opened, but the Saints are still one-point betting favorites in this matchup.
Jaguars Giving Up Big Plays
Jacksonville is going to have to find a way to be better on defense this season if they are going to stay on top of the AFC South Division. The Jaguars are giving up 356 yards per game, and that secondary has been torched all season long.
The defense might be more of an importance in this matchup, as quarterback Trevor Lawrence is coming into this game with an injury. Lawrence has thrown for 1,439 yards and seven touchdowns this season, and he is expected to try and suit up for this matchup.
Travis Etienne Jr. is going to be the best player on the field in this game, as he has rushed for 451 yards and five touchdowns this season. Jacksonville will simply keep the ball on the ground if Lawrence is not able to suit up in this one.
Saints Getting Some Stops
New Orleans comes into this matchup allowing just 294 yards per game this season, and that has carried them to their 3-3 record this season. The Saints are giving up less than 100 rushing yards per game, and shutting down Etienne is going to be key in this one.
The problem for the Saints has come on the offensive side of the football, and they just aren't moving the ball with any consistency. Running back Alvin Kamara has gotten off to a slow start this season, and he is going to be a big key moving forward.
Derek Carr has thrown for 1,299 yards and five touchdowns this season, but he must take care of the ball in this game. The Saints want to win games on defense, but they need the offense to shine as well.
Jaguars Get Big TNF Win
The status of Trevor Lawrence is going to have a big impact on this game, but the Jaguars are still the better overall team, regardless. New Orleans just hasn't been a team that has found much success on offense, and that is going to be a problem in this game.
Don't expect there to be much separation in this matchup, but at some point, it's going to come down to which team makes a big play. Jacksonville just has so many weapons on offense, and they are going to get a score and a big stop to seal the win in this one.
Bet the Jacksonville Jaguars moneyline as they go on the road to New Orleans and pick up a big win over the Saints on Thursday Night Football.