Free Expert Sports Picks
Nascar
Friday July 24th Gander RV & Outdoors Blu-Emu Maximum Pain Relief 200 Betting Preview
Truck Series Goes Live From Kansas Speedway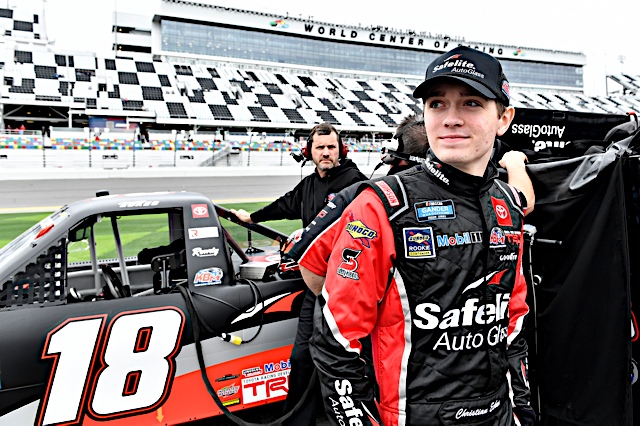 Blu-Emu Maximum Pain Relief 200 betting written by Betting Brain NASCAR expert Cliff "Tire Wear" Johnson 🏁🔧
Blu-Emu Maximum Pain Relief 200 betting gets underway from Kansas Speedway Friday at 7:00 PM EST on FS1. Christian Eckes is the +300 favorite as he also starts in the pole for these 134 laps but there's a lot of viable wagers in this one.
There's some value on crafty veterans Johnny Sauter (+1600) and Matt Crafton (+2200) considering they have a combined 3 wins in this race since 2010. Brandon Jones (+500) is one of the favorites but he's finished 30th or worse in 4 of the last 5. Points leader Austin Hill finished in the top 10 in the first 7 races of the season but crossed in 30th a week ago in Texas.
Race Track Comps:
The 1.5 mile, d-shaped oval compares favorable to Las Vegas, Chicago, and Kentucky for the truck series. There won't be a race in Chicago this year but so far Kyle Busch won in Vegas prior to the pandemic while Sheldon Creed (+1200) captured the checkered flag in the rain-shortened race in Kentucky on July 11th. Creed was the leader for 12 laps in last year's race here.
It is the veterans who have finished well at both Las Vegas and Kentucky in the 2020 Gander RV & Truck Series. Sauter was 2nd in Vegas and 4th in Kentucky for two of his three top 5 finishes on the year. Crafton finished 4th and 3rd at those two tracks while starting 13th and 14th, respectively. He'll go from 17th in Blue-Emu maximum pain relief 200 betting while Sauter starts 18th.
Success at Kansas Speedway
There's some value on Ross Chastain (+1000) on Friday night coming in as the winner of last year's race here (Digital Ally 250). Chastain has been great in the Xfinity series with 9 straight top 10 finishes including 5 top 5's over that span. Chastain has also been in the top 10 in his last four truck series races.
Last season It was Stewart Friesen's (+2500) race to win in Kansas as he led 87 of the 167 laps before finishing 15th. Grant Enfinger (+1600) was solid last year as well leading 47 laps (28.1% of the race).
Blu-Emu Maximum Pain Relief 200 Betting Picks
After taking past results, starting position, and just gut instincts into account here are the Tire Wear 🏁🔧 Top 3 Picks for Hot Laps and Cold Beverages:
Brett Moffitt +110 over Brandon Jones – Moffitt gets the start in the #2 spot (granted Jones isn't that far back at #4) after running 25 of the fastest laps at Kansas last season en route to an 8th place finish. He also finished 7th here in 2018 and has posted a 7th and 5th place finish over his last 3 races this season.
Christian Eckes top 3 finish -115 – Not breaking any news going with the pole sitter and the favorite but Eckes has a 3rd, a 6th, and a 2nd place finish over his last 5 races. Eckes clinched the ARCA series championship at Kansas Speedway in October of last year as an 18-year-old.
Austin Hill top 3 finish (Even) – Hill is the points leader and has two 2nd place finishes as well as a 5th place crossing over the last 5 races. Hill had some mechanical failures last week at Texas en route to a 30th place finish but also came in 4th in Kansas last season.