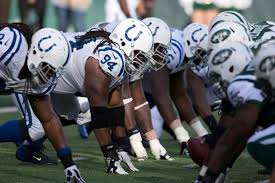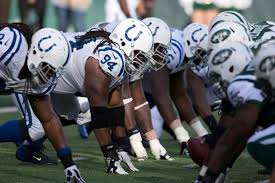 Looking at our Indianapolis Colts play New York Jets 2016 NFL free pick we can't help but think how precarious the Colts' situation is. At 5-6 and in third place in the AFC South, they really need to run the string over the next five games. The Jets, who are in last place in the AFC East and at 3-8 can play spoiler on Monday night.
The Colts are one of those NFL teams desperate for consistency. Over their past five games, they are 3-2. Last week, they lost a very big game to another Pittsburgh, 28-7. Prior to that loss, they beat Green Bay and Tennessee. Their other loss was to Kansas City 30-14. Although they have beaten AFC South rival Tennessee twice over the past five games, the Titans are in second place and ahead of Indy by a half-game in the division. The Texans, who lost today are in first with the same record.
After beating Baltimore on Oct 23 24-16 and then also taking down Cleveland 31-28, the Jets have lost three straight. Miami beat them 27-23 and Los Angeles managed a 9-8 win. Last week, the New England Patriots took them down 22-17. Coming up, they have San Francisco, Miami, New England, and Buffalo.
Indianapolis Offense vs. Jets Defense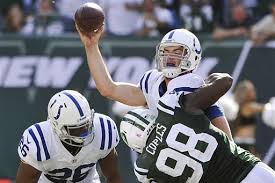 The Colts are scoring an average of 24.5 PPG. They are going up against a defense that is allowing 24.2 PPG. Of the team's 374.2 YPG of offense, of which 278.8 has been achieved through the air. The frontline has allowed 38 sacks. QB Andrew Luck (19 TDS, 8 INTs, 35 sacks), who has been out with a concussion, should be approved to play this week. His line needs to protect him. His go-to receivers have been wideout T.Y. Hilton (60 REC, 942 YDs, 15.7 AVG, 5 TDs) and tight end Jack Doyle (39 REC, 411 YDs, 10.5 AVG, 4 TDs). WR Donte Moncrief (24 REC, 251 YDs, 10.5 AVG, 5 TDs) offers big play possibilities. RB Frank Gore (178 YDs, 670 YDs, 3.8 AVG, 4 TDs) is the main man in a rushing game that needs much better blocking.
The Jets offer one of the worst pass rushes in the league. They've posted just 19 sacks. Although they have twice as many picks as the Colts, that means they only have six. New York is allowing 24.2 PPG. They have had 14 forced fumbles, but the defense has only recovered two of those drops. DE Leonard Williams (41 TCKLs, 6 Sacks, 2 TFL, 2 FF) and CB Marcus Williams (2 INTs, 6 PD, 1 INT) are top players. Marcus Williams is questionable for Monday's game due to an injury.
New York Offense vs. Colts Defense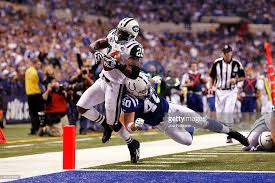 Scoring an average of 17.8 PPG, the Jets are 28th in the NFL in points. QB Ryan Fitzpatrick (57.6 COMP%, 10 TDs, 13 INTs, 18 Sacks) is posting disappointing numbers. He'll be trying to connect with WRs Quincy Enunwa (43 REC, 643 YDs, 15.0 AVG, 4 TDs) and Brandon Marshall (49 REC, 668 YDs, 13,6 AVG, 3 TDs). Marshall is questionable for Monday's game. RB Matt Forte (202 ATT, 759 YDs, 3.8 AVG, 7 TDs) has done well despite having a weak frontline.
Colts defense is problematic. They are allowing opponents 27.4 PPG and 406.7 YPG. Those yards include 290.5 in passing and 116.3 in rushing. This Colts D is severely lacking. They've managed just three interceptions, 22 sacks, and 26 TFL. They also have nine forced fumbles and 38 passes defended. LB Eric Walden is a top performer with eight sacks, two TFL, and two FF. LB D'Qwell Jackson leads the team in tackles with 74. He also has a sack, four TFL, three PD, and two fumbles recovered. CB Darius Butler is the man in the secondary with two picks, four passes defended, and one forced fumble.
Indianapolis Colts Play New York Jets 2016 NFL Free Pick
In our Indianapolis Colts play New York Jets 2016 NFL free pick, we like the Colts at -1.0. This game can go either way, as neither team is stellar nor is one much better than the other. However, we think that Andrew Luck will outperform Ryan Fitzpatrick and that will be the difference in this game. We are taking Indy at -1.0.
Indianapolis Colts Play New York Jets 2016 NFL Free Pick: Indianapolis Colts at -1.0