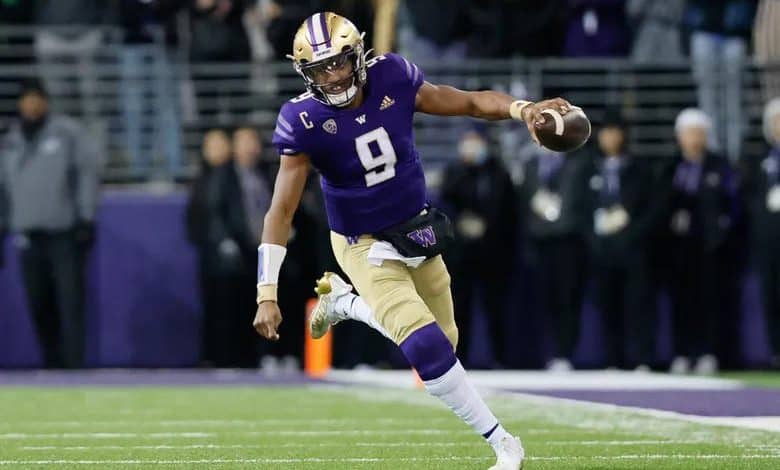 Technically the 2022 Alamo Bowl is at a neutral site in San Antonio, but this crowd should be overwhelmingly pro-Longhorns being just an hour South from the campus in Austin. That could be a big reason why UT is a -3 point favorite in the Texas vs Washington matchup because Steve Sarkisian's team has a lot of opt-outs that will affect them here.
Washington (10-2) may be playing in hostile territory against Texas (8-4) but the Huskies bring with them the nation's #1 passing offense, a six game win streak, and a roster that is basically at full strength. 78% of the betting public even like Washington getting the +3 here,
Longhorns Running Game is Depleted
Texas ran for nearly 200 yards per game this season, but that production takes a major hit with the nation's #5 leading rusher (1,580 yards, 18 TDs) foregoing this game as he preps for the NFL draft. Robinson's absence is big enough, but his backup Roschon Johnson (554 yards, 5 TDs) has also declared for the draft leaving Jonathan Brooks and his 179 yards as the top running option for Texas.
With Robinson and Johnson opting out, the Longhorns will probably try to become a passing team in the Texas vs Washington matchup. That's probably the way they were headed anyways with former 5-star QB Quinn Ewers likely being a preseason Heisman candidate in 2023 and the highly recruited Arch Manning coming to Austin as well. UT is probably going to have to throw the ball to keep up with the Washington offense regardless.
Texas had the 5th best pass defense in the Big 12 this season, something that will be put to the test against a Washington team that threw the ball 44.3 times/game, 5th most in the country. Texas Tech threw the ball 44.5 times per game this season, and the Longhorns played them in week 4 losing 37-34 while giving up 479 yards of total offense.
Washington Excited for This Game
The Huskies were able to end a two year bowl game drought by going 10-2 in Kalen DeBoer's first year at the helm of the program. DeBoer led Fresno State to a 9-3 record last year, so this is a coach that knows how to win and is an incredibly bright offensive mind.
DeBoer led Fresno State to a 31-24 win over UTEP in the New Mexico Bowl last season, and Huskies players are anxious to play in the Alamo Bowl especially against a quality opponent like Texas. Only three Washington players have entered the transfer portal, and none have opted out which is a big difference from the Longhorns' roster.
Michael Penix, Jr has fueled some of that excitement among the Washington program when the QB announced he'd be returning as a sixth year Senior in 2023. Penix is a 392 yard game away from catching Western Kentucky's Austin Reed as the nation's leading passer, but is just 104 yards shy of catching Cody Pickett for the most in a single season at UW. Penix has a 516, a 408, and a 485 yard passing performance over his last six games of the regular season.
Free Texas vs Washington Betting Pick
A huge majority of the betting public is backing Washington, and Texas is also playing close to home which would give a lean towards the Longhorns here. The loss of Robinson can not be downplayed though, and this game is a Huskies play.
Free Pick: Washington +3