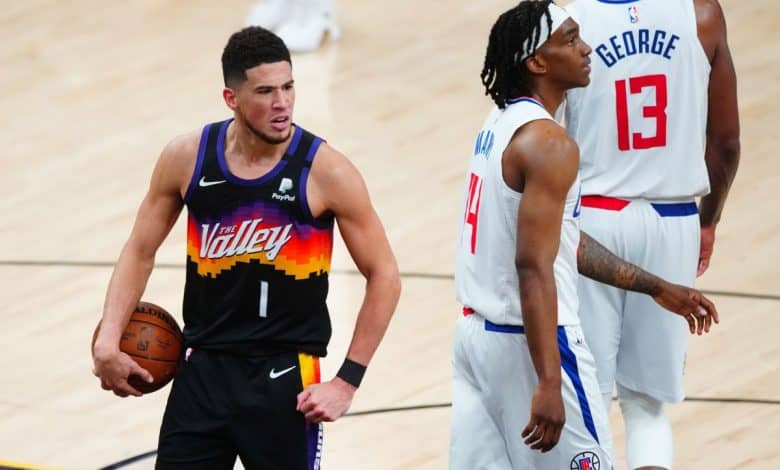 Phoenix heads to L.A. to face the Clippers at Staples Center, holding on to a 2-0 series lead. 0.9 seconds were on the clock before the lob play from Jae Crowder to DeAndre Ayton. And ten long minutes later, the game officially ended with a Suns win. A 2-0 series lead was theirs, and L.A. was facing a familiar hole.
The game should have been won by those Clippers, but George's missed free throws and the final defensive blunder were enough to unseat them and put them into a hole. And for Phoenix, they never quit, and they are now riding a nine-game winning streak going back to game three against the Lakers, their most previous defeat.
Devin Booker had an off-night, so Cameron Payne decided that it was his time to shine. He stepped up in a big way, finishing just shy of 30 points. Ayton made bucket after bucket throughout the night, making life very tough for Ivica Zubac. His size and ability is something that the opponents this round will have nightmares of.
And as injured/health-issue guys start to come back, the series will begin to take shape. Just two more wins, and Phoenix is on to the Finals. Two. More. Wins.
ODDS: The game 3 spread actually favors Phoenix, PHX -1. The over/under is 219.5.
Chris Paul Set to Return to Guide Phoenix?
Up 2-0 without their floor general, the Suns have to be thanking their lucky stars. But actually, they don't because this is not luck. James Jones won the Executive of the Year award for a reason, for assembling the roster that stands now. Two more victories, 96 more minutes, and the team could be off to their first finals since losing to Michael Jordan in the '90s.
Phoenix has never won a title in their history. And now that Paul is expected back from the COVID-19 list, more wins could be on the way. When he has been at full strength, the team has been tough to beat. He dealt with a shoulder issue in round one against the Lakers.
A win could come to the Suns in a few ways. A Booker bounce back. They win the bench-scoring battle. They continue to make life tough for Paul George, and he has an off night.
Clippers Seeking First Win of Series
Most teams down 0-2 in a playoff series tend to panic. However, the Clippers have been in this situation twice already. Down 0-2 to Dallas, the Clippers won in seven. And against the Jazz, they won four in a row and knocked the league's best team (by record) out of the playoffs.
Not having Kawhi Leonard makes things tough, though. He has now missed four contests in a row, and they greatly miss him this round. It has been a heck of a ride for them to get this far, but might it be over?
The Clippers will win if PG can hit his free throws at the end. If they can keep Ayton from having a big impact. And by winning the three-point battle.
Clippers Win at Home
They will not go down 0-3. Even with Paul back. The "Suns in 4" guy will need a night off. It won't happen again.
FREE PLAY: LAC +1
OVER/UNDER: OVER 219.5