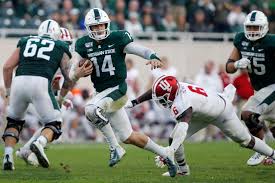 Our Indiana vs Michigan State totals pick has the over/under between 51.5 and 52.0. The best under bet is 52.0 (-105), while the best over is 51.5 (-117). According to the odds makers, the over seems to be the better bet. And that may make sense. After all, you have two teams that can generate points, and one team, Michigan State, that has a weak defense.
The weather for this Big Ten East contest looks good. The forecast for Spartan Stadium in East Lansing, Michigan is 40 degrees and sunny with winds out of the SSE at 10mph. Kickoff is scheduled for Saturday, November 14, 2020 at noon.
Indiana vs Michigan State Totals Pick – Offense and Defense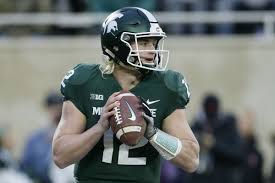 Indiana can certainly put points on the board. They're averaging 37.0 PPG. At the same time, MSU's offense has been good for 20.3 PPG. Those two averages make the over bet look promising. In addition, on the other side of the ball, the D is allowing 25.7 PPG. The Spartan defense is giving up 37.0! Those two stats also point towards the over bet as being the way to go.
Because both teams rely on the pass, we can expect points to be accumulated quickly. We don't envision either utilizing their run attack very much. Also, the Hoosiers will likely score a pick or two, giving their offense into some advantageous field positions.
Hoosiers vs Spartans Pick – Trends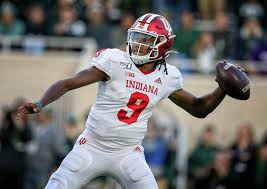 Indiana has been pushing the over. Here's the skinny on the Hoosiers and the totals bet. In four of five of their last games, the score has gone over. Likewise, when on the road, the over has dominated. This time six of six times. Finally, in five of Indiana's last six contests, the score has hit the over.
Our Hoosiers at Spartans over/under prediction notes that when concerning totals things are a bit different for the Spartans. In four of their last six games and in eight of their last dozen games in November, the total has gone under. Also, in four of five contests played in week 11, MSU has seen the score go under. However, in 10 of their last 12 contests versus Indiana, the over has been achieved.
Indiana vs Michigan State Totals Pick – Final Word
Our Indiana vs Michigan State totals pick likes the over in this one. As noted, both clubs can score and MSU gives up points in droves. The only thing that may stop the score from topping 51.5 is if the Spartan offense sputters. But we don't think they will totally go down the drain. Please see our spread pick for Indiana vs Michigan State.
Indiana Hoosier vs Michigan State Spartans Totals Summary
Totals Pick – Over at 51.5 (-117)