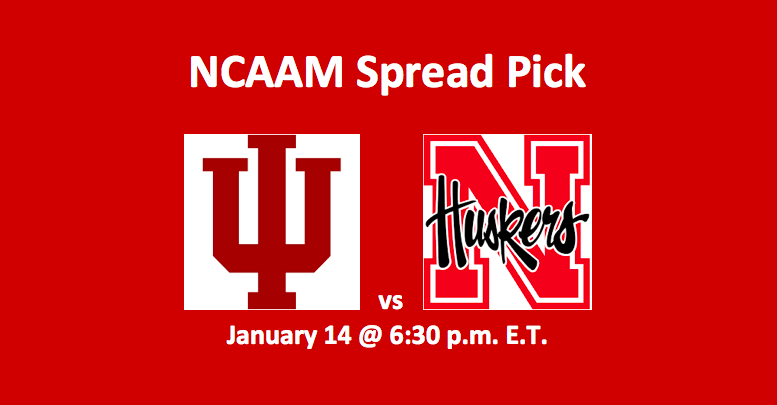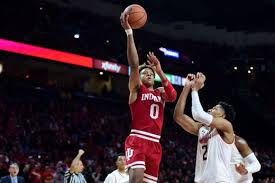 Here we go! It's a new week of college basketball and Monday, Jan 14 has some great games. Two contests start early in the evening, as the Big Ten #25 Indiana Hoosiers (12-4 Overall, 3-2 Big Ten) host the Nebraska Cornhuskers (12-4 Overall, 2-3 Big Ten) at 6:30 pm ET and the ACC's #1 Duke welcomes Syracuse at 7 pm ET. Plus, there's another Big Ten matchup as Wisconsin plays Maryland. That game gets underway mid-evening at 8:30 pm ET. Betting Brain has all three of these contests for you. Along with our #25 Indiana versus Nebraska pick, we have Carl Taylor's Wisconsin at Maryland preview and spread pick. Plus, we've posted our Duke Blue Devils versus Syracuse Orange spread preview. First our Indiana versus Nebraska pick, which has the Hoosiers at either -2.0 or -2.5.
Recent Performance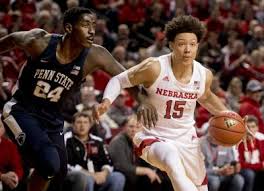 Nebraska has won seven of its last 10 games. They last played Jan. 10 beating Penn State 70-64. The Cornhuskers lost their two prior outings, as Maryland took them down 74-72 on Jan. 2 and #25 Iowa beat them 93-84 on Jan. 6.
After starting the season at 12-2, the Hoosiers have lost their last two games. On Jan. 6, #2 Michigan State beat Indiana 74-63. Then the Hoosiers lost 78-75 to unranked Maryland on Jan. 11. Both games were on the road. Now Indiana is at home where they have a record of 9-0.
Free Throws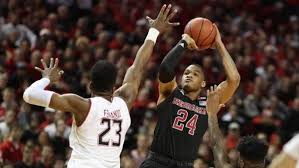 Comparing most team stats for these two teams is fairly futile, as they are close to equal in every category. Nebraska is better than Indiana on PPG (79.3-to-77.3) and defensive points per game (61.4-to-65.6). The combined PF/PA differential favors the visitors by 6.2 points. In addition, the Cornhuskers are +2.0 on steals per game. The Hoosiers are 4.4 percentage points better when it comes to field goal shooting.
Our Indiana versus Nebraska pick observes that the Cornhuskers outperform the Hoosiers at the foul line too. Indiana is good on just 66.7% of its shots from the charity stripe, while the Huskers at hitting 72.7%. On average, the Hoosiers are putting in 13.75 PPG in free throws. Nebraska is good for 15.50 PPG. Considering that the Huskers lead in points per game and defensive points per game and the edge is just 2.5 points, those foul shots could be important tonight.
Edge: Nebraska
Top Performers and Depth
The Cornhuskers start four players who are scoring in double-digits per game. Senior guard James Palmer Jr. leads the team in PPG with 19.5, while senior forward Isaac Copeland Jr. is second in scoring (14.3 PPG) and in rebounding (5.3 RPG) and first in shooting percentage (55.3%). Junior forward Isaiah Roby tops the team in rebound (6.6 PG) and is second in shooting percentage (52.2%) and fourth in points per game (11.4 PG). Senior guard Glynn Watson Jr., who's scoring 13.4 PPG, leads the team in APG with 4.1.
For the Hoosiers, junior guard Devonte Green, who's scoring 8.9 PPG, leads the club with 3.4 APG. The top scorers are freshman guard Romeo Langford and senior forward Juwan Morgan. Both are stellar scorers with Langford averaging 18.8 PPG and Morgan 16.5 PPG. While Langford leads the team in points per game, Morgan is number one in rebounding with 7.8 RPG and Langford second with 5.5 RPG. They are the frontcourt and backcourt of this team.
When it comes to overall depth, we like the Huskers. They have a good chance of keeping this game close and outlasting the Hoosiers.
Edge: Nebraska
Keys to Our Indiana vs Nebraska Pick
Indiana has to stay out of foul trouble
Nebraska leads in offensive rebounds 155-to-128
Hoosiers at home are perfect
Husker bench tops Indiana
Nebraska putting in 1.9 more threes per game than Hoosiers
Edge: Nebraska
Our Indiana vs Nebraska Pick
Our Indiana versus Nebraska pick is the underdog Cornhuskers at +2.5. We like Nebraska's depth. point production, and ability to share scoring opportunities. Indiana needs the win, and they are tough at home. But we find that the Cornhuskers are nicely positioned for the win tonight.
Summary Indiana Hoosiers Versus Nebraska Cornhuskers Pick: +2.5 Nebraska