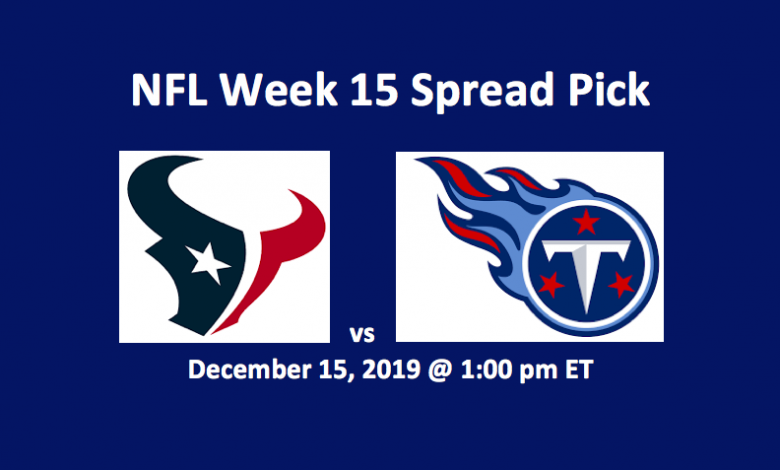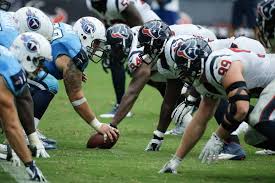 This Houston vs Tennessee pick has the Titans at -3.0. In developing our Texans vs Titans prediction, we note that this is the first of two meetings between these teams over the final three weeks of the 2019 NFL season. This first matchup takes place at 1:00 PM ET on Sunday, December 15, 2019. Note, we also have a totals pick for this game. The game will be played at Nissan Stadium in Nashville, TN. The temperature will be a balmy 53 degrees F with a 25% chance of precipitation. The wind will be 6mph with gusts at just 8mph.
The Houston Texans (8-5 Overall, 3-3 Away) are tied with Tennessee for first in the AFC South. In the past four weeks, the Texans have lost to the Baltimore Ravens 41-7 and Denver Broncos 38-24. In between those two losses, Houston beat the Indianapolis Colts 20-17 and New England Patriots 28-22. Conversely, the Tennessee Titans (8-5 Overall, 4-2 Home) are on a four-game winning streak, having beaten the Kansas City Chiefs, Jacksonville Jaguars, Indianapolis Colts, and Oakland Raiders.
Houston vs Tennessee Pick – Stats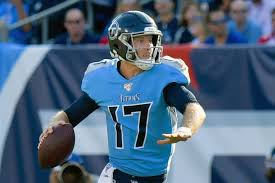 The Texans and Titans are each averaging 24.5 PPG, while the Houston defense is giving up 23.8 PPG to opponents and the Tennessee D is allowing 19.6 PPG. On offense, both teams are averaging about 130 rushing yards per contest. At the same time, the Texans are approximately 20 yards better per game in the air, averaging 263.9 passing yards to Tennessee's 244.8.
On defense, the Titans are a bit stingier than the Texans, allowing 377.7 YPG to Houston's 390.6. The home team is holding opponents to 276.1 air YPG and 101.6 ground YPG. At the same time, the visiting Texans are allowing 109.5 rushing YPG and 281.2 passing YPG. Note, the Tennessee defense has been stalwart. They've created 35 sacks, 11 picks, and 10 FF, recovering nine. Also, they've accumulated 74 TFL and 59 PD, while scoring three defensive TDs. The Texan D has not been quite as productive as their opponent's. Houston has recorded 26 sacks, seven picks, and 57 PD. In addition, the Texans have 61 TFL, 13 forced fumbles, and nine fumbles recovered. Their defense has scored one TD.
Texans at Titans – Players
The offense and defense will determine the edge in this contest. These two offenses are quite equal. But on defense, we see that Tennessee possesses an advantage. Will that be the difference-maker?
Houston Texans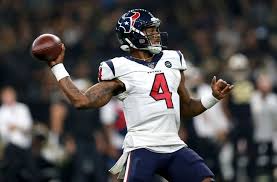 QB Deshaun Watson has thrown 24 TD passes and nine picks. With over 3,400 passing yards this season and a 67.7% completion rate, he's been productive. Watson, who's rushed 68 times for 344 yards, has run for seven scores. WR DeAndre Hopkins and TE Darren Fells each have seven scoring receptions. Hopkins tops the team with 93 catches and 1,023 receiving yards. On the ground, RB Carlos Hyde is the workhorse for this team. Hyde, who's carried the ball 198 times, has gained 926 yards and scored four times, averaging 4.7 YPA.
Our Houston vs Tennessee pick see LB Whitney Mercilus comes to this game with 5.5 sacks, 13 TFL, and four FF. In the secondary, safety Tashaun Gipson Sr. has recorded three interceptions and eight PD. Additionally, corner Jonathan Joseph comes to the game with 11 PD. LB Zach Cunningham leads the team with 83 solo tackles and 119 total bring downs. He has nine TFL and 1.5 sacks.
Tennessee Titans
Since Titan QB Ryan Tannehill took over for Marcus Mariota, Tennessee is 6-1. Under Mariota, they were 1-5. Tannehill has a completion rate of 73.4% and has tossed 15 TDs and five INTs. He's been sacked 24 times. He's also rushed for three scores. The centerpiece of the Titan rush attack is Derrick Henry. Henry, who is listed as questionable for today's game, has rushed for 1,243 yards and 13 scores, averaging 5.0 YPA. The team's top receiver, A.J. Brown, has 39 receptions with six going for TDs. Three other receivers have 25 or more catches with each grabbing two scoring passes.
On defense, corner Logan Ryan has been spectacular. Ryan has made four picks, defended 17 passes, made 3,5 sacks, and accumulated six TFL. He's also forced three fumbles and made 94 tackles. LB Rashaan Evans, who's made 93 total tackles, has 2.5 sacks and 8.5 TFL. Safety Kyle Byard has four INTs and eight TFL. This defense is tough and accomplished.
Our Houston vs Tennessee Pick
As noted, the Titans bring a better defense to the field today. According to our research, they should be able to put pressure on Watson, defend against the rush and pass, and could very well score. Plus, Watson has been sacked 38 times. With those numbers, he's in the upper-fifth of QB sack stats. On the other hand, QB Tannehill has been on his game in every way. Thus, our Houston vs Tennessee pick is the Titans at -3.0.
Houston Texans vs Tennessee Titans Prediction – Summary
Tennessee Titans at 3.0