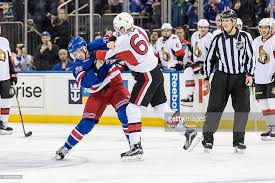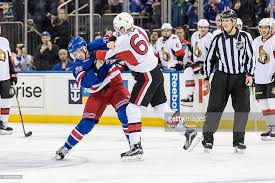 The Ottawa Senators play the New York Rangers in game six of their conference semifinals series. The Senators have never trailed in this series and can close it out tonight, Tuesday, May 9. The game is scheduled for 7:30 p.m. E.T. at Madison Square Garden. Our Senators play Rangers 2017 Stanley Cup free pick had Ottawa at +155 and NY at -175. Here's how the series has gone thus far.
Ottawa Senators and New York Rangers Series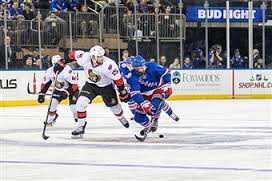 Two things about this series stand out. First, Ottawa has never trailed and, second, the home team has won every game. The first two games, which were in Ottawa, ended 2-1 and 6-5. That second game went into double overtime before the Senators took it. The next two, which were in New York, went to the Rangers. NY won both games by a score of 4-1. With the series tied at two apiece, the teams went back to Ottawa for game five. That game was played on May 6 and in it the Senators won in OT by a score of 5-4.
Along with two trends we have already noted, the other trend we've noticed in this game is that New York has not been able to win in OT. One other thing, if their D is not shutting down the Senators, the Rangers really struggle to win.
Ottawa at New York: Game Six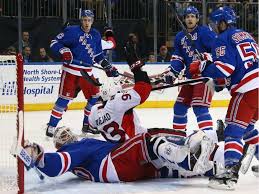 Game six is going to be electric as the Senators try to seal the deal. If they don't, like the Penguins and Capitals, they'll have to go to a game seven. In two of the three games won by the Senators in this series, they have bested their 2.5 GPG average, doubling it. Defenseman Erik Karlsson has been a huge factor for Ottawa, scoring one goal while making 10 assists. Center Jean-Gabriel Pageau has six goals while center Zack Smith has been good for five assists. Winger Bobby Ryan brings four goals and four assists to tonight's game and center Derick Brassard has contributed three goals and six assists.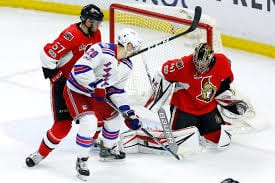 Overall, the Rangers, who were fourth in scoring in the NHL in the regular season, continue to score in the postseason. Although they have plenty of scorers, the NY power play, which is usually fairly potent, has not done much. Tonight, the Rangers will look to center Mika Zibanejad and D-man Ryan McDonagh to set up plays, they have six and five assists respectively. Wingers Michael Grabner and Mats Zuccarello each have four goals and six points.
In the goaltending department, NY's Henrik Lundqvist has better numbers than rival Craig Anderson in the areas of goals against and save percentage. He better than Anderson in goals against average 2.18 GA to 2.53. His save percentage is .930 while Anderson's sits at .909. Lundqvist needs a big game tonight.
Senators Play Rangers 2017 Stanley Cup Free Pick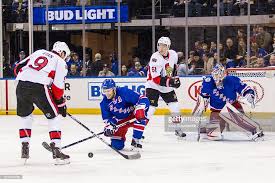 We understand the trends that have defined this series and certainly there's a good chance that it will go to a game seven. But for some reason we expect a Senators win tonight on the Rangers' home ice. Our Senators play Rangers 2017 Stanley Cup free pick Ottowa.
The other Eastern Conference semifinal series will be settled when Pittsburgh and Washington meet tomorrow night on the Caps' home ice. It's interesting to note that none of the conference semifinal series are over yet and at least two will involve a seventh game. These four series have been rollercoaster rides. Tonight's contest may break the mold.
Senators Play Rangers 2017 Stanley Cup Free Pick: Senators at +155