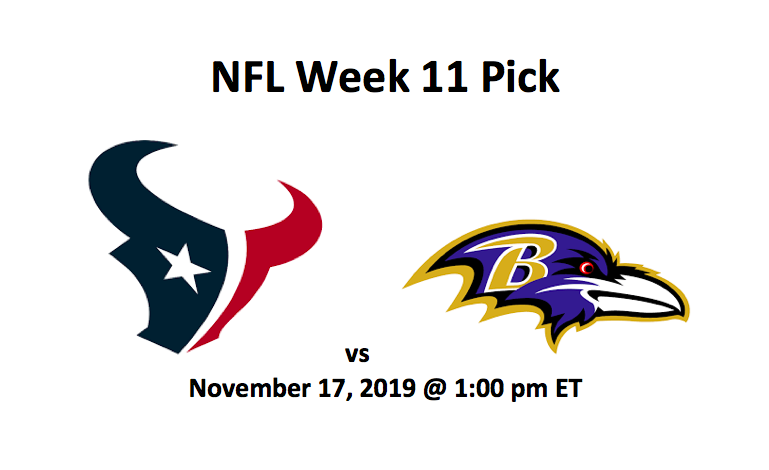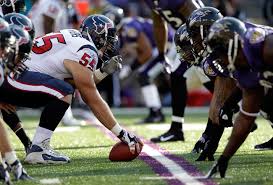 This Houston vs Baltimore pick offers the Ravens at -4.5 In our Houston vs Baltimore pick we can't help but think that spread's low. That is considering Baltimore's dynamic offense. However, the Texans can certainly bring it. Although, they can't do so as consistently as Baltimore. In terms of an even matchup, Baltimore and Houston's defenses are fairly evenly matched. The Houston Texans (6-3 Overall, 3-2 Away) top the AFC South. They sit a game above the upstart Indianapolis Colts. The Baltimore Ravens (7-2 Overall, 3-2 Home) are first in the AFC North, 2.5 games ahead of the Pittsburgh Steelers.
The game is part of the Week 11 NFL schedule and will be played Sunday, November 17 at M&T Bank Stadium in Baltimore, MD. Kickoff is scheduled for 1 pm ET. At game time, the weather will be cloudy and 42 degrees. There is zero chance of precipitation.
Houston vs Baltimore Pick – Stats and Recent Performance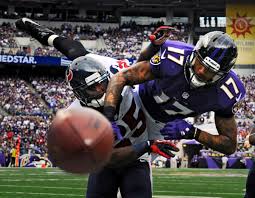 The Baltimore offense is statistically better than that of Houston. Plus, they are a boit more creative, making the Ravens tough to defend against. The edge in basic stats on both sides of the ball goes to the Ravens. However, that edge on defense is very slim.
Statistics
The Texans are averaging 26.4 PPG. Their total offensive yards come to 413.0 YPG with 270.2 in the air and the remaining 142.8 on the ground. On the other hand, the Ravens are averaging 33.3 PPG, which is almost seven points more per game than Houston. They are rushing for 197.1 YPG and throwing for 234.6 YPG. Total offensive output is 431.8 YPG.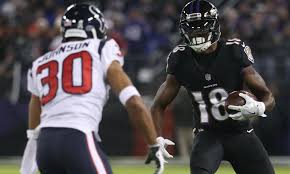 On defense, each team is allowing 21 PPG with the Texans holding opponents to 84.1 YPG in rushing and the Ravens keeping opponents to 91.2 YPG. Houston is giving up a hefty 295.1 YPG in the air. Baltimore is keeping opponents to 265.1 YPG in passing.
On defense, the Texans have posted 21 sacks while Baltimore's recorded 16. TFL come to 45 for Houston and 46 for Baltimore. The Texans also have 43 PD and five picks. They've forced 13 fumbles with nine recovered. The home team has accumulated eight sacks, seven FF, and six fumbles recovered. They have 44 PD.
Recent Performance
Houston has won four of its last five games. Their one loss was 30-23 to the Colts. The Texans have won their last two games, beating Oakland 27-24 and Jacksonville 26-3. The Ravens have won five games straight, including a huge 37-20 victory over the New England Patriots two weeks ago. Last week, Baltimore easily defeated the Cincinnati Bengals 49-13.
Texans vs Ravens – Players and Matchups
Our Texans and Ravens matchup features two highly explosive quarterbacks, Deshaun Watson and Lamar Jackson. However, in terms of offense, the Ravens are much more diverse and very tough to defend against. They bring a lot more weapons and QB Jackson is amazingly versatile. On defense, Houston is a bit more effective on the pass rush. Baltimore's coverage is a tad better.
Houston Texans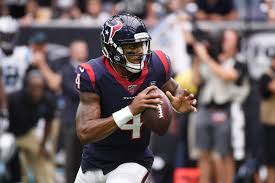 For the Texans, QB Watson is connecting on 70.2% of his passes. He's tossed 18 TD passes and five picks while being sacked 25 times. He has 2,432 yards in passing and 279 in rushing. On the ground, Watson's scored five times averaging 5.4 YPA. WR DeAndre Hopkins is the team's top receiver with 68 catches, 665 yards, and four touchdowns. TE Darren Fells has 24 catches with six going for scores. RBs Carlos Hyde and Duke Johnson are a solid tandem. Hyde has 704 rushing yards and three TDs. Johnson, who's averaging 5.3 YPA, has run for 287 yards.
On defense, LB Whitney Mercilus has 5.5 sacks, four forced fumbles, 12 TFL, and a pick. LB Zach Cunningham has posted 68 tackles including 6.5 for a loss, and safety Tashaun Gibson Sr., who is questionable, has grabbed two picks and defended four passes.
Baltimore Ravens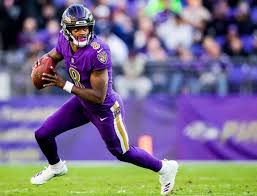 Thus far this season, QB Jackson has passed for 2,036 yards and rushed for 702 yards. He's accumulated 15 passing TDs and six rushing. He's averaging 6.6 yards per run. Jackson's tossed five picks and been sacked 18 times. He's completing 65.9% of his passes. This quaterback can make a lot happen. The running attack includes Mark Ingram II. He's rushed for a total of 619 yards this season and is averaging 5.0 YPA and has crossed the goal line eight times. Tight ends Mark Andrews and Nick Boyle and wideout Marquise Brown are Jackson's top pass catchers. Andrew leads the unit with 46 catches and five TD catches. Brown, who's questionable, tops the team with 16.2 yards per reception.
On defense, our Houston vs Baltimore pick notes that LB Matthew Judon has notched four sacks and 7.5 TFL. LB Patrick Onwuasor tops the team in tackles with 41. Corner Marlon Humphrey and safety Earl Thomas III each have two INTs. Humphrey nine PD and Thomas seven.
Our Houston vs Baltimore Pick
Our Houston vs Baltimore pick sees this game as being a major challenge for the Ravens. The Texans are on a roll, and they have proven to be tough to defend against. Baltimore comes to this game in better health. However, both Watson and Jackson are at the top of their games. We expect a lot of offense to be generated in this contest. In the end, we like the Ravens at -4.5
Houston vs Baltimore Pick – Summary
Baltimore Ravens at -4.5