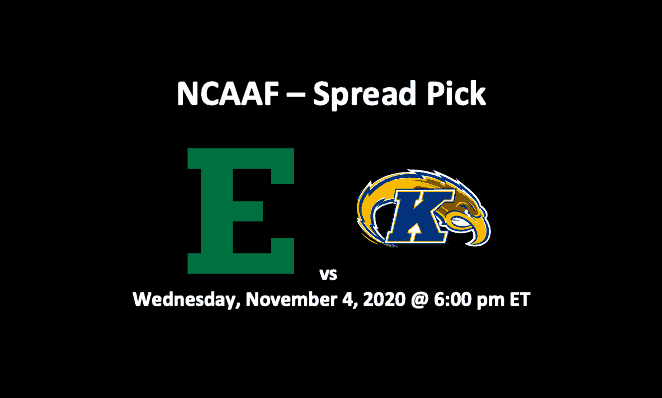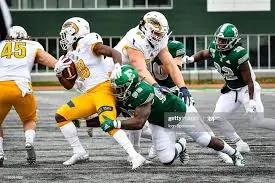 Our Eastern Michigan vs Kent State pick offers the Golden Flashes at -4.5 (-105), while the Eagles are listed at +4.5 (-105). As we enter Week 10 of the 2020 NCAAF season, this contest marks the kickoff of Mid-American Conference football play. As it has been with many college football conferences, COVID-19 has delayed the start of and shortened the length of the MAC season. In essence, this late-season spread pick comes with very little hard information. The game, which kicks off at 6:00 pm ET, will be played at Dix Stadium in Kent, OH.
Eastern Michigan vs Kent State Pick – Stats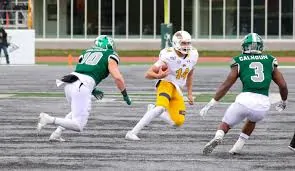 Of course, at the top of the season, there are no current stats to review. Last season, Kent State beat Eastern Michigan 34-26. In their last 10 meetings, the Golden Flashes have persevered seven times. They are also 7-3 ATS. On average in the last 10 meetings, Kent State has outscored Eastern Michigan by an average of 10 points.
Also, of note, the Eagles are 0-5 ATS in their last five games played at Kent State. In their last five contests, the Golden Flashes are 5-0 ATS. Finally, ATS, Kent State is 5-0 in their last five games played in November and 8-1 in their last nine games against MAC opponents.
Eagles vs Golden Flashes Spread Pick – Key Players
There's a lot of key player issues to consider in this matchup. One of the biggest ones concerns this game's two quarterbacks. The Eagles put a relative newcomer in the pocket, while the Golden Flash feature a highly productive gunslinger.
Eastern Michigan – Offense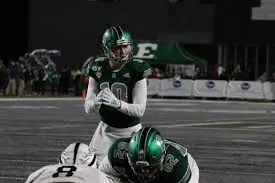 Our Eastern Michigan vs Kent State pick notes that Eagle QB Preston Hutchinson comes in, replacing the highly-productive Mike Glass. Hutchinson does not have the same upside as Glass, but he does have talent and should be an able performer. The receiving group is deep and includes experienced pass catchers such as Quian Williams, Dylan Drummond, Hassan Beydoun, and Bryson Cannon. Also, a plus for the Eagles is the return of three starters to the O-line. The rush attack has lost major contributors, which means freshman Darius Boone and sophomore Karmi Mackey will be asked to step up.
Defense
The Eastern Michigan defense, which led the MAC in scoring defense (22.1 PPG) in 2018, ended up seventh in that category in 2019. They allowed 30.6 PPG. They need to step up the pass rush. And the secondary must replace some key starters. In this game, they face the MAC's best quarterback and, thus, will be tested.
Kent State – Offense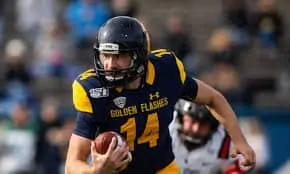 QB Dustin Crum returns to the Golden Flashes after recording 2,622 passing-yards and 20 touchdowns last season. He threw just two picks. His completed 69.2% of his passes and was tied for seventh nationally with 10 completions of 50 yards or more. With Crum at the helm, Kent State averaged 29.2 PPG. Additionally, he connected on 69.2 percent of his throws and tied for seventh nationally with 10 completions of 50 yards or more. Crum's development helped Kent State average 29.2 points a game (up from 23.9) and 5.83 yards a snap (up from 5.04) last fall.
Our Eastern Michigan vs Kent State pick finds that although the Golden Flashes have lost some important receivers, their number one guy, Isaiah McKoy (57 catches), does return. Crum will also be throwing to Keshunn Abram, Ja'Shaun Poke, and true freshman Luke. One problem last season was the O-line, which gave up 41 sacks. They need to show improvement. Top RB Will Matthews is gone, but Xavier Williams (393 yards) is back. Plus, true freshman Marquez Cooper looks like he has the stuff to contribute immediately.
Defense
Over the past few seasons, Kent State's defense has had a rough go of it. In each of the past three seasons, they ended up ninth or worse in scoring defense. Five starters return, but two (linebacker Cepeda Phillips and safety Keith Sherald) will most likely to miss this first game. Transfers Tony Butler (Nebraska) and C.J. Holmes (Notre Dame) come in to help the secondary. The frontline is worrisome.
Eastern Michigan vs Kent State Pick – Final Word
Our Eastern Michigan vs Kent State pick notes that the weather in Kent should not be a factor. The temperature at game time will be in the 50s and there's little-to-no chance of precipitation. The wind will be about 9mph. We think that once again Kent State will prevail and beat the 4.5-point spread. Take the Golden Flashes. Also see our Bowling Green at Toledo pick.
Eastern Michigan Eagles vs Kent State Golden Flashes Summary
Kent State Golden Flashes at -4.5 (-105)