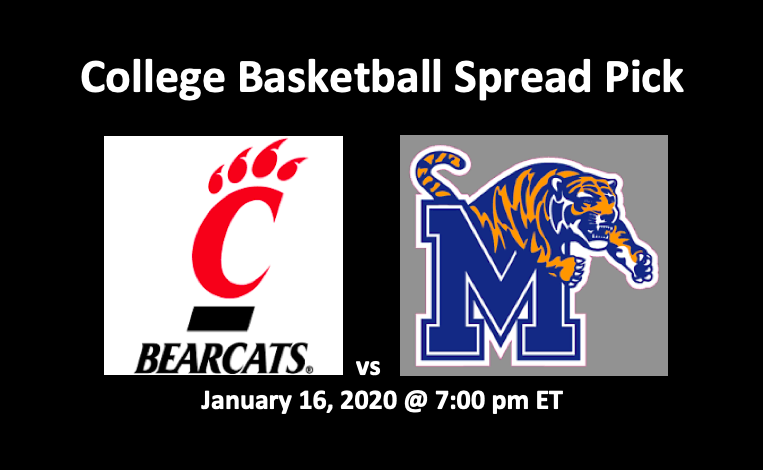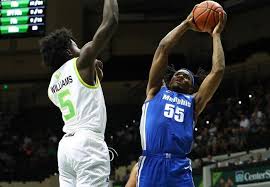 Our Cincinnati vs Memphis pick has the #22 Tigers at -4.5. This Cincinnati vs Memphis prediction notes that the #22 Memphis Tigers (13-3 Overall, 2-1 AAC) are ½ game out of first place in the conference. The Cincinnati Bearcats (10-6 Overall, 3-1 ACC) are one of four teams in the AAC that occupy first place. This game will be played Wednesday, December 16, 2020 at 7:00 pm ET. The venue will be the FedExForum in Memphis, TN. Also, be sure to read our Oregon vs WSU prediction.
Cincinnati vs Memphis Pick – Recent Performance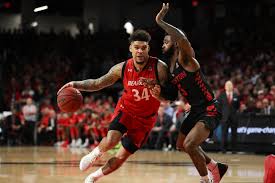 Over their first four games, the Bearcats went 4-1. That mark included a 66-65 win over Illinois State. Cincinnati then played three-straight overtime games, losing the first 91-84 to Bowling Green and winning the next two. First, Cincy took down Valparaiso 81-77, and then they beat UNLV 72-65. Over their last nine games, the Bearcats recorded five wins and four losses. Included in those nine games was a 78-66 win over #21 Tennessee and a 76-71 loss to Tulane. Cincinnati won their last two contests, beating Tulsa and UCF by 20-plus points each.
The Memphis Tigers had a strong start to their season. They won their first two games, and then, after losing their third game 82-74 to #14 Oregon, the Tigers won 10 games in a row. That string included a 51-47 take down of #19 Tennessee. Then, on January 4, Georgia edged Memphis 65-62, and on January 9, #23 Wichita State routed the Tigers 76-67. Memphis got back on the winning track in their last game, taking down South Florida 68-64 on January 12.
Team Stats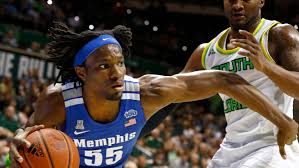 Our Cincinnati vs Memphis pick notes that overall these two teams are statistically close. However, the Tigers do possess a slight edge in many areas. Memphis tops Cincinnati in points scored (77.8 PPG to 73.0 PPG), field goal percentage (46.6% to 45.2%), and rebounds (42.3 RPG to 38.4 RPG). The Tigers are also better in three-point completions (33.7% to 31.1%) and are allowing opponents fewer points per game (63.3 PPG to 65.9 PPG). Other defensive stats also favor the home team. Memphis rules in blocks per game (4.1 to 6.9) and steals per game (8.9 to 6.3). The two clubs are almost identical in free three percentage. Both come in at around 67%.
Bearcats vs Tigers – Players
Four Bearcats are averaging double-digits in points per game. Brother guards Jarron Cumberland and Jaevin Cumberland are good for 13.3 and 10.4 PPG respectively. Jarron Cumberland is averaging 3.9 APG and 3.6 RPG. Towering center Chris Vogt is scoring 13.5 PPG and grabbing 6.6 RPG. He's hitting 70.5% of his field goals. Also, upfront, senior forward Tre Scott is averaging 9.1 RPG and 8.8 PPG. Meanwhile, guard Keith Williams is good for 12.4 PPG. He's taking down 4.9 RPG.
The Tigers put three double-digit scorers on the court. Forward Precious Achiuwa tops Memphis shooters with 15.6 PPG. He also leads in rebounds per contest with 10.4. Achiuwa is completing 53.1% of his field goals and 42.9% of his threes. Also in front, D.J. Jeffries is putting up 10.8 PPG. He's good on 55.9% of his shots. In back, guard Alex Lomax, a 57.1% three-point shooter, is dishing off 4.8 APG while scoring 8.2 PPG and bringing down 4.2 RPG. Guard Lester Quinones is recording 10.8 PPG. Also, guard Tyler Harris is putting up 9.8 PPG.
Our Cincinnati vs Memphis Pick
Bearcat starters are performing well, while Memphis brings a deep group to the floor. Still, the Tigers are vulnerable. Both teams took down Tennessee, but Memphis edged the Vols and Cincinnati clearly defeated them. Both teams are 3-2 over their last five games. Over the last 10 meetings between these two teams, Cincy leads eight games to two. Over those 10 games, Memphis is 6-4 against the spread. When you consider the entire picture, we like the Bearcats at +4.5 Our Cincinnati vs Memphis pick is the Cats with the points.
Cincinnati Bearcats vs #22 Memphis Tigers Prediction – Summary
Cincinnati Bearcats at +4.5