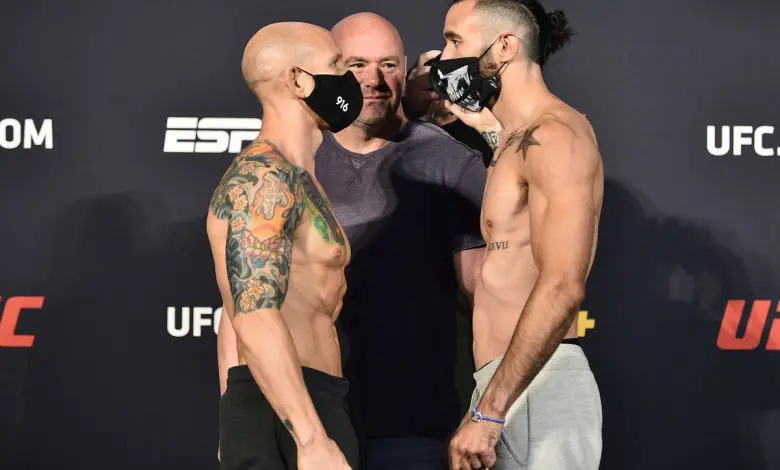 UFC on ESPN 11 betting features a 5-fight main card headlined by Blaydes vs. Volkov. It could be the co main-event of Burgos vs. Emmett that steals this show from the heavyweights though. Add in another women's bout as well as a quality welterweight fight and this shorter card should supply plenty of wagering excitement.
Roosevelt Roberts (-265) vs. Jim Miller (+205)
Catchweight
Roosevelt Roberts (10-1) is a lofty favorite in UFC on ESPN 11 betting despite just fighting on May 30th. That win at UFC on ESPN 9 was the 2nd straight for 'the Predator' and pushed his UFC record to 4-1 (2 SUBs). Roberts is 10 years younger than Jim Miller (31-14) and has a 4″ height and 2″ reach advantage.
Miller is a veteran of the cage however and has still won 3 of his last 5 UFC fights even at 36 years of age. Even though Miller has 34 UFC fights under his belt, he hasn't fought in the crowdless atmosphere like Roberts did about 3 weeks ago. Roberts should continue his climb up the ranks here and 8 of his 10 wins have come via stoppage.
Pick: Fight does not go the distance -125
Belal Muhammad (-130) vs. Lyman Good (Even)
Welterweight
It's a great welterweight matchup when 16-3 Belal Muhammad squares off against 21-5 Lyman Good. Muhammad has been on a roll with wins in 6 of his last 7 fights with 5 coming via decision. This is your classic grappler vs. striker matchup as all three of Lyman Good's UFC wins have come via KO.
Neither fighter has fought in 2020 so both combatants come in relatively even in that regard. The bout really just comes down to which fighter bows in to the other's style. For Good being the striker in this match, he really only has a 5.3 to 4.4 landed per minute advantage. Good on the other hand has virtually no takedown game making Muhammad the more versatile fighter.
Pick: Belal Muhammad -130
Raquel Pennington (-210) vs. Marion Reneau (+170)
Women's Bantamweight
Despite being 1-3 over her last four fights, Raquel Pennington (10-9) is a significant favorite to score the win over Marion Reneau (9-5-1) in UFC on ESPN 11 betting. Pennington can't reallly be blamed for her recent falters as losses have come against the likes of Holly Holm and Amanda Nunes in a title fight. She had won 4 straight prior to the Nunes fight, but that's dating back to 2015-16 by now.
Reneau has now lost two straight by decision after going 3-1 with three stoppages the four fights prior. The fight is likely to go the distance (YES -285) but with Reneau's ability to end things early there's value on NO – especially as Pennington has a couple SUB wins as well.
Pick: Fight does not go the distance +225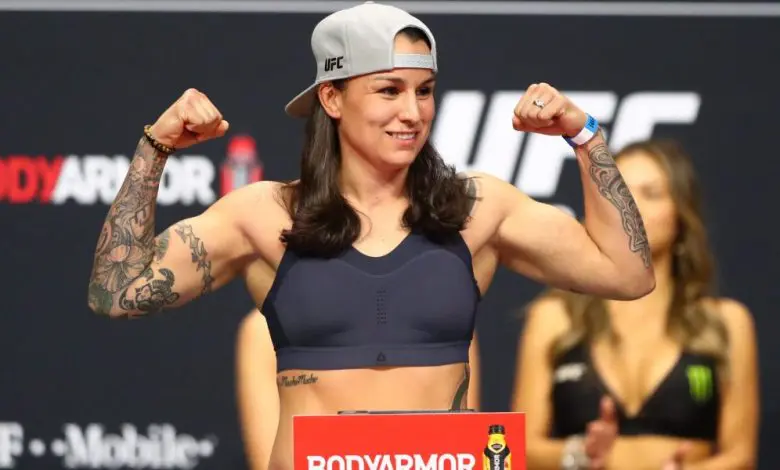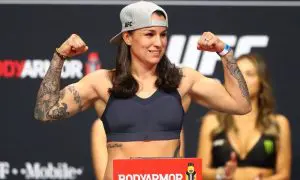 Shane Burgos (-175) vs. Josh Emmett (+145)
Featherweight
13-1 Shane Burgos taking on 15-2 Josh Emmett easily has the potential to be the fight of the night on Saturday. Burgos is 6-1 since entering the UFC and has a three fight win streak – ending all of them early. Burgos has a 4″ height advantage and an amazing 6″ reach advantage over Burgos in this one.
Don't expect Emmett to go down without a fight however. He scored a 1st round KO in his last fight back in July but Burgos is slightly less rusty after fighting in November. Emmett is 6-2 in the UFC, winning three of his last 4 by KO. Burgos may try to win this one with his cardio advantage though and his reach advantage should keep him out of the KO zone.
Pick: Fight completes 2 rounds -105
Curtis Blaydes (-450) vs. Alexander Volkov (+325)
Heavyweight
Oddsmakers aren't giving Saturday's main event much of a chance to be competitive, listing Curtis Blaydes (13-2-1) as the huge -450 favorite. Alexander Volkov does have a sizable experience advantage with his 31-7 MMA record. Blaydes has really come into his own though, winning three straight and 7 of his last 8. Three of his last four wins have come via KO.
So what chance does Volkov have in this one? Vokov is 6'7″ but only has a 1″ arm and 1.5″ leg reach advantage over the 6'4″ Blaydes. Besides falling prey to Derrick Lewis punches in October 2018, Vokov is 5-1 in the UFC most recently beating Greg Hardy via decision. Blades has only lost to Francis Ngannou (twice) in his 11 fight UFC career but Vokov has lasted to at least the 3rd in all 6 of his UFC fights.
Pick: Fight completes 2 full rounds Yes -110