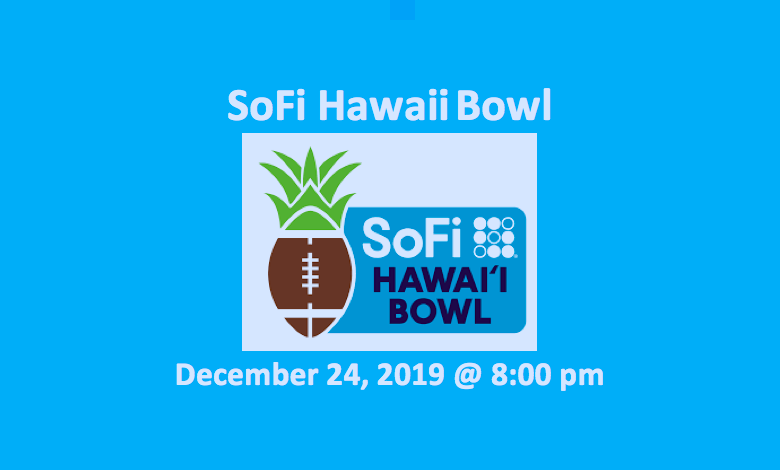 Our 2019 Hawaii Bowl pick features Hawai'i vs. BYU. In this Hawaii Bowl prediction, the Cougars are favored by two points. The over/under comes in at 64.0. The game will be played on Tuesday, December 24, 2019 at 8 pm ET at Aloha Stadium in Honolulu, HI. It's the only bowl game being played on Christmas Eve. The next two bowl games will be the Walk-On's Independence Bowl and the Quick Lane Bowl. Both will be played on the day after Christmas.
The Hawaii Rainbow Warriors (9-5) finished with a 5-3 conference record. That earned them first place in the West Division of the Mountain West Conference. They played #19 Boise State, winner of the Mountain Division, for the MWC title. The Broncos beat the Rainbow Warriors 31-10 to win the championship. The BYU Cougars (7-5) finished second amongst the six FBS Independents. The Liberty flames topped that group posting with an 8-5 mark.
2019 Hawaii Bowl Pick – Regular Season
Our 2019 Hawaii Bowl pick observes that Hawaii had an uneven season. They started with two wins, beating Arizona 45-38 and Oregon State 31-28. The Rainbow Warriors then played #23 Washington. The Huskies hammered Hawaii 52-20. Two wins followed and then two losses. The #19 Boise State Broncos beat them 59-37 and the Air Force Falcons took them down 56-26. During the final six games of the regular season, the Rainbow Warriors went 5-1, as the Fresno State Bulldogs beat them 41-38.
In their first six games of the 2019 season, the Cougars were 2-4. Losses were to #14 Utah, #22 Washington, Toledo, and USF. In that six-game stretch, BYU beat Tennessee and #24 USC. Each win occurred in overtime and each was by three points. The Cougars then reeled off five straight wins, including a 28-25 victory over #14 Boise State. In their final game of the regular season, the San Diego State Aztecs beat the Cougars 13-3.
Hawaii Rainbow Warriors vs. BYU Cougars – Stats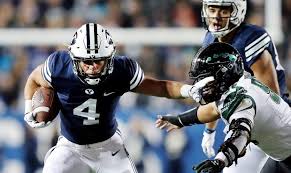 The Rainbow Warriors can score points, as they are averaging 33.6 PPG. However, the team also cannot stop opponents from scoring. Hawaii is allowing 31.7 defensive PPG. The Cougars have been good for 28.0 PPG. They're allowing 24.4 PPG.
The Rainbow Warriors are posting 469.3 offensive YPG, while the Cougars have been good for 438.7. Hawaii is passing for 325.9 YPG and rushing for 143.4 YPG. BYU is putting up 285.6 air and 153.1 ground YPG. On defense, Hawaii is giving up 426.1 YPG to opponents, including 225.3 YPG in passing and 200.8 YPG in rushing. Of the 385.1 YPG BYU is allowing, 203.8 are in the air and 181.3 on the ground.
Hawaii at BYU – Players
The Rainbow Warriors are lacking on defense, but they do possess a very fine and productive offense. At the same time, the Cougars bring a decent offense to this game and a D that may be a tad better than Hawaii's.
Hawaii Rainbow Warriors
Our 2019 Hawaii Bowl pick notes that for the Rainbow Warriors QB Cole McDonald has tossed 29 TDs and 14 INTs, while throwing for 3,642 yards. Also, on the ground, McDonald is averaging 4.4 yards per rush. He's run the ball 90 times, scoring eight times. RB Miles Reed, who has also rushed for eight TDs, has 891 yards and is averaging 5.4 YPA. WRs Cedric Byrd II and Jojo Ward have 10 and 11 TDs respectively. Byrd's made 95 receptions for 1,068 yards, while Ward's accumulated 58 catches for 975 yards.
Hawaii's defensive stats are minimal. They have just 16 sacks and five FF. Their 12 INTs and 52 PD are respectable. DBs Cortez Davis and Ikem Okeke are solid in the secondary. Davis has posted 11 PD and one INT, while Okeke has six PD and three picks. LB Soloman Matautia leadsthe team with 75 total tackles, while LB Khoury Bethley leads the club in solo tackles with 51.
BYU Cougars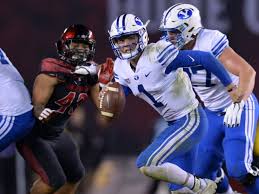 Sophomore QB Zac Wilson, who started the first five games and was then sidelined with a thumb injury, came back after surgey in the latter part of the year. He comes to this game with 2,108 passing yards, 11 TDs, and seven INTs. He's been sacked 18 times. He's completing 62.7% of his passes. Wislon's got a slew of receivers who have 30-plus receptions with three at 40-plus. TE Matt Bushman, who's got 41 catches, has 597 receiving yards and four TD catches. Seven BYU running backs have accumulated a total of 15 TDS and over 1,500 yards.
The BYU defense, like Hawaii's, is also fairly deficient. They've managed to garner just a dozen sacks, 37 PD, and nine FF. They do have 15 picks with one going for a score. LB Payton Wilgar tops the team with three INTs, while LB Kavika Fonua has a team-best 78 total tackles.
Five Keys to the Game
In creating our 2019 Hawaii Bowl pick, we consider the following as being the keys to this contest:
Defense, which will step up or will either?
If Rainbow Warriors start scoring, tough to stop them
BYU QB Wilson needs to spread ball amongst his deep receiving corps
Warrior QB Cole McDonald is a dual-threat and tough to contain
We like Hawaii's pass and rush attack
Our 2019 Hawaii Bowl Pick
Our 2019 Hawaii Bowl pick notes that BYU leads the series against Hawaii 23-8, and the Cougars are 13-8 in Hawaii. The last time the Rainbow Warriors beat BYU was on 2001. Despite that history, we find that if MacDonald and Reed can put on a show, then Hawaii will take this game. We do think they will put on quite an offensive display. Because of that, we're taking the Rainbow Warriors at +2.0. Also, with two weak to middling defenses, we like the over at 64.0.
Connect to all of our 2019 – 2020 bowl picks through this scheduling page. Also, you can find our Walk-On's Independence Bowl prediction here.
SoFi Hawaii Bowl Pick – Summary
Hawaii Rainbow Warriors at +2.0 and over 64.0