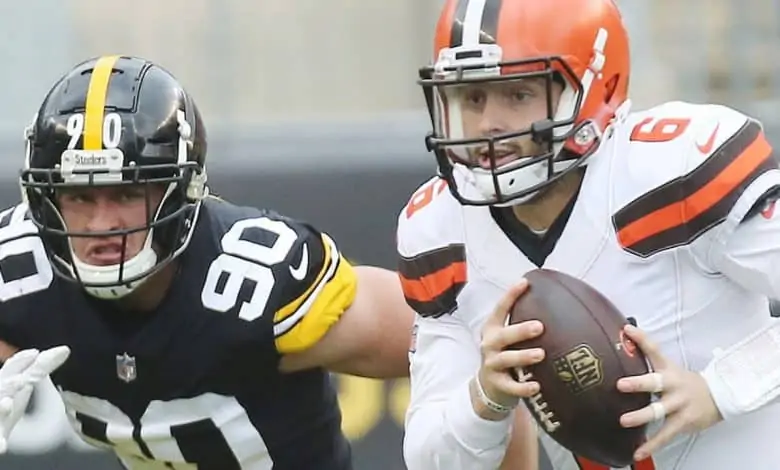 The line isn't as high as you'd think it would be heading into the AFC wild card Browns at Steelers pick. Sure Pittsburgh is still a -5.5 favorite, and at home where they are 7-1 on the season, but that number could sure be higher considering Cleveland will be without head coach Kevin Stefanski who is forced to miss this game with a positive COVID test.
The Browns can look at this 'opportunity' as an advantage, because Pittsburgh doesn't know what to game plan against with Alex Van Pelt taking over the play calling duties. These two teams are very familiar with each other after meeting last week, but this one is in the Steel City following Cleveland's 24-22 win last week at home as -10.5 favorites. Pittsburgh rested some of their key starters last week.
Cleveland Knows What to Do
The Browns were able to hold off a shorthanded (by choice) Pittsburgh squad last week, 24-22 to clinch Cleveland's first postseason berth since 2002. Cleveland was in control most of the game, taking a 10-0 lead and holding on for the two point win, but they did allow a 300+ yard day to Steelers backup Mason Rudolph.
One thing Cleveland likes heading into the AFC wild card Browns at Steelers pick is that their offense did run for 192 yards last week against Pittsburgh's #3 rush defense. Nick Chubb had 108 yards on 14 carries, including a 47 yard TD pass. Getting a solid running game going will do worlds of help for Van Pelt calling the plays in the interim for Stefanski.
What if Cleveland can't run though? Baker Mayfield has been great with just 1 INT over his last 10 starts, but was also just 10/18 for 119 yards with just 1 TD to 2 INT in a 38-7 loss at Pittsburgh in middle October. Mayfield hasn't engineered more than 18 points in any of his three trips to Heinz Field.
Pittsburgh Recharged After Last Week?
The Steelers rested some of their key components last week in what was essentially a meaningless game. Ben Roethlisberger, T.J. Watt, Maurkice Pouncey, and Cam Heyward all took the game off and should be at full strength for the wild card round matchup.
One thing not working in Pittsburgh's side is the fact that they limped towards the finish line during the regular season. After an 11-0 start, the Steelers were just 1-4 over their last five games which included losses to Washington at home and at Cincinnati.
The Steelers do get an edge with the Browns not having their head coach on the sidelines, or available even remotely. Pittsburgh has the #3 pass defense in the league, and are also a solid 11th vs. the run. Cleveland's defense has been great vs. the run (9th) but Pittsburgh usually doesn't put much effort into the ground game anyways (32nd). It's looking like Roethlisberger vs. the Cleveland secondary to decide this one.
Free AFC Wild Card Browns at Steelers Pick
There's a lot of unknowns with Cleveland not having their coach, but you could have the Nickelodeon kids call the plays for the Browns in this one because it's a heavy dose of Chubb with a side of Kareem Hunt. The Steelers were also denied an effort to even have 10% of attendance in the crowd, which helps Mayfield big time.
Browns 31 – Steelers 27
Free Pick: Browns +5.5