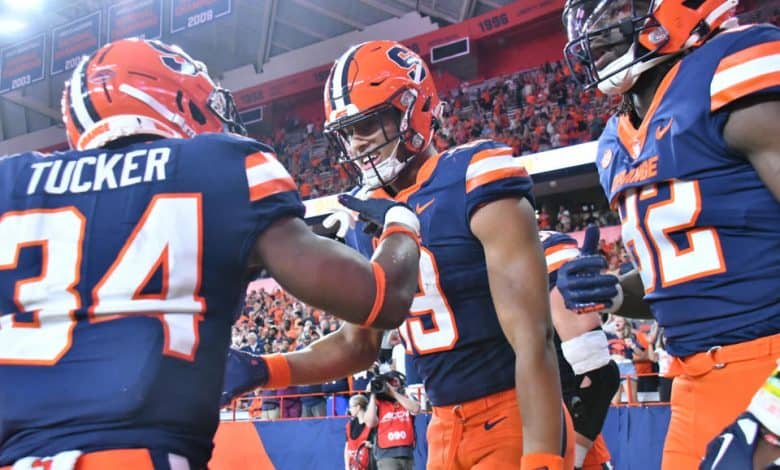 A couple of teams fresh off late victories a week ago meet up in the Virginia at Syracuse betting matchup. UVA (2-1) was able to knock off Old Dominion 16-14 in week 3 thanks to a 29-yard Brendan Farrell FG as time expired although they did fail to cover the -9 point spread.
The Orange have gotten to 3-0 thanks to their back-and-forth 32-29 win over Purdue as -1.5 favorites. Syracuse QB Garret Shrader found Oronde Gadsden II for a 25-yard TD with just 0:07 left on the clock to keep the perfect record in tact. Oddsmakers like Syracuse to get to 4-0 as they are -9.5 favorites in Friday night's matchup (7:00 PM ET, ESPN).
Can Armstrong Keep Virginia in This One
What the Cavaliers need in Friday night's Virginia at Syracuse betting matchup is for their QB Brennan Armstrong to get hot. He has struggled in new coach Tony Elliott's system with a career low 6 yards/attempt with 2 TDs and 3 INT, but this is also a QB that had 4,449 yards with 31 TDs to 10 INTs this season.
In a microcosm of how different Armstrong is from last year to this year, he was 27/36 for 405 yards and 5 TDs in the 42-14 win over Illinois in 2021 but was held to 13/32 for 180 yards with 0 TD and 2 INT in the 24-3 loss to the Fighting Illini in week two. Sure last year's meeting was at home and this year's was in Champaign, but Armstrong isn't supposed to regress that much in his fifth year.
Simply put, this isn't the same Virginia offense that ranked third in the country in total yards last season (515.9) and were second in passing (392.6 ypg) under Bronco Mendenhall who stepped down in December. One big problem with that is the UVA defense has had some issues as well, giving up 201 rush yards vs. Illinois and now facing a Syracuse team that can really churn out yards on the ground – and through the air.
Syracuse Offense Has Been Impressive
We knew the Orange were probably going to be able to run the football coming into 2022, as their 214.3 ypg on the ground last season were 18th best in the nation. What's been a complete surprise is Shrader's development as a passer. Syracuse probably wouldn't have had the offense to hang with Purdue a year ago, but Shrader had 3 TD passes last week including one with just 0:07 left after the Orange got the ball back with less than a minute to play.
The 32-29 win over Purdue was an impressive one, but it doesn't come without some concerns. Boilermakers QB Aidan O'Connell threw for 424 yards and 3 TDs last week while Orange RB Sean Tucker was held to 42 yards on 18 carries. Tucker had averaged 105 ypg in the first two games of the season.
Free Virginia at Syracuse Betting Pick
67% of the betting public likes Syracuse even giving the -9.5 on Friday night. Shrader has been amazing for the Orange and Tucker should have a bounce back game against a Virginia defense that allowed 146 yards rushing to Illinois' Chase Brown in week two.
The Syracuse defense has been decent this season, even holding Purdue under 30 points when they threw for over 400 yards. The Orange kept Louisville QB Malik Cunningham in check even after he torched them last season, and the JWA Wireless Dome has a nice buzz now with the fans wanting to get to 4-0.
Free Pick: Syracuse -9.5