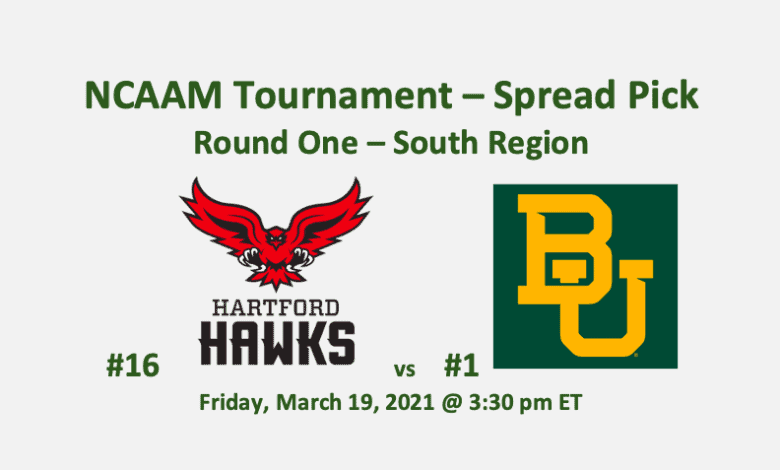 Our Hartford vs Baylor pick offers two teams in the NCAA Tournament South Region that appear to be mismatched. In this March Madness contest, the Bears are favored at -26.0 (-105), while the Hawks are +26.0 (-102). This season, Hartford finished fourth in the America East Conference. To win entry into the tournament, the Hawks beat UMass Lowell 64-50 in the AEC Tournament Finals. Over their last five games, Hartford has gone 5-0. The Baylor Bears, who've won four of their last five games, finished first in the Big 12. The Bears lost to the Oklahoma State Cowboys 73-84 in the conference semifinals. The Hawks and Bears will meet on Friday, March 19 at 3:30 pm ET. The game will be held at Lucas Oil Stadium in Indianapolis, IN. Also, take a look at our Oral Roberts vs OSU pick for Round One.
Hartford vs Baylor Pick – Stats
The Hawks are scoring 65.9 PPG. On the other hand, the Bears are averaging 84.4 PPG. Baylor is better than Hartford in just about every statistical category. Baylor is averaging 36.5 RPG, 17.0 APG, and 9.0 SPG. Plus, they are good on field goals 49.3% of the time and hitting 41.8% of their threes. Conversely, the Hawks are averaging 33.2 RPG and 11.o APG. Steals come in at 7.0 per contest. Shooting percentages are 43.4% from the court and 32.6% from downtown. Hartford is a little better than Baylor from the charity stripe, 71.2% to 69.7%.
Key Players
This team lives and dies through the efforts of four primary players, guards Austin Williams and Traci Carter and forwards Miroslav Stafl and Hunter Marks. Williams is the team's top point-maker, averaging 13.7 PPG. The 50.6% shooter is also grabbing 6.2 RPG. Carter is recording 11.7 PPG, 3.2 RPG, and 3.4 APG. In the paint, Stafl, a 53.9% field-goal shooter, is averaging 10.3 PPG. Plus, he's bringing down 5.6 RPG. Marks is good for 9.7 PPG and 5.9 RPG.
OSU's strength is at guard. Three backcourt players, Jared Butler, MaCio Teague, and Davion Mitchell, are averaging double-digits in point production. Butler leads the team in points with 17.1 per game. He's also good for 4.8 APG and 2.0 SPG. Mitchell, who's also averaging 2.0 SPG, tops the club in assists with 5.4 PG. At 51.5%, he's a solid shooter, averaging 14.1 PPG. Teague is recording 16.2 PPG and 4.2 APG. In front, forward Jonathan Tchamwa Tchatchoua is hitting for 6.7 PPG and grabbing 5.3 RPG.
Hartford vs Baylor Pick – Final Thoughts
Our Hartford vs Baylor pick wonders if this will be a huge blowout? The 26-point spread could hold up for the Hawks. Still, Baylor could really dominate Hartford in a massive way. The fact is the Bears are ready for a major win, and they should be playing a team that stands to dominate them. We're going with Baylor at -26.0 (-105).
#16 Hartford Hawks vs #1 Baylor Bears
Ohio State Buckeyes at -26.0 (-105)