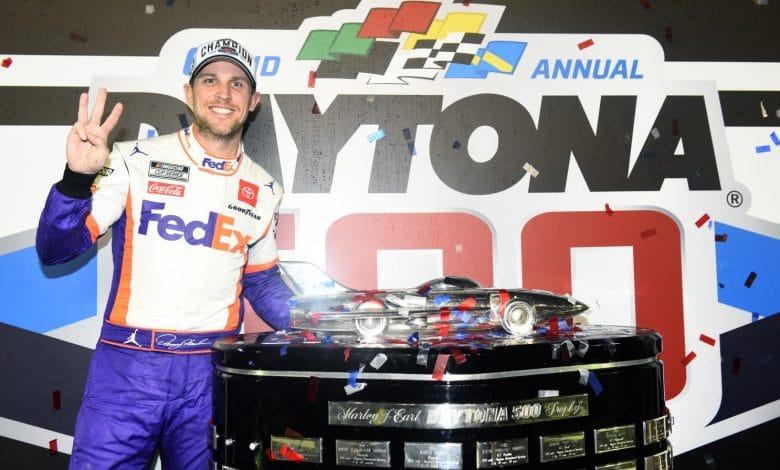 A couple months ago fans would have yearned for sports – any sports – amid the COVID pandemic and NASCAR with the ability to social distance experienced unseen popularity. Heading into NASCAR Coke Zero Sugar 400 betting, things are getting to be a bit monotonous though. Some combination of Kevin Harvick or Denny Hamlin has won five of the last seven races.
Saturday night sees racing at Daytona Speedway at 6:30 PM with a national NBC audience. It's the last race before the Cup Series playoffs begin so there are plenty of storylines. There's actually good value on both Hamlin (+500) and Harvick (+900) who have nothing to race for playoffs-wise but have been dominant regardless.
Chase Elliott (+1100) and Brad Keselowski (+1100) are the only racers not named Harvick and Hamlin to win since July 19th. Can they put up a fight here or does somebody like Jimmie Johnson (+1600) create a storybook ending in his last race at Daytona?
Here are some top picks for Saturday night's race: 
To Win:
Denny Hamlin +500
Kevin Harvick +900
How Kevin Harvick is listed at +900 ahead of Coke Zero Sugar 400 betting seems kind of strange. He has won three of the last five races and has finished in the top 5 in 12 of the last 13. Not only that, Harvick starts in the pole position on Saturday night. To be fair, Daytona is a place where the #4 Ford struggles as he has crashed in 5 of the last 8 here. Even so, he finished 5th at the Daytona 500 in February.
Denny Hamlin is another driver with unbelievable value at +500, the odds-on favorite. Hamlin has finished as the winner or runner-up in 5 of the last 7 NASCAR races and has already won at this track earlier this year as the 2020 Daytona 500 champion. Hamlin has won two of the last three in Daytona and has finished in the top 3 in three of the last five.
Clint Bowyer Top 5 Finish +325
Clint Bowyer has some work to do coming out of the #14 spot for Coke Zero Sugar 400 betting but he finished 6th in the 2020 Daytona 500 even while starting at 29th. Bowyer has seen some struggles in the last eight races, finishing 11th or worse in six of them. The #14 Ford has finished in the top six in two of the last three though. Bowyer is also fighting for his playoff life as he'll reach the Chase for the Cup if somebody who has already won in 2020 captures Daytona, but only needs three points if there is a new champion.
Head to Head Ryan Newman (-125) vs. Christopher Bell
It's a bittersweet night race for Ryan Newman as he returns to the racetrack that could have cost him his life back in February. Newman was moments away from winning his 2nd Daytona 500 before being crashed out by Hamlin, who captured the checkered flag while the driver of the #6 Ford headed to the hospital.
Newman could have jitters here, which is why it's good to avoid a win (+3000), Top 3 (+900), or Top 5 (+400) wager. Newman has also struggled in his comeback, finishing no better than 12th since the May restart. There is head-to-head value against Christopher Bell though. Newman has finished in the top 10 in five of the last six at Daytona but Bell has finished 20th or worse in six of the last eight races this year.